Are you searching for perfectly romantic good books to read in your spare time? Here's our recommendation of 5 best Korean romance books to get you on the roller-coaster rides of romance and heartbreak.
The Challenging Search of Good Korean Romance Books to Read
For long-time romance book enthusiasts, specific patterns often emerge when reading books by the same authors. While this might be familiar and comforting, there are times when predictable plot patterns may get you bored and lose the thrills of finding out what happens next.
If that's the case, maybe it's time for you to take a break from the authors you usually visit and try some of these best Korean romance books.
With these best Korean romance books, you will find yourself immersed in a completely different storyline. They are way deeper, more exaggerated (in a good way, of course!), and offer you more intense conflicts. The characters are more dramatic, and the scenes are more refined, giving you those detailed pictures in your imagination.
And most importantly, they are far from predictable, especially if you are accustomed to reading specific authors' books.
Still, finding good Korean romance books to read is never easy. That is why today we will give you an exciting start with our 5 best selections of Korean romance books.
Embrace Love and Heartbreak with These 5 Mesmerizing Stories
The first on our list of best Korean romance books is "So We Meet Again."
Written by the best-selling Korean-descendant author, Suzanne Park, this book tells the story of Jessie Kim and Daniel Choi, two childhood friends reuniting when life doesn't go as smoothly as they had expected.
Jessie Kim's life took a massive dive from a successful investment banker to an unemployed woman returning to her parents' home. At this lowest moment of her life, she got reunited with charming lawyer Daniel Choi, the golden child from back when she was a kid.
As they began working together to rebuild Jessie's YouTube channel, Jessie realized that Daniel's life was not as perfect as it seemed. And just when Daniel's mysterious past began unfolding, Jessie must face him once again as a powerful rival.
"So We Meet Again" is all about romance and rivalry, just everything you need for good books to read!
Secondly, we have "A Sweet Mess", a hilarious romance novel by Korean-American author Jayci Lee. It is a classic love-and-hate romance story that truly never gets old!
Join the highly successful Aubrey Choi, who suddenly found out that her one-night stand was the celebrity food critic that almost destroyed her bakery business. The gorgeous Landon Kim did everything he could to make up for his mistakes. And that included offering her a spot on the new celebrity cooking show he was producing.
Aubrey accepted the offer, of course. It was a great way to save her bakery and reputation. And that was when disaster started.
Now, Aubrey and Landon must live together at a villa in California wine country. When the heat started escalating inside and out of the kitchen, would Aubrey be able to resist her attraction towards Landon? Or will she eventually give up?
Get yourself a copy of "A Sweet Mess" by Jayci Lee and find out more about Aubrey's decision.
Another best selection among impressively good Korean romance books to read is "The Last Exiles" by Ann Shin. Through this book, Ann Shin will be taking you on a trip to North Korea with the main characters, Jin and Suja.
After a massive political upheaval, Jin went home and found his starving family deprived of the only food they had left. Furious, he made a rash decision and disappeared.
Then, once she found out that Jin had disappeared, Suja, who was born with a golden spoon, defied her family and began searching for him. Thereafter, she set off on a dangerous adventure into the dark havens of the criminals. In this journey, Suja will encounter a multitude of life tests she has never experienced.
Can she survive in the name of love?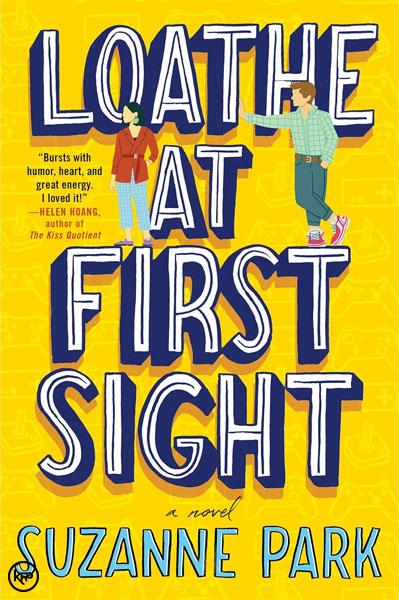 Korean-American author Suzanne Park has indeed been writing numerous best-selling books. However, nothing beats her impressive masterpiece, "Loathe at First Sight".
In the world of game developers, Melody Joo decided to create a game out of a joke: male strippers running around, fighting for survival in a post-apocalyptic world.
Still, little did she know that this game would become a massive success. The game then turned her from a junior game producer into one of the high-profile figures in the company.
But then she met Nolan, the unbelievably handsome new intern who somehow got the job simply because he's the misogynistic CEO's nephew. Just when she thought that the intern would be useless, both of them grew close. And Melody found out that Nolan was not only innovative but also charming.
Eventually, amid the challenges of running a new game project, will Nolan's presence be a blessing or disaster for Melody?
And finally, we have "Seoulmates" by Korean-American author Susan Lee.
Dive into the story of Hannah Cho, who has been shunning her Korean side as she lives in America. Her life suddenly gets turned upside down after her Kpop/Kdrama-obsessed boyfriend, Nate, dumped her.
Then, one day, she gets reunited with her former best friend, Jacob Kim. He was a pro in Korean dramas, so expert that he actually became a famous Korean drama actor. Since Jacob needed a break from the entertainment business, he returned to San Diego, where he met Hannah.
As they rekindled the relationship they lost, Hannah and Jacob wondered: what really went wrong? Why did they grow apart? Find out more once you get your own copy of "Seoulmates".
Our editors independently select all products featured on KoreaProductPost. However, we may earn an affiliate commission when you buy something through our retail links.
Related Posts