Exploring the colorful world of Korean hair dyes, we've curated a list of the best options available, each suited for different needs and preferences. Each product offers unique features, whether it's a specific color, gentle formulation, or innovative application method. Find the perfect Korean hair dye for your individual needs.
Unlock the Magic of Korean Hair Dyes: Top Picks for Every Hair Need
Best Korean Treatment Hair Color
Etude House Two Tone Treatment Hair Color
Best for: Temporary Dye
Chief ingredients: Baobab Seed Oil, Murumuru Butter, Cocoa Butter, Linseed Oil
Colors Available: Purple, Red, Forest Green, Rose Pink, Ash Beige, Ash Grey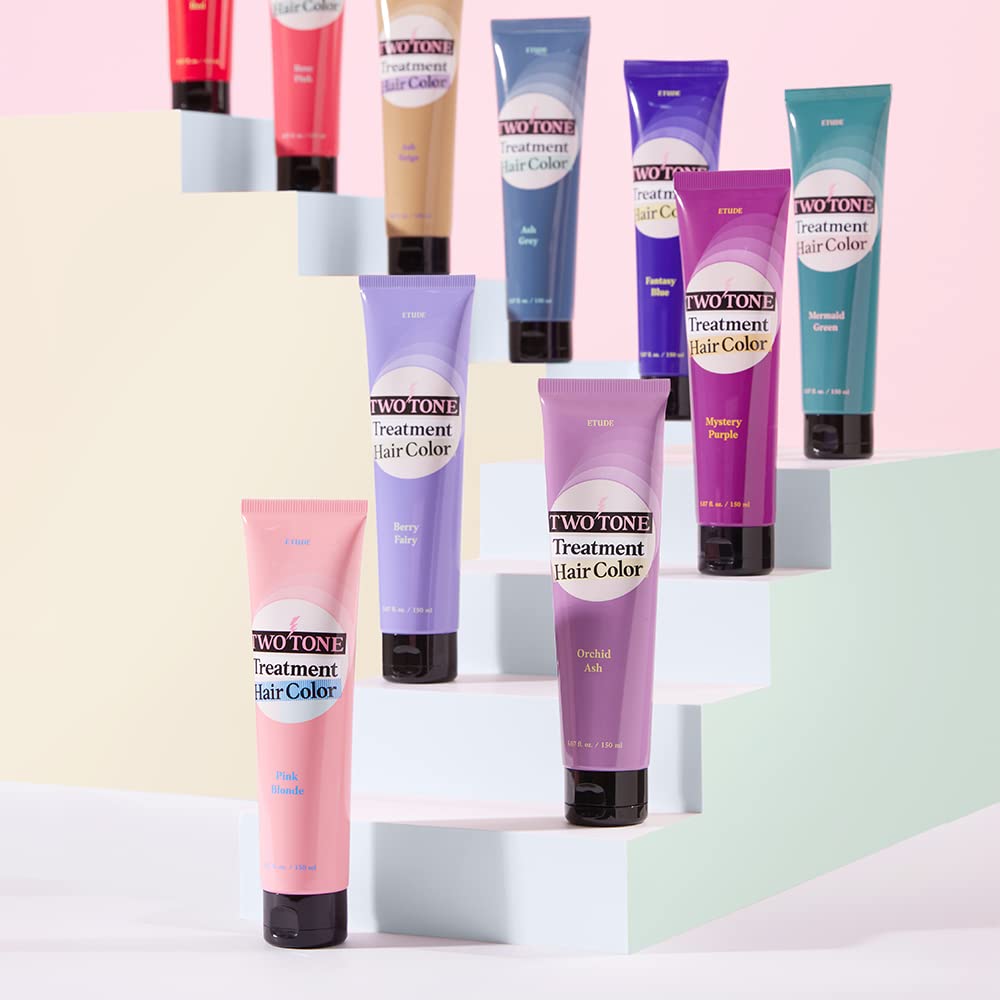 Etude House, a well-known Korean brand, is famous for its Two-Tone Treatment Color. It promises noticeable results in a mere 10 minutes. Moreover, the color's intensity varies depending on your natural hair color and the frequency of your coloring. Particularly, if you have bleached or very light hair, the color appears significantly darker. Additionally, you can apply it multiple times for a more vibrant effect.
Not only is this hair color safe for your hair, lacking harsh chemicals like ammonia, but it also doesn't cause any damage. Furthermore, it serves a dual purpose – not just coloring your hair but also acting as a hair treatment. It contains nourishing ingredients such as linseed oil, cocoa butter, and murumuru seed butter, which make your hair softer and shinier.
Another aspect we appreciated, especially during our testing phase, is that the color didn't rub off on our clothes, a convenient and mess-free feature.
Aprilskin Turn-up Color Treatment
Best for: Pastel Shades
Chief Ingredients: Rosemary Extract, Lavender Extract, Sage Extract, Jojoba Seed Oil
Colors Available: Red, Orange, Peach Pink, Green Blue, Khaki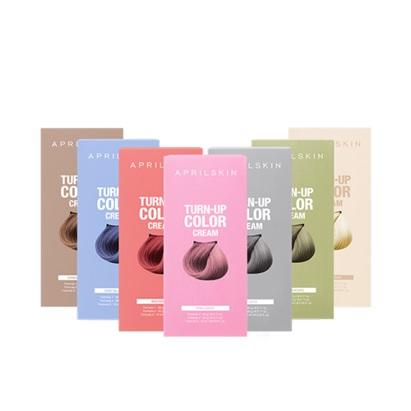 For those whose primary aim isn't covering greys or a complete makeover but to enjoy a bit of hair color fun, we recommend the AprilSkin Turn-up Color Treatment. This Korean hair dye is ideal for those seeking a no-commitment color experiment. It washes out after just 10-12 shampoos. If you wash your hair daily, the color will last less than two weeks.
The appeal of this AprilSkin dye lies precisely in its transient nature, encouraging you to experiment with new hair colors. They offer many pastel shades, giving you plenty of options. Additionally, the dye's formula is designed to be gentle, not penetrating the hair cuticle, which means frequent coloring won't harm your hair.
Moreover, it's enriched with jojoba seed oil, rosemary extract, lavender extract, and 20 other protective natural ingredients that maintain your hair's health and softness. If you have naturally dark hair and want the colors to stand out, you can pre-lighten your hair with the AprilSkin Turn-Up bleach.
---
Best Korean Bubble Hair Coloring
Mise En Scene Hello Bubble Form Color
Best for: Bubble Dye Formula
Chief Ingredients: Polyquaternium-6, Lavender Flower, Madonna Lily Scaly Stem Extract, Chamomile Flower Extract
Colors Available: Rose Pink, Raspberry Red, Chocolate Brown, Vanilla Gold, Latte Brown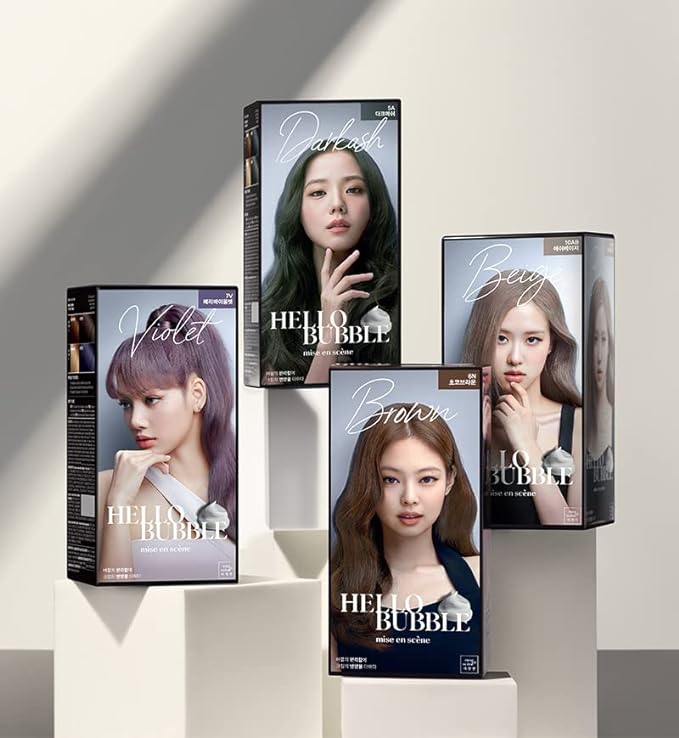 The Mise En Scene Hair Dye is a bubble hair color, creating large bubbles when applied, ensuring thorough coverage. The bubbly texture enhances the dye's absorption and distribution through the hair, working more effectively and quickly than traditional cream dyes.
This dye tends to have a longer-lasting effect compared to others. The color can remain vibrant for 6-8 weeks with the appropriate shampoo. The dye kit includes a special ampoule packed with raspberry extracts and various nourishing components, which you mix with the developer and cream. This left our hair feeling softer and smoother after use.
However, it's worth noting that the dye's visibility is less pronounced on darker hair and can leave a greenish hue on bleached hair. To achieve a more balanced color, you might need to use a hair toner. Despite this, considering its price range, it still stands out as a great option.
Etude House Hot Style Bubble Hair Coloring
Best for: Dark Shades
Chief Ingredients: Chamomile Oil, Royal Jelly, Sunflower Seed Oil
Colors Available: Black, Dark Brown, Khaki Brown, Red, Burgundy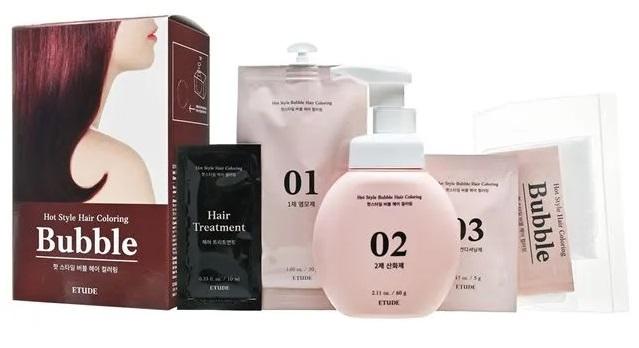 This semi-permanent hair dye is an ideal choice if you're seeking a temporary new hair color, perhaps for a vacation or a weekend event like a wedding. Its color typically lasts between 4-6 weeks. You can extend its lifespan to 8 weeks by washing your hair less frequently and using color-safe shampoo with cold water.
Our experience with this dye on darker hair tones was quite positive, resulting in an even color distribution. Although the Olive shade tended to fade into a bluish tint, the other colors maintained a natural appearance. This dye is a bubble type, featuring micro bubble booster technology, which explains its quick and even spread through the hair.
One of the advantages of this Korean hair dye is that it's free from ammonia and other harmful chemicals. Instead, it contains ingredients that can nourish and keep your hair soft. However, it does come with a strong floral fragrance. While effective in masking any chemical odors, might slightly dry out your hair.
---
Best Grey Coverage Korean Hair Dye
Somang Clinic Hair Color
Best for: Grey Coverage
Chief Ingredients: Ceramides, Camellia Oil
Colors Available: Black, Light Brown, Dark Brown, Cherry Red, Dark Blonde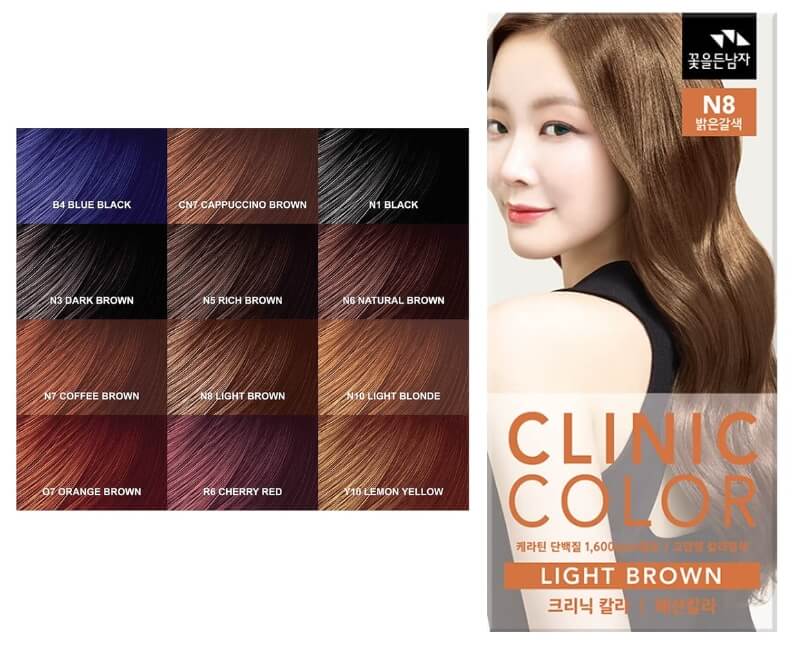 If you're searching for a reliable Korean hair dye to conceal those stubborn greys, the Somang Clinic Hair Color is an excellent option. This product stood out to us. It's best for grey coverage, because it offers a range of very natural shades, including various browns, blacks, and blondes
Whether you're aiming for a subtle, natural tint or trying to match your greys or grown-out roots to your original hair color, this dye is ideal. It boasts impressive longevity, maintaining its color for several washes, typically around 5-6 weeks. However, it's worth noting that its durability isn't as strong when washed with sulfate-containing shampoos.
Beyond the color, this formula is also kind to sensitive scalps. We were pleased to find that it's hypoallergenic. Additionally, it contains several hair-friendly ingredients, such as camellia oil, Glycyrrhiza extract, ceramides, and keratin protein. The ingredients help protect your hair from damage.
1 Minute _ Hi Speed Squid Ink Hair Color
Best for: Black Hair
Chief Ingredients: Aloe Vera, Hydrolyzed Keratin, Olive Oil
Colors Available: Black, Natural Brown, Dark Brown, Wine Brown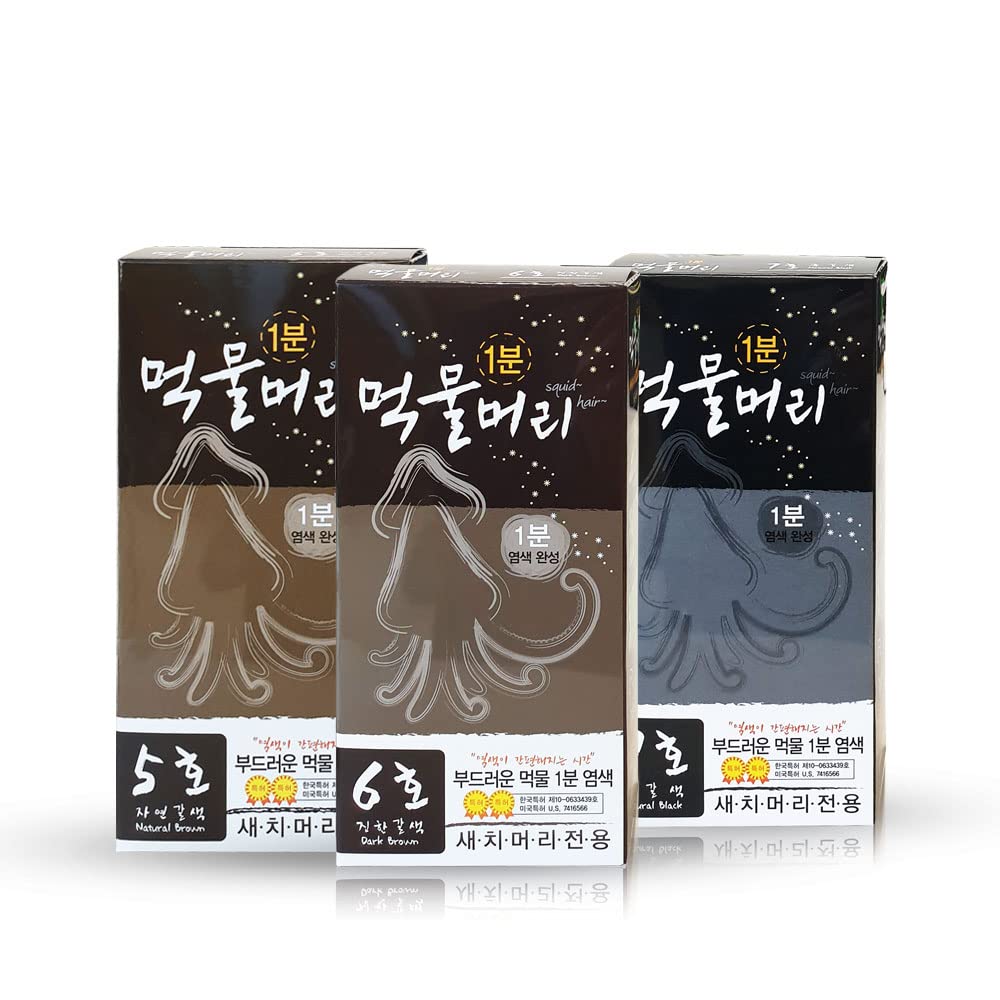 This option is easy and fast for those who simply want to target a few grey strands without opting for a dramatic color change. True to its name, the 1-minute Hi-Speed Squid Ink dye amazingly works in just one minute!
Our own experience involved a quick touch-up of some grey hairs, and the results were impressively satisfying. We noted no chemical smell or uneven coloring – quite a feat for a product left on for only 60 seconds. The formula includes botanical ingredients like olive oil, aloe vera, and Acorus Calamus extract, which help maintain softness in your hair.
Interestingly, the most unique and unexpected ingredient is the squid ink, a testament to the innovative nature of Korean beauty products. However, we recommend a patch test before using this product, especially if you have sensitive skin or conditions such as eczema or psoriasis, as some ingredients may cause irritation.
Herb Speedy Color Cream
Best for: Black hair
Chief Ingredients: Licorice Root Extract, Panax Ginseng Root Extract, Camellia Sinensis Leaf Extract, Sophora Angustifolia Root Extract, Paeonia Albiflora Root Extract
Colors Available: Natural Black, Dark Brown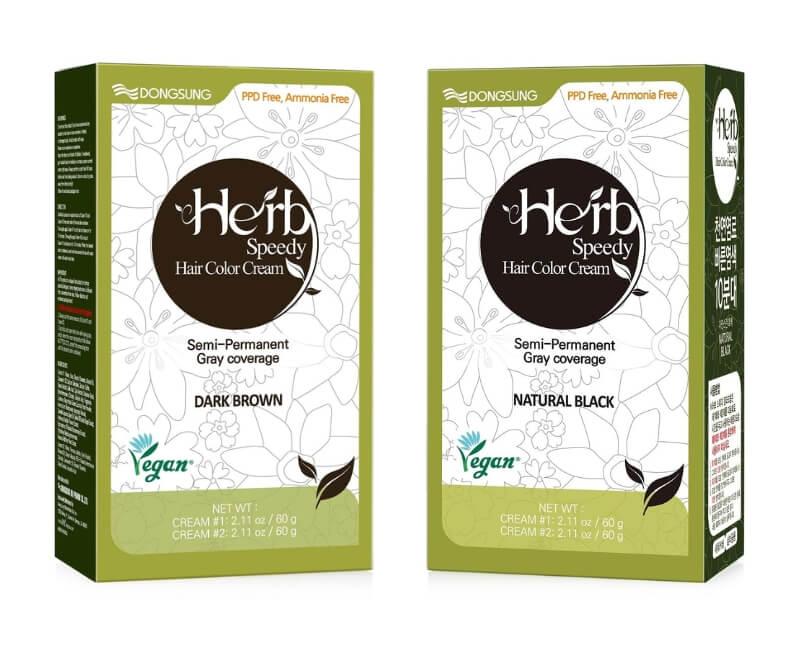 Herb Speedy's unique formula is specifically designed to minimize allergic reactions. It's free from common allergens like PPD (P-Phenylenediamine) and Diamine. It's an ideal choice for those with extremely sensitive scalps.
As a vegan-certified hair dye, Herb Speedy is both scalp-friendly and environmentally conscious. It's crafted from all-natural ingredients, featuring high-quality herbal extracts that ensure a safe and pleasant coloring experience.
The dye is made exclusively from vegan components and is enriched with herbal extracts. These include Licorice Root, Paeonia Albiflora Root, Sage, Matricaria, Rosemary, and Camellia Japonica Seed Oil, providing vital nourishment to both hair and scalp. Additionally, it's free from ammonia and parabens.
Herb Speedy stands out for its revolutionary approach to natural hair coloring. While traditional dyes often require 40 to 60 minutes to take effect, Herb Speedy's Color Cream delivers satisfactory results in just 20 minutes, with 10 minutes allocated for each of the two creams.
Our editors independently select all products featured on KoreaProductPost. However, we may earn an affiliate commission when you buy something through our retail links.
Join us on an exciting journey to explore the vibrant world of Korean lifestyle – from the latest beauty tips to the hottest tech and so much more on Facebook, Twitter, LinkedIn, and Flipboard.
Related Posts