BTS Jin has done it again! Thanks to the immense popularity of BTS's eldest member, Ottogi Jin Korean ramen popularity has soared to #2 among popular food brands. Now that this brand has gained newly-found success, you're definitely wondering where to buy BTS Jin ramen. Here are some of the best Korean ramen products from Ottogi Jin, modeled by BTS Jin.
BTS Jin Super Effect: Ottogi Jin Ranks #2 in Food Industry Interest Analysis + Increased Global Sales
Over the last few years, Ottogi Jin ramen has become the underdog among the Korean ramen brands. That is until last year when this ramen brand decided to invite one of the most influential figures in the global music community, BTS Jin.
Having the same name as the brand, BTS Jin has showcased his immense interest. He has often expressed his fondness for the dish and even wished to model for the brand back in 2016.
Today, BTS Jin has finally showcased his superpower.
Star News reported on October 22 that the popularity of Ottogi Jin ramen had massively skyrocketed according to data survey analysis of the public's interest in the food industry.
This Korean ramen ranked #2 with a total of 64,154 postings within 230,000 sites across 12 channels, including news, communities, blogs, and cafes for 8 major domestic food companies from July to September this year.
The report further stated that this skyrocketing popularity of Ottogi Jin ramen was thanks to BTS eldest member, Jin.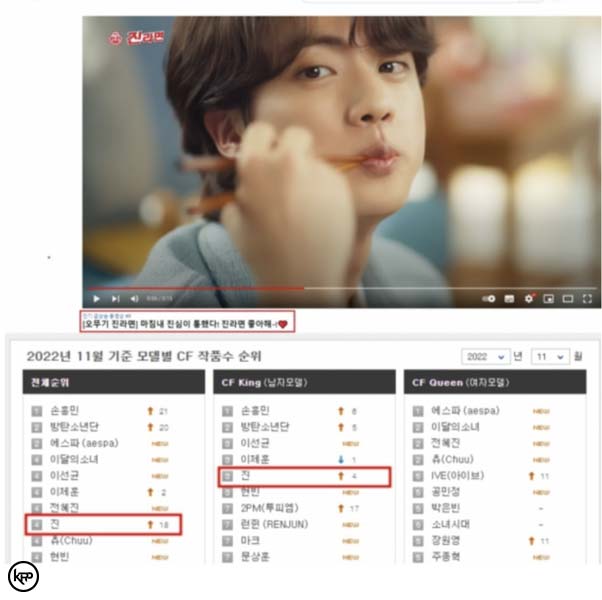 Since the recruitment of BTS Jin as the advertising model, Ottogi Jin ramen has experienced a significant performance improvement. This improvement includes a large increase in domestic ramen exports of 17.7%, compared to last year's period.
Moreover, the effect of BTS Jin has also affected the increase in demand for Korean ramen overseas in general. As a result, the US branch of Ottogi Jin ramen also gained an increased sales of 40%.
Where to Buy the Korean Ramen?
So, are you wondering where to buy this amazing Korean ramen featuring BTS Jin?
Due to the increased demand for Korean ramen since BTS Jin appeared in the commercial, Ottogi Jin is available at your nearest Korean grocery store. However, you can also conveniently purchase this product via Amazon.
You can purchase not just Korean ramen, but also various other amazing products from this brand.
Finally, if you wish to buy Ottogi products, simply scroll through our list and click the product you want the most. Then, just sit back and let the magic of online shopping do all the work for you!
4 flavors:
111 grams
4 to 8 packs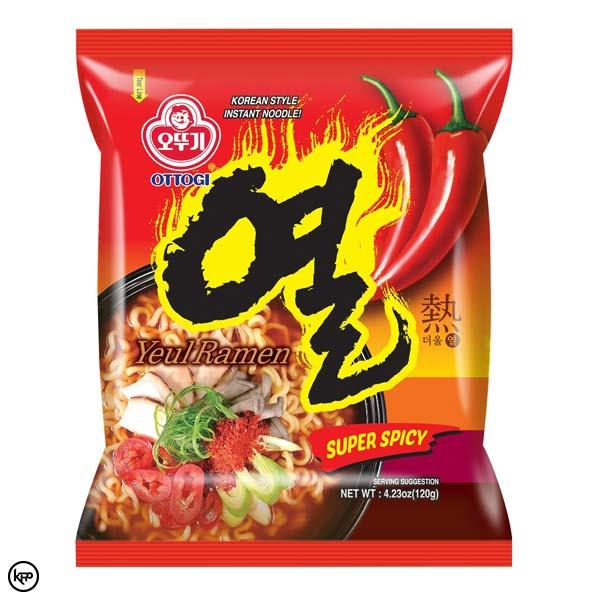 Traditional Korean ramen
SUPER hot and spicy
Premium, chewy noodles
120 grams
10 packs
100% sweet potato starch.
Fat-Free, Gluten-Free, Dairy-Free, Vegan, and No Preservatives.
Light and chewy texture.
Resealable bag.
Best suited for: JAPCHAE, SUKIYAKI, SOUPS AND DUMPLINGS
Fresh cooked white rice.
High-quality rice grains.
Pre-cooked, served in 2 minutes.
Storage up to 8 months.
Our editors independently select all products featured on KoreaProductPost. However, we may earn an affiliate commission when you buy something through our retail links.
Join us on an exciting journey to explore the vibrant world of Korean lifestyle – from the latest beauty tips to the hottest tech and so much more on Facebook, Twitter, LinkedIn, and Flipboard.
Related Posts