K-pop fans, often referred to as "K-pop stans," are known for their passionate and dedicated support of their favorite idols and groups. To stay updated and connected in the vibrant and fast-paced world of K-pop, here are 15 must-have apps that can enhance the fan experience, from V LIVE, Weverse Shop, to Momentica.
Must-Have Apps for Kpop Fans
1. V LIVE: A Premier K-Pop App for Live Streaming
Download: Google Play

V LIVE, operated by Naver Corporation, is a South Korean live video streaming service that allows celebrities, particularly K-pop idols, to broadcast live videos and interact with fans from around the globe. Fans can watch performances, behind-the-scenes content, and personal broadcasts from their favorite artists, often with real-time subtitles in various languages.
The platform enables fans to communicate with artists through chat, send virtual gifts, and express their support. V LIVE also hosts exclusive content and special events, such as online fan meetings and concerts. The platform provides a virtual space where fans and artists can connect and interact, which makes it one of the K-pop apps every fan must have.
However, V LIVE is not available on App Store since December 31, 2022
2. Bubble: Personalizing Fan-Idol Communication Among K-Pop Apps
Download: Google Play | Apple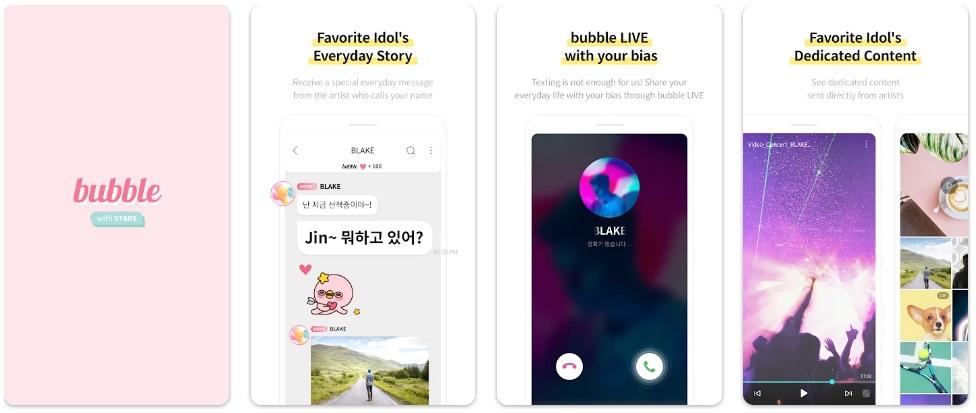 Dear U. Bubble, commonly referred to as Bubble, is one of K-pop apps developed by SM Studio. It aims at facilitating direct communication between fans and artists. Available through the LYSN app, Bubble allows fans to receive personalized messages, photos, and videos from their favorite K-pop idols. Artists can share behind-the-scenes content, daily life snippets, and casual thoughts, creating a more intimate and exclusive communication channel. Fans can respond to these messages, fostering a unique, albeit one-sided, conversational experience. While artists can't view individual responses, they can post general replies, making fans feel heard and closer to their idols, thereby enhancing the fan-idol interaction in the digital space.
3. X (formerly Twitter): The K-Pop App for Global Fan Trends and Updates
Download: Google Play | Apple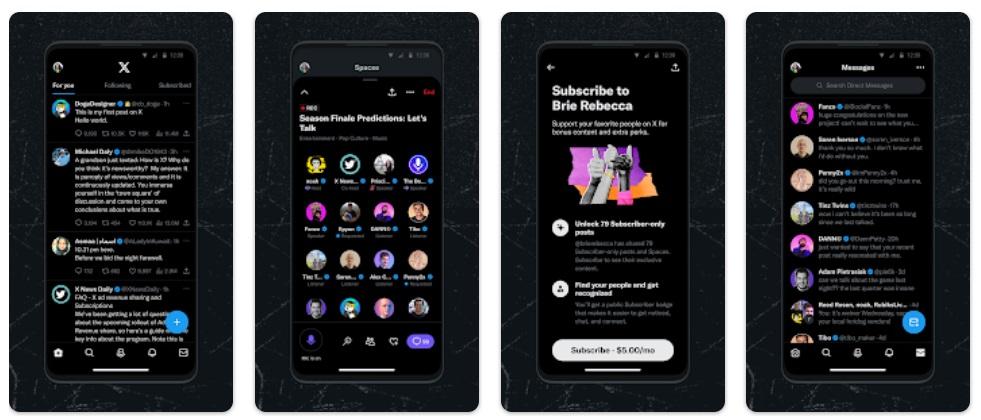 X (Twitter) is a globally utilized social media platform that allows users to post messages, known as "tweets," and interact with others through likes, retweets, and comments. It has become a vital tool for K-pop artists and fans alike to communicate, share content, and create global social media trends. Artists use this platform to update fans on their activities, share news, schedule, and post photos and videos, while fans utilize the platform to support their favorite idols, create and spread fan content, and connect with a global fan community. The platform facilitates real-time interaction between K-pop idols and their international fanbase, breaking down geographical barriers and fostering a sense of global community among fans and artists alike.
4. Instagram: Visualizing the K-Pop World Through a Fan-Favorite App
Download: Google Play | Apple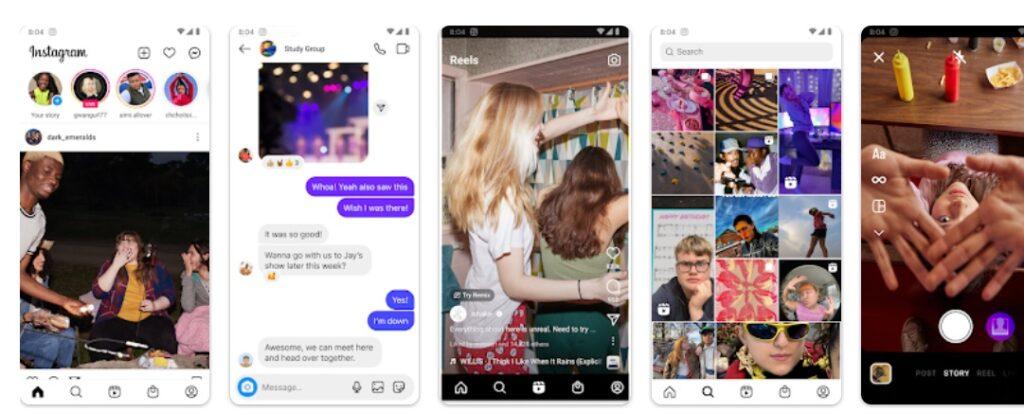 Instagram, a widely used social media platform, has become a pivotal space for K-pop artists and fans to interact and share content. Artists utilize Instagram to provide glimpses into their professional and personal lives by sharing photos, videos, and stories, thereby allowing fans to stay abreast of their activities and upcoming projects. Fans, on the other hand, use the platform to express their support, create fan accounts, and share fan-made content. Instagram serves as a visual-centric platform where K-pop idols and fans can interact, with features like comments, likes, and direct messages enabling communication and engagement. The platform thus plays a significant role in enhancing the global K-pop phenomenon, bridging the gap between artists and fans across the world.
5. Threads: Navigating K-Pop Discussions on a Rapidly Growing App
Download: Google Play | Apple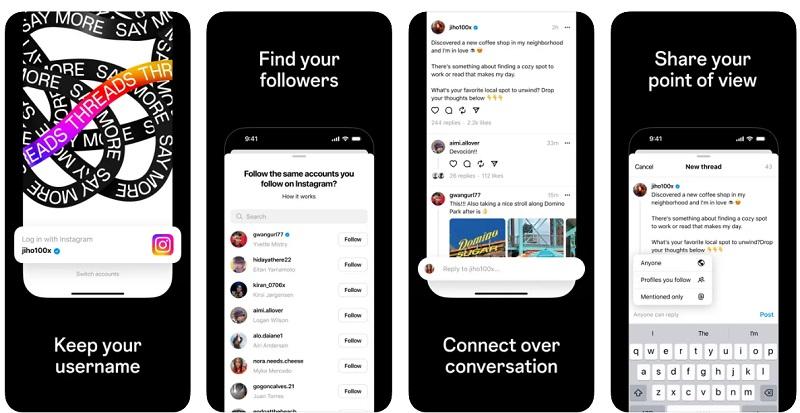 Threads, operated by Meta Platforms, is a social media and networking service that seamlessly integrates with Instagram. The app enables users to post text, images, and videos, and interact with others through replies, reposts, and likes, bearing functional similarities to X.
6. TikTok: Engaging with Viral K-Pop Content on a Global App
Download: Google Play | Apple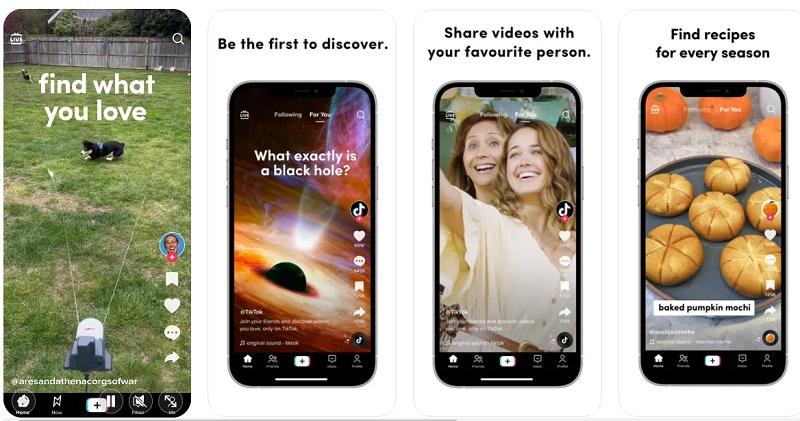 TikTok, a social media platform developed by ByteDance, has become a global phenomenon, especially among younger audiences, offering a space for creating and sharing short-form videos. It has notably impacted the K-pop industry by providing artists and fans a platform to create, share, and engage with various content, including music clips, dance challenges, and creative fan content. K-pop artists utilize TikTok to release snippets of their music, initiate challenges, and connect with international fans, while fans use the platform to create their own content, participate in challenges, and engage with their favorite artists. The platform's algorithm, which curates and suggests content to users, has been pivotal in virally spreading K-pop songs and trends globally, further solidifying TikTok's role in the global proliferation of K-pop.
7. YouTube: Streaming Top K-Pop Videos and Engaging with Global Fans
Download: Google Play | Apple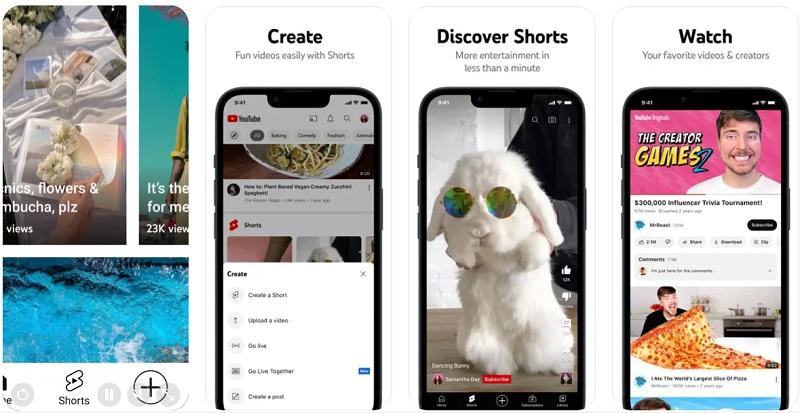 YouTube, a widely-utilized video-sharing platform, has been instrumental in the global dissemination and popularity of K-pop, enabling artists to share their music videos, live performances, and additional content with a worldwide audience. K-pop idols and agencies utilize YouTube channels to release official content, while fans engage by viewing, commenting, and sharing these videos, often leading to trending spots on the platform. Furthermore, fans create and share their own K-pop related content, such as reaction videos, dance covers, and analyses, contributing to the global K-pop community and culture. YouTube thus serves as a crucial medium, connecting K-pop artists with their international fanbase and facilitating a dynamic, interactive global K-pop community.
8. Spotify: Streaming and Discovering K-Pop Hits with Personalized Playlists
Download: Google Play | Apple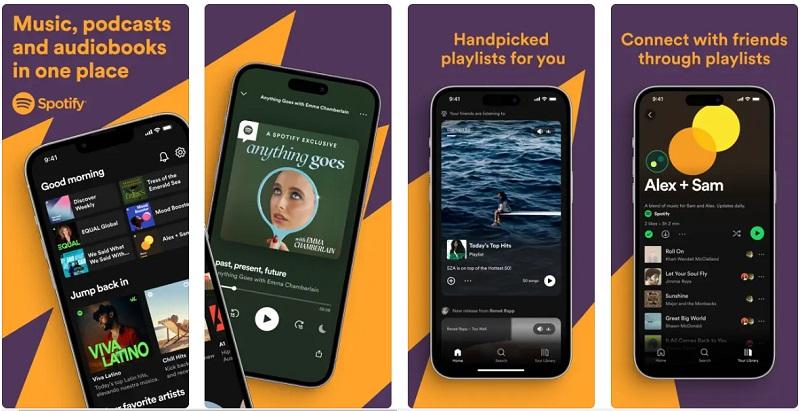 Spotify has significantly propelled K-pop's global reach, providing fans worldwide with easy access to their favorite tracks and artists. With curated playlists like "K-pop Daebak" and dedicated artist pages, the platform ensures that both iconic and emerging K-pop tunes are just a click away for listeners. Moreover, Spotify's algorithm adeptly recommends new K-pop songs and artists to users, enhancing the genre's global penetration and fostering a rich, cross-cultural musical exchange among diverse audiences.
9. FanPlus: A Unique K-Pop App for Fan Voting and Real-World Impact
Download: Google Play | Apple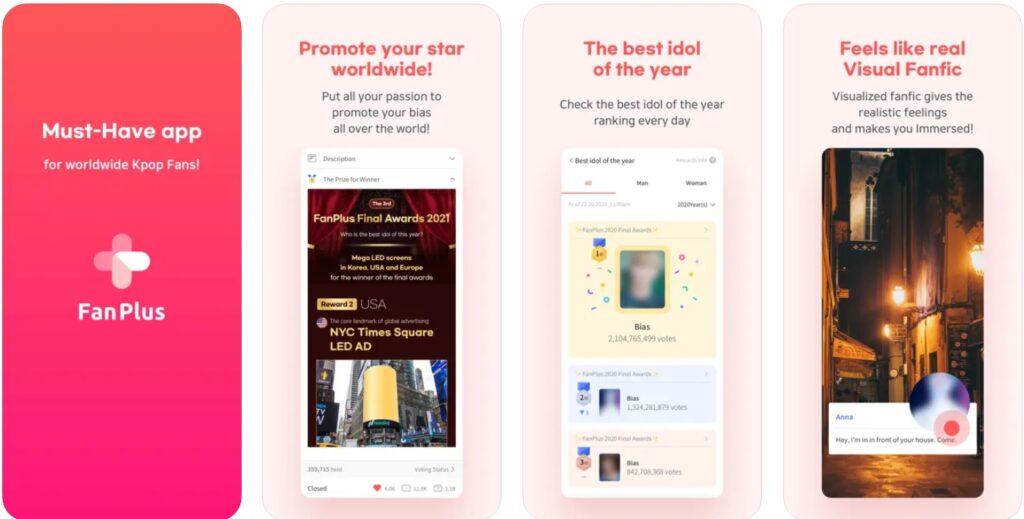 FanPlus is a unique app that provides K-pop fans with an interactive platform to support and celebrate their favorite artists. Users can participate in various events, such as voting for artists in different polls, which can lead to real-world outcomes like placing ads in prominent locations to celebrate milestones and birthdays. Fans earn voting tickets through various app activities and use them to vote in various events and campaigns. FanPlus thus offers an engaging way for fans to actively show their support, while also providing a space to connect with others who share similar interests, enhancing the fan experience by bridging the virtual and physical worlds.
10. Weverse: Bridging Idols and Fans in an Exclusive K-Pop App
Download: Google Play | Apple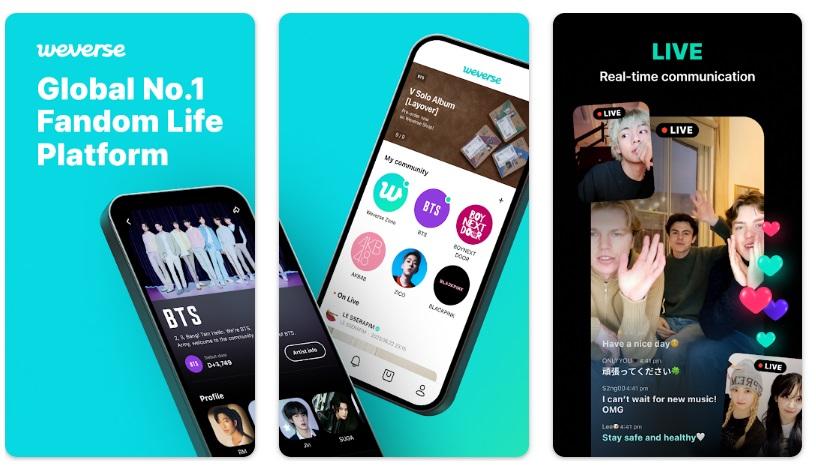 Weverse is a notable South Korean fan community platform developed by beNX, a subsidiary of HYBE Corporation, designed to forge a direct connection between artists and fans. It provides a unique space where global fans can interact with their favorite artists through various interactive features like community posts, media content, and exclusive merchandise. Artists such as BTS, TXT, and ENHYPEN, as well as K-pop legend BoA, among others, utilize the platform to share exclusive content and updates, and to engage in conversations with their fan base. This creates a more intimate and direct channel of communication and interaction, transcending geographical and linguistic barriers.
11. Weverse Shop: Your Go-To K-Pop App for Official Merchandise
Download: Google Play | Apple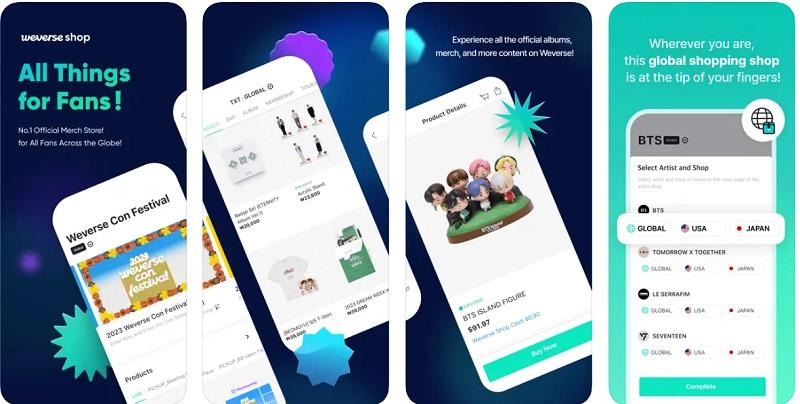 Weverse Shop, affiliated with the the fan community platform, serves as a dedicated e-commerce platform where fans of K-pop and other Korean entertainment genres can purchase official merchandise. From albums and apparel to exclusive collectibles, the Weverse Shop offers a wide array of items that cater to fans' desires to support and connect with their favorite artists. The platform often features exclusive releases and limited-edition items, making it a go-to destination for fans seeking authentic and special merchandise. Furthermore, it provides global fans easy access to official goods that might otherwise be difficult to obtain, bridging the gap between artists and their international audience.
12. K-pop Amino: Dive into One of Dedicated K-Pop Fan Community Apps
Download: Google Play | Apple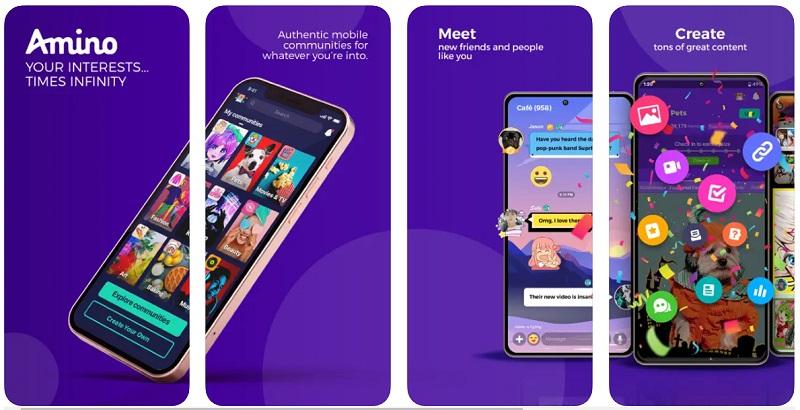 K-pop Amino is a vibrant online platform and community tailored specifically for K-pop fans around the world. It serves as a dedicated space where enthusiasts of the genre can connect, share, and discuss their passion for Korean pop music and its artists. Users can explore and create content, such as blogs, polls, and quizzes, and engage in discussions, thereby immersing themselves in the colorful world of K-pop. The platform also allows fans to join and create fan clubs, participate in forums, and stay updated with the latest news and events in the K-pop universe, fostering a tight-knit global community bound by a shared love for Korean pop culture.
13. TheQoo: Discussing K-Pop Trends on a Popular Korean Forum App
Download: Google Play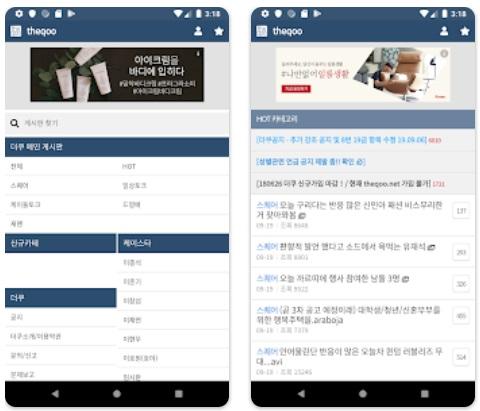 Theqoo is a popular South Korean online forum that provides a space for netizens to discuss a wide array of topics, including K-pop, drama, entertainment news, and more. The platform is known for its real-time discussions and is often abuzz with the latest happenings in the Korean entertainment industry. Fans and users of Theqoo share news, images, videos, and opinions about their favorite artists and dramas, creating a lively and dynamic community. The platform often becomes a source of trending topics and viral content, as fans utilize the space to express their support, criticisms, and general thoughts on unfolding events and releases in the entertainment world.
14. Snow: Creating K-Pop Inspired Content with a Popular Korean Photo App
Download: Google Play | Apple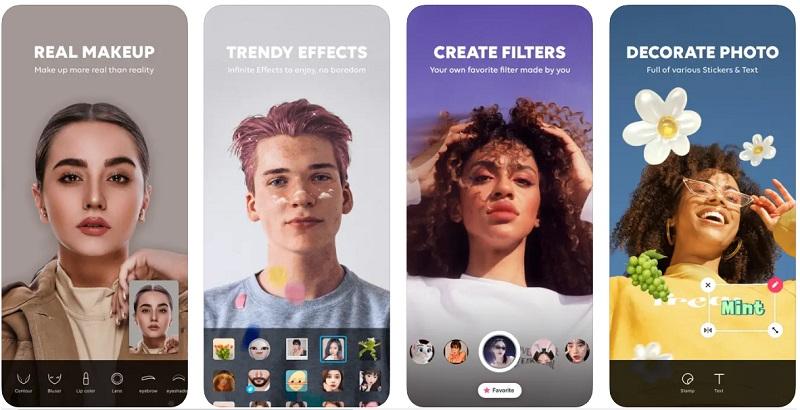 Since its launch in September 2015, SNOW Inc. has gathered more than 100 million subscribers in just one year and a half based on its soaring growth in the Asian market. Snow is a popular Korean photo and video app with filters and stickers, often used by K-pop idols. Fans use it to create fun, K-pop inspired content.
15. MOMENTICA: Exploring K-Pop Digital Collectibles on a New NFT Platform
Download: Google Play | Apple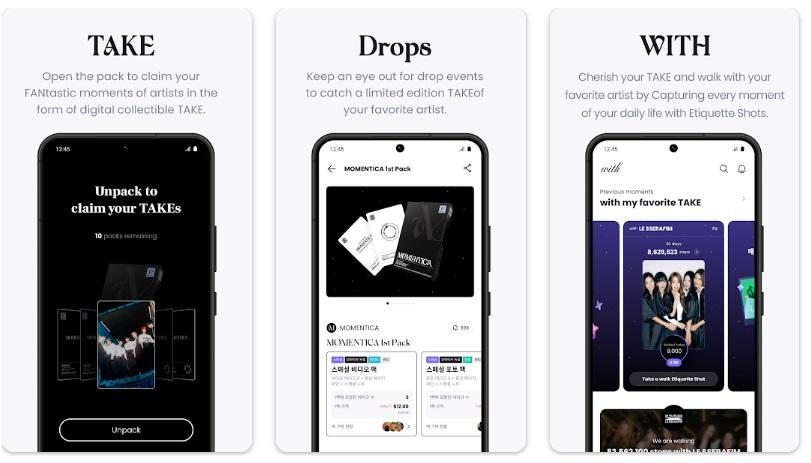 Established in January 2022, LEVVELS, a collaborative venture between Dunamu and HYBE, strives to enhance the fan experience by utilizing blockchain, Web3, and NFT technologies. The company has launched MOMENTICA, one of innovative K-pop apps that enables fans to safely explore and acquire unique digital collectibles of their favorite K-pop artists, thereby intertwining the vibrant world of fandom with the cutting-edge realm of digital asset collection.
---
Wrap Up
These must-have apps provide a mix of content, community, and interaction, ensuring K-pop fans can immerse themselves fully in the fan culture, stay updated with their idols, and connect with fellow fans globally.