Embarking on a journey through the world of Korean skincare reveals a treasure trove of products that combine efficacy with affordability. In this curated list of 10 Korean skincare products under $25, you'll find solutions that cater to various skin concerns, all while ensuring value for your investment. From COSRX's Snail Mucin 96% Power Repairing Essence, famed for its hydration and anti-aging properties, to the soothing and redness-reducing Dear Klairs Midnight Blue Calming Cream, each product is a testament to the innovative and skin-loving approach of Korean skincare. Whether you're looking to rejuvenate, protect, or soothe your skin, these selections promise to enhance your skincare routine without breaking the bank.
Korean Skincare Products Under $25
1. COSRX Snail Mucin 96% Power Repairing Essence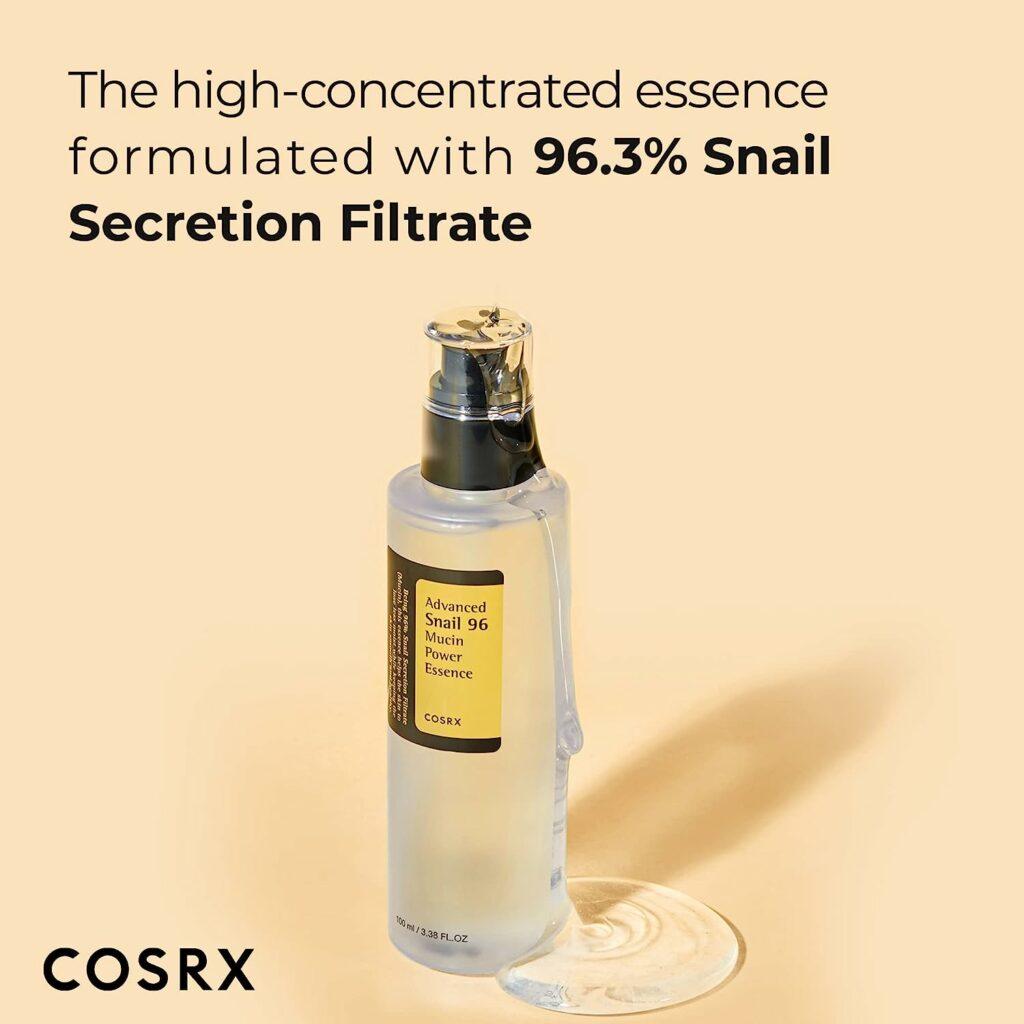 Renowned as The Real Snail Essence, it is packed with 96.3% Snail Secretion Filtrate, making it a powerful tool in combating dryness and signs of aging. It rejuvenates the skin, reduces dullness, and offers deep hydration.
This essence is not only lightweight and suitable for all skin types, but it also imparts a radiant glow and smoothness to the skin with regular use. Its effectiveness is reflected in its impressive collection of over 30,000 five-star reviews.
It's light on the skin, absorbs quickly, and leaves a natural, healthy radiance. It ensures your skin stays hydrated without feeling heavy.
The key to its success lies in its main ingredient, Snail Secretion Filtrate, rich in "Mucin." This component is highly effective in moisturizing, repairing damaged skin, and providing deep moisture. It's particularly beneficial for dry and damaged skin.
Ethical sourcing is a priority in obtaining Snail Mucin. It is collected in a safe and environmentally friendly manner, ensuring no harm to the snails. Cosrx maintains high standards across its product range. Their products are designed to soothe irritated skin using skin-friendly ingredients. They are hypoallergenic, dermatologist-tested, free from animal testing, parabens, sulfates, and phthalates.
Note: the expiration date on the packaging follows the South Korean format (YY.MM.DD).
2. The SAEM Iceland Hydrating Eye Stick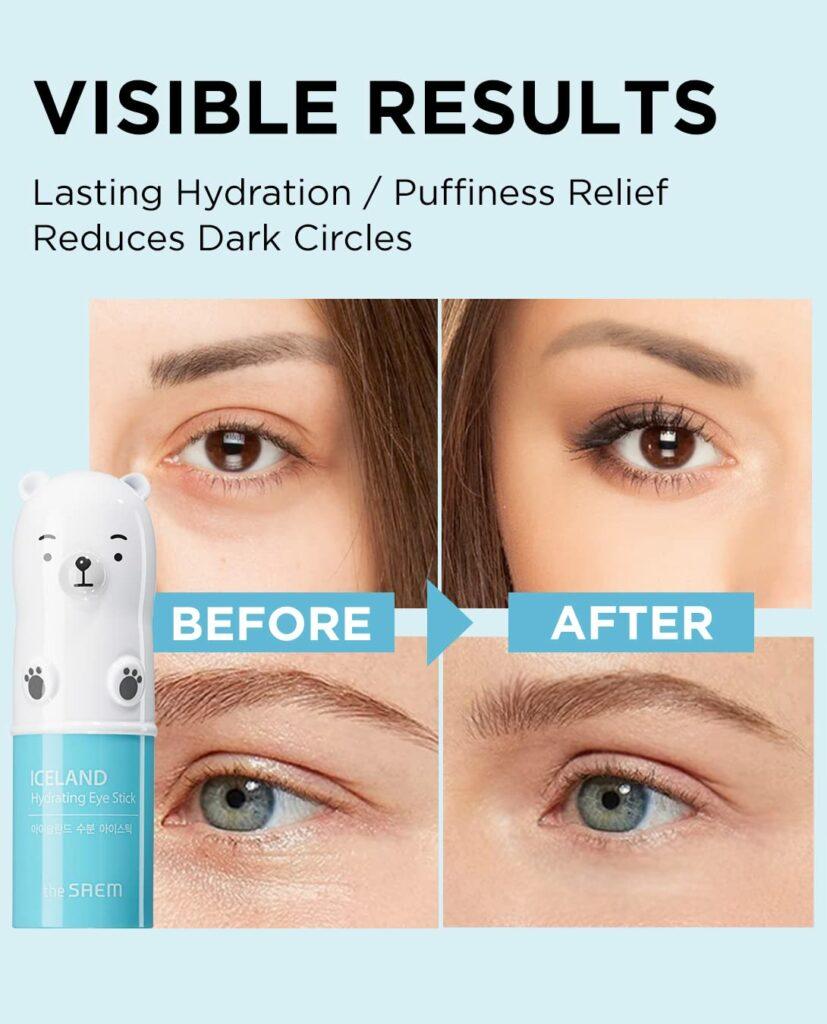 The Saem under-eye balm is one of Korean skincare products under $25 that specifically targets dark circles and puffiness. It snugly fits the contours around the eyes, diminishing the appearance of wrinkles and fine lines. The eye balm enhances elasticity, toning the under-eye area and addressing issues of puffiness and sagging skin.
Moreover, the Saem Iceland Hydrating Eye Stick stands out with its unique composition, featuring Iceland Glacier Water. This element, along with a blend of Iceland Moss, Iceland Plant, Xylitol, Niacinamide, Adenosine, and other marine-based ingredients, offers a refreshing and soothing experience.
The texture of The Saem eye balm is exceptionally lightweight and silky. Its stick format is easy to apply and leaves no sticky residue, perfect for refreshing tired skin with a cooling sensation.
Designed for convenience, the roller stick application of The Saem balm makes it a breeze to use. It's an ideal addition after applying essence or even over makeup for an extra boost of hydration and a cooling effect.
Committed to purity and gentleness, this balm is free from sulfates, essential oils, parabens, mineral oils, and allergens. It sets a new standard in skincare, ensuring your under-eye area receives the best, most nourishing care without any harsh ingredients.
3. ETUDE Moistfull Collagen Eye Cream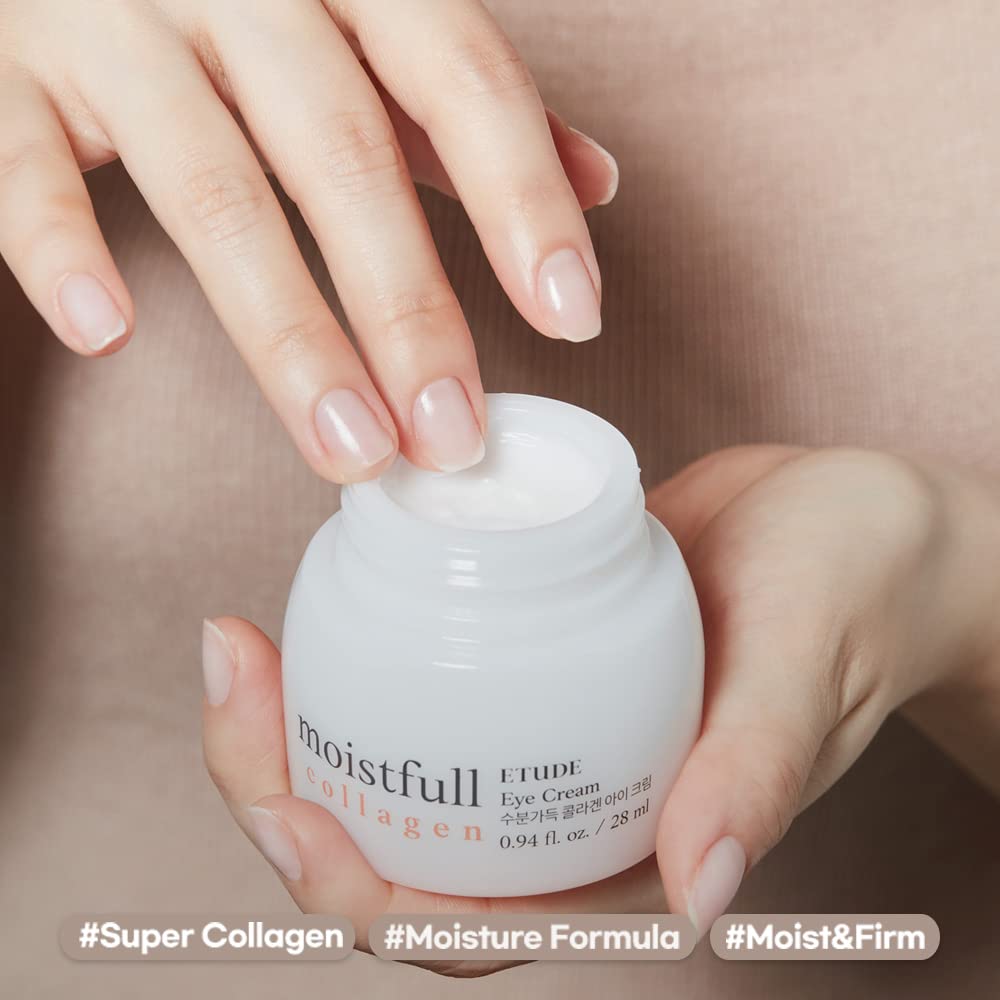 Etude House offers an exceptionally rich eye cream, a budget-friendly gem in Korean skincare under $25. This cream is a savior for those days when sleep is scarce, giving the illusion of eight hours of rest with just three. It intensely hydrates the under-eye area, akin to a refreshing glass of water, and is infused with collagen water to give your skin a bouncy, dewy appearance.
The cream boasts 100 hours of lasting moisture, thanks to its 653,800ppm of Super Collagen Water, comprised of small-sized particles for deep skin hydration. It leaves your skin feeling supple and rejuvenated.
A notable ingredient in this eye cream is the super plant Lupinus Albus Protein, known for its ability to flourish in barren soil. This protein is vital in transforming your skin, ensuring it remains moist and well-hydrated.
This 2-in-1 cream not only delivers hydration through its Super Collagen Water for a bouncy and dewy effect but also incorporates White Lupin, which is rich in seed-derived protein. This helps to maintain lasting skin moisture.
The formulation of this eye cream prioritizes safety and skin health. It's free from potentially harmful ingredients such as mineral oil, Polyacrylamide, Imidazolidinyl urea, Triethanolamine, Tar color, Silicone oil, and PEG surfactant. This ensures gentle, effective nourishment for your under-eye area, making it an ideal choice for those seeking effective and safe skincare options.
4. Elizavecca Milky Piggy Carbonated Bubble Clay Mask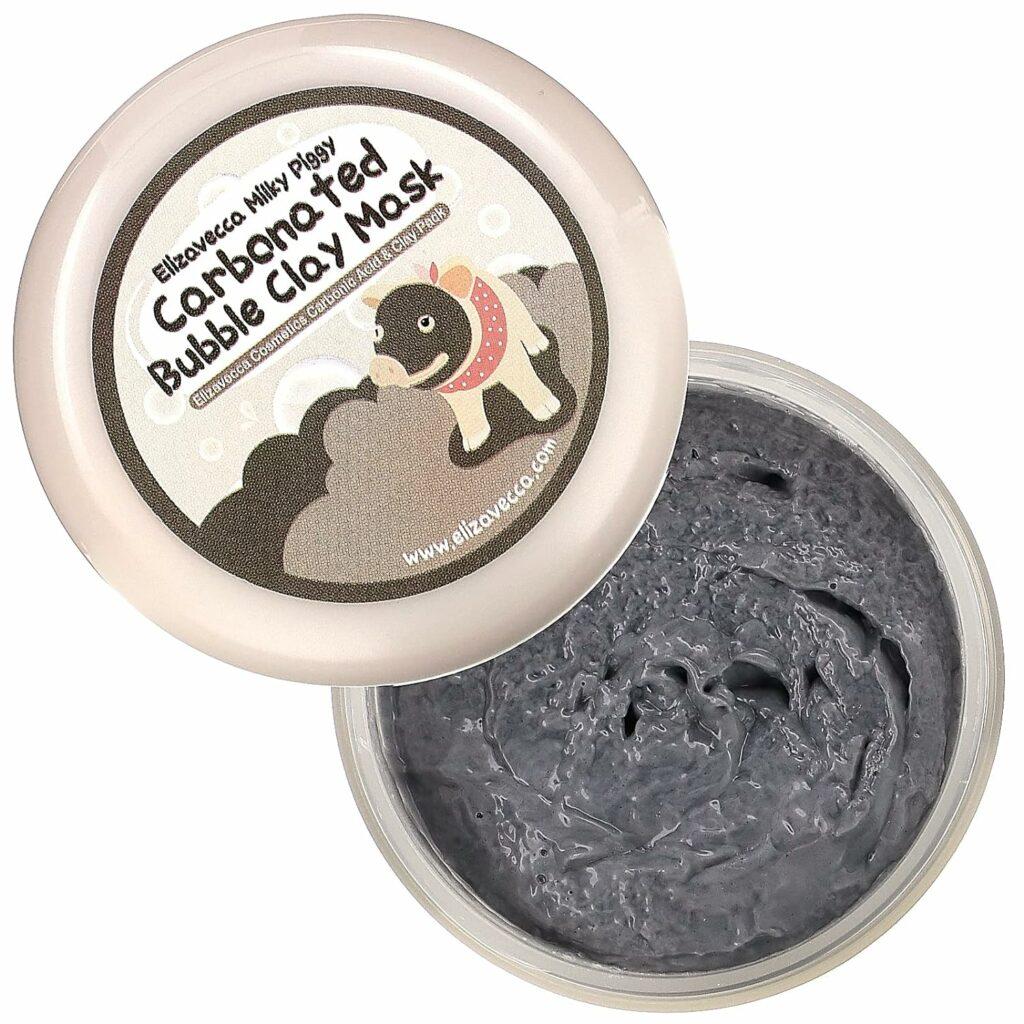 Try the Elizavecca carbonated clay mask, a unique product designed to cleanse your face by effectively removing excess sebum. This mask maintains the delicate balance of your skin by not stripping away its natural oils. Users have reported that their skin feels exceptionally clean and incredibly soft after use, making it hard to keep your hands off your refreshed face. Remember to tightly seal the lid after use, as exposure to air can activate the product.
Elizavecca cosmetics has created a standout item in skincare with this mask. It specializes in pore cleansing and sebum control. Its mud-like texture makes it easy to apply and, once used, can be washed off effortlessly. This product is an excellent addition to your skincare routine, especially if you're aiming for clear and well-maintained skin.
5. COSRX Low pH Good Morning Gel Cleanser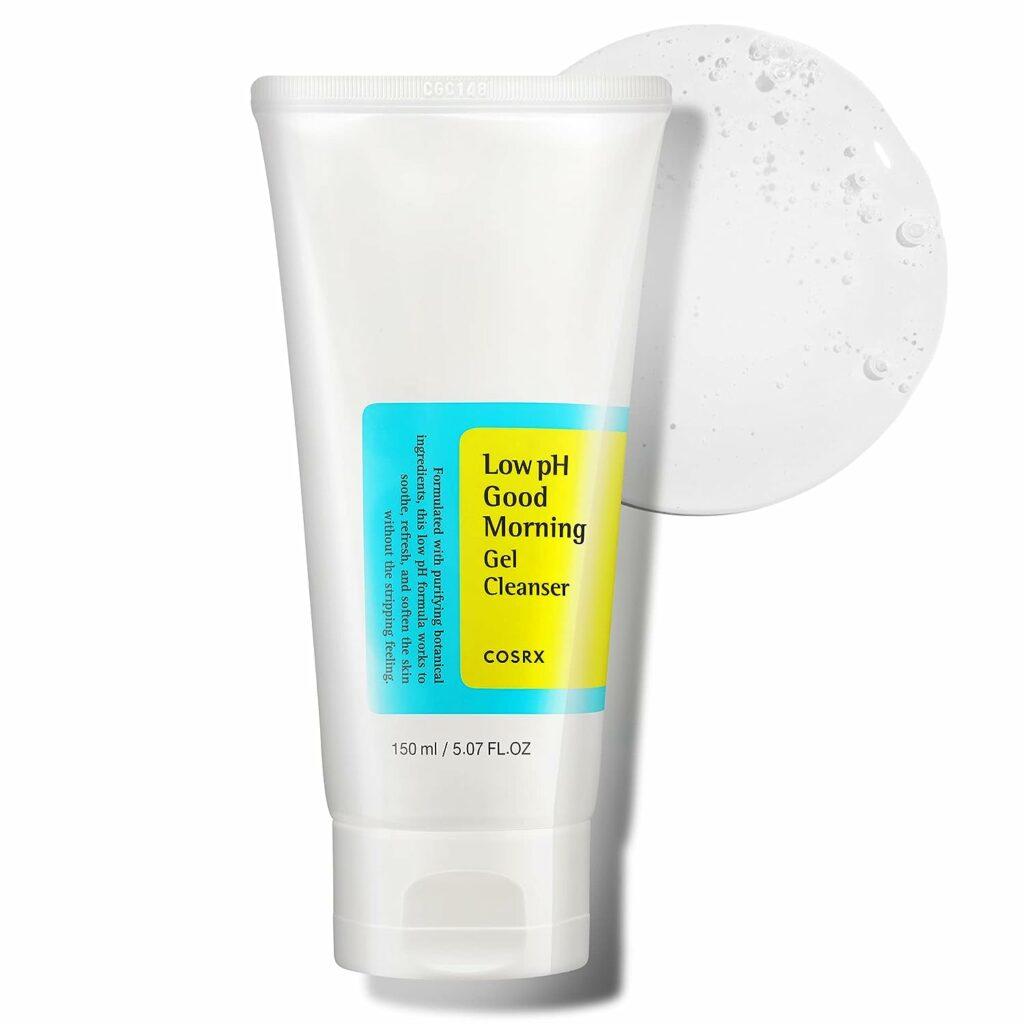 Cosrx offers a mild gel cleanser perfect for daily use, providing a fresh and clean feeling without any harshness. Its lightweight, pH-balanced formula is designed to be kind to your skin, helping to avoid issues like dryness, excessive oiliness, or acne. This cleanser is enriched with BHA, an exfoliant that helps to unclog pores, and tea tree oil, known for its antibacterial properties that target pimples effectively.
Named the Low pH Good Morning Gel Cleanser, it is ideal for both morning and night use. This cleanser effectively removes impurities while reinforcing your skin's natural barrier. Its gentle action refines skin texture, ensuring your skin feels clean and soft without any stripping effect. Suitable for all skin types, it contributes to firmer-looking skin in the morning and a clean rested feel at night.
Key components of this cleanser include a balanced pH level, tea tree oil, and BHA, which together work to calm, strengthen, and clarify your skin. The formulation aligns with your skin's slightly acidic natural pH level, supporting the balance and protection of your skin from potential irritants.
Cosrx is committed to high standards in skincare, formulating products with skin-friendly ingredients that soothe irritated skin. Like all Cosrx products, this cleanser is hypoallergenic, dermatologist-tested, and free from animal testing, parabens, sulfates, and phthalates, ensuring a gentle yet effective cleansing experience.
6. The Face Shop Rice Water Bright Light Face Cleansing Foam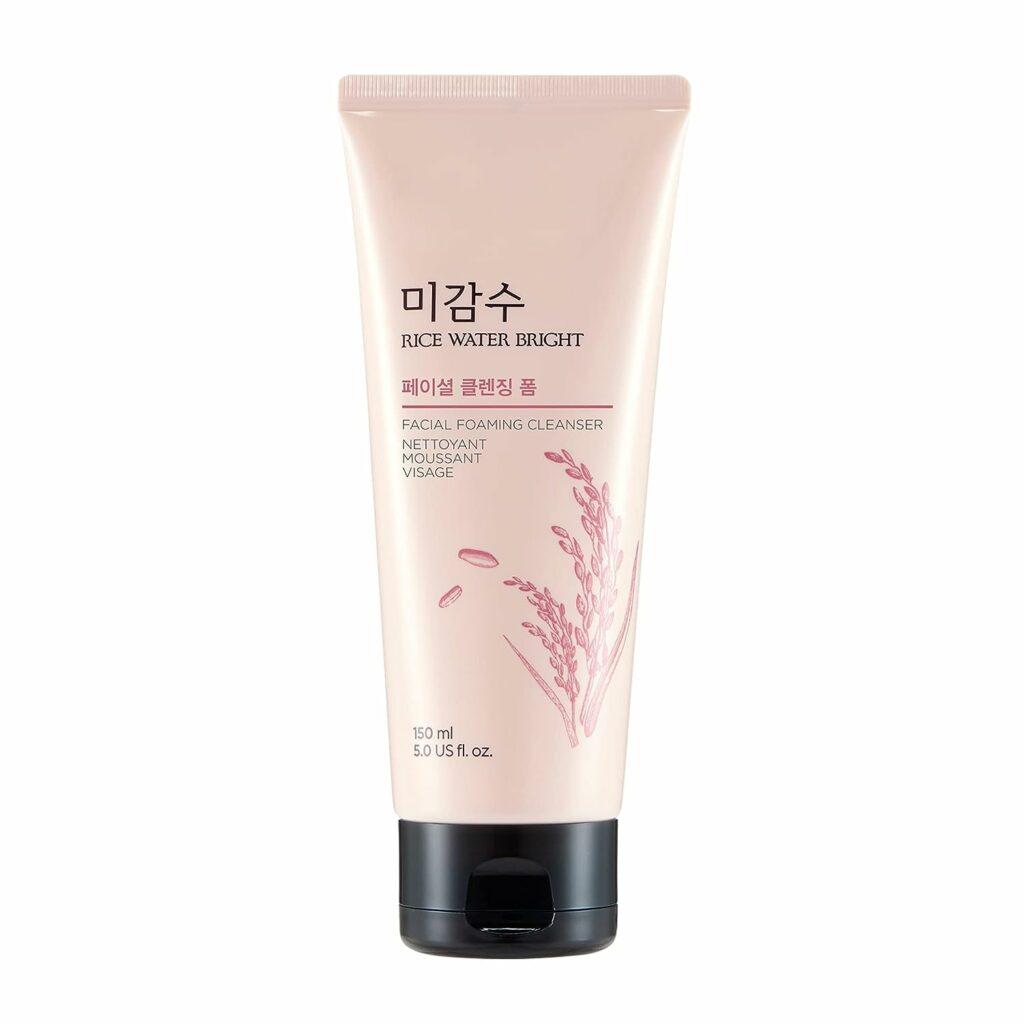 Consider The Face Shop's facial foaming cleanser, an ideal choice for those with skin as delicate as a young child's temperament. With just a tiny amount, this cleanser produces a luxurious lather that gently yet effectively cleanses your face without causing irritation or dryness. It's enriched with rice water, an ingredient celebrated for its skin-brightening properties.
This cleanser is infused with rice extract, which moisturizes the skin and creates a rich, dense foam for a soothing cleansing experience. Rice water for skincare has deep roots in history; it was a favored ingredient among the royal court ladies of ancient Korea for enhancing skin's smoothness and brightness.
Simply lather a small quantity with water, massage it gently over your entire face, and rinse off thoroughly with clean water. This process ensures a gentle yet deep cleansing, leaving your skin feeling refreshed and radiant.
7. Beauty of Joseon Glow Deep Serum Rice + Alpha-Arbutin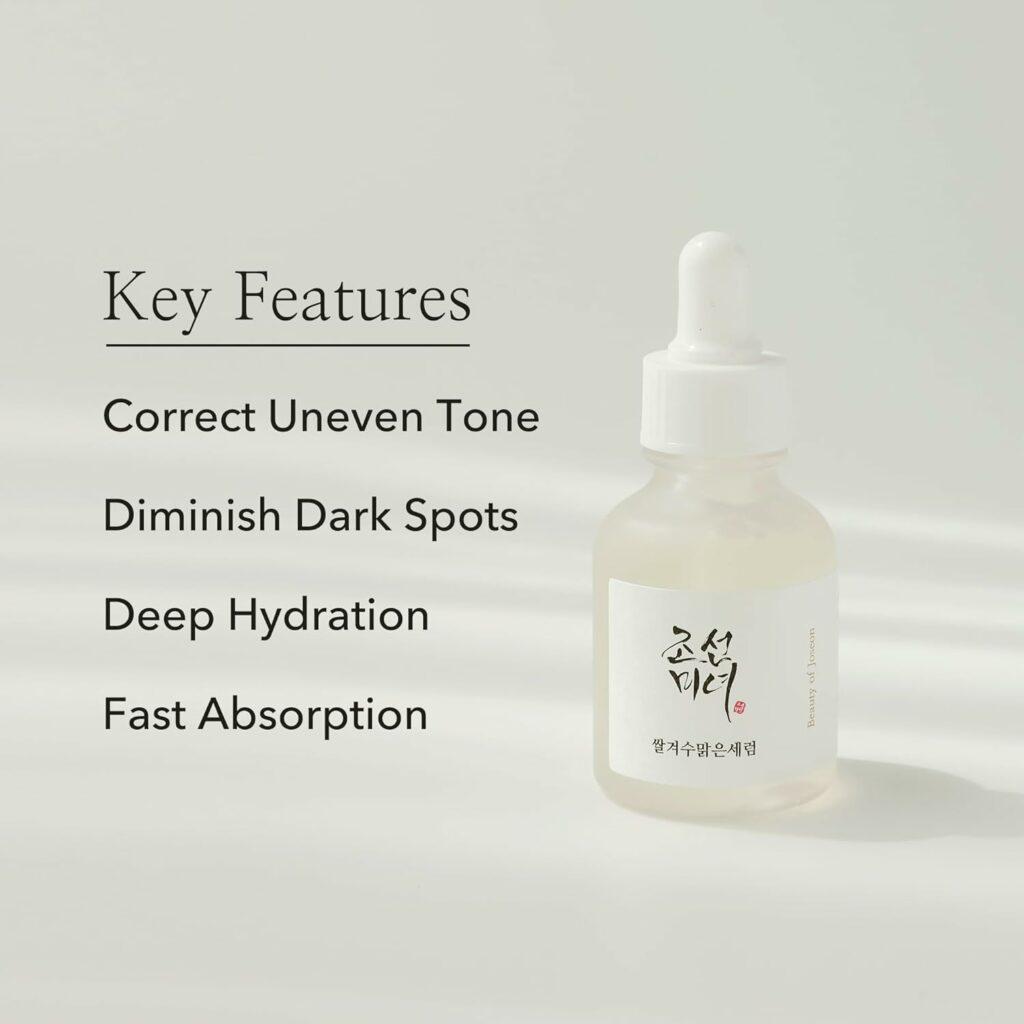 Discover the Beauty of Joseon serum, a key to achieving glass-like skin. This serum incorporates propolis, an ingredient known for its ability to tackle sebum buildup in pores, enhancing the skin's overall texture. Additionally, it contains niacinamide, a component famed for its ability to even out skin discoloration, contributing to a more uniform skin tone.
This product is expertly crafted to reduce and prevent skin discoloration, providing a clearer, more radiant complexion. Its advanced formulation is a secret to vibrant, glowing skin.
The serum boasts Alpha Arbutin, renowned for its effectiveness in pigmentation control. With a potency ten times that of standard treatments, it actively reduces melanin, diminishes dark spots, and balances skin tone, leading to a harmonious complexion.
Designed for effortless integration into your skincare regimen, its light, non-greasy formula is perfect for day and night use. It absorbs quickly, allowing for seamless application without any oily residue.
In addition to its pigmentation-correcting properties, the serum offers deep hydration, thanks to rice bran water. This ingredient moisturizes and enhances the skin's suppleness, promoting optimal skin health.
The Beauty of Joseon serum is suitable for all skin types, including sensitive skin. It effectively addresses concerns like uneven tone, dark spots, and dryness, helping to reveal a luminous, confident appearance.
8. MIZON All-in-One Snail Repair Cream
Mizon's snail repair cream is a standout product in Korean skincare for under $25. This cream is specially formulated to lessen the visibility of fine lines and dark spots. Enriched with raspberry extract, AHA, and mugwort extract, it rejuvenates the skin, leaving it feeling smoother and revitalized.
Key ingredients include Centella Extract, Mugwort Extract, Raspberry Extract, and AHA, each chosen for their skin-nourishing properties. This face moisturizer boasts a light texture quickly absorbed, providing hydration without leaving your skin feeling oily or sticky. It's designed to revitalize dull and dry skin, often caused by stress.
The cream features MIZON's signature Snail Mucus Filtrate, known for aiding skin repair, reducing blemishes, and fading wrinkles. With 40,000 PPM of Snail Mucin, this all-in-one cream harnesses the power of this unique ingredient.
Additionally, it contains plant extracts like Centella Asiatica, Raspberry Extract, and Mugwort Extract, which are optimized for delivering hydration. These components soothe damaged skin and replenish the oil and moisture balance, avoiding any irritation.
Combining these ingredients in the face moisturizer ensures deep hydration, forming a protective barrier to maintain moisture throughout the day. They assist in wound healing, boost skin cell regeneration, and diminish the appearance of fine lines, scars, and wrinkles. The cream also works to soothe the skin and balance oil levels, restoring vitality to tired skin.
9. Missha All Around Safe Block Soft Finish Sun Milk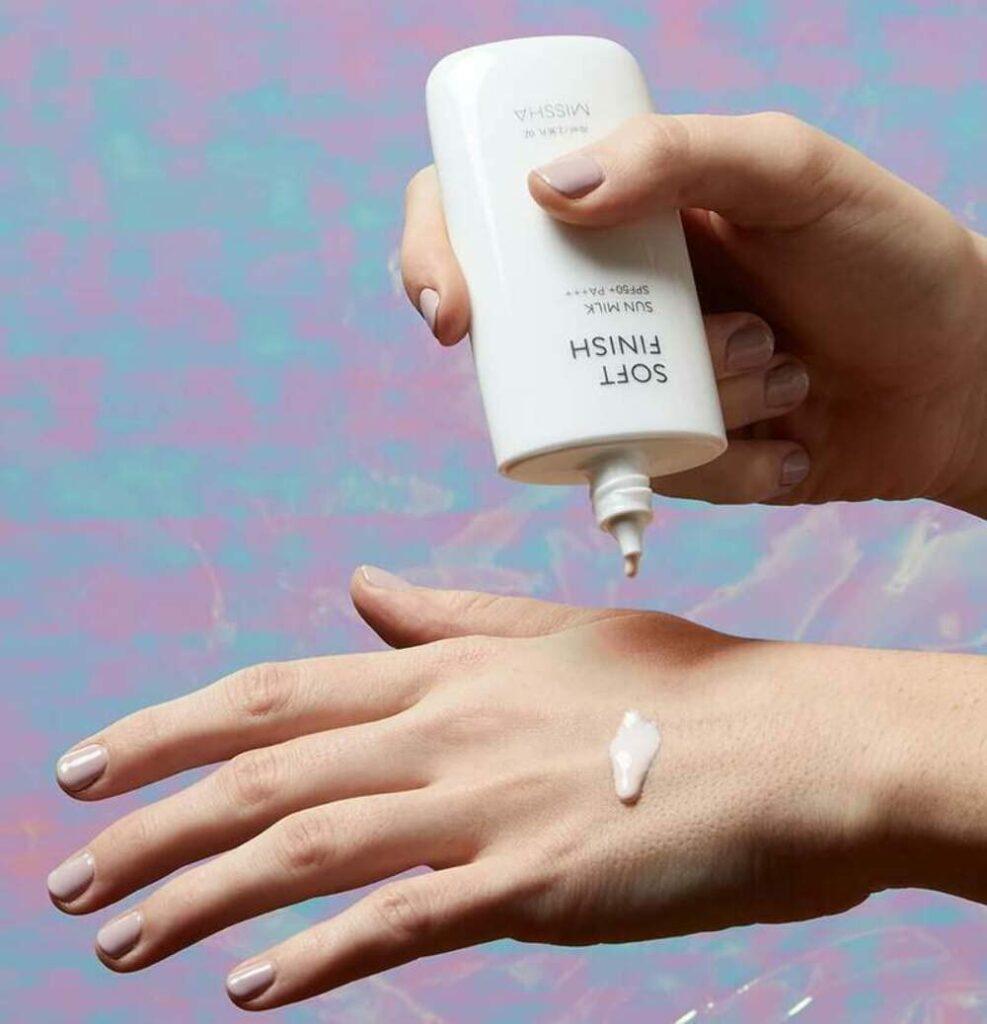 Discover Missha's Soft Finish Sun Milk, an essential addition to your Korean skincare collection under $25. This sunscreen offers robust protection with SPF 50+, shielding your skin from harmful UV rays. Its sweat and water-resistant formula ensures it stays in place during your active day without running or smudging. Additionally, it serves as an excellent base for makeup, preventing the dreaded cakey foundation look.
While this sunscreen is an untinted mineral formula, many users report no issues with a white cast, although experiences may vary. Its innovative double-layer UV Blocking System is designed to offer durable and comprehensive UV protection, even in high humidity conditions.
Missha's sunscreen stands out with its Silky Porous Powder, which creates a smooth base for your skin and ensures a lightweight application. There's no discomfort, even with multiple layers. It gently corrects your skin's natural tone and texture, imparting a radiant and fresh look without leaving an oily feel.
For optimal effectiveness, a small amount goes a long way. Use a pea-sized quantity for your face or an amount roughly half the size of your palm for body coverage. This ensures you get the full benefit of the sunscreen's protective and skin-enhancing properties.
10. DearKlairs Midnight Blue Calming Cream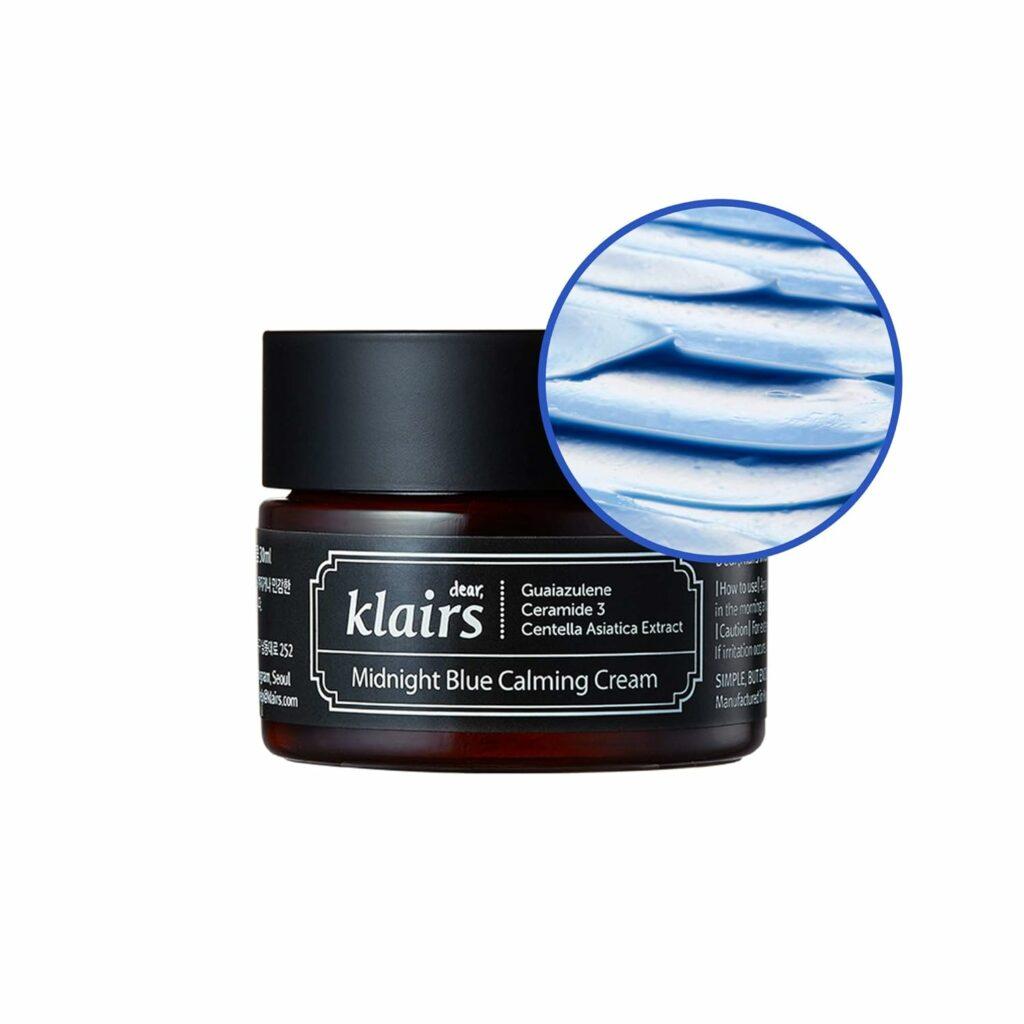 Explore the wonders of Dear Klairs' fast-acting calming cream, a must-have in your Korean skincare for under $25. Infused with natural chamomile oil extract, this cream is a hydration hero that effectively alleviates redness. It's particularly beneficial following laser treatments, extensive sun exposure, or post-shaving, making it a versatile addition to your skincare routine.
This gentle cream is crafted to provide immediate relief and soothing effects to sensitive skin. Its star ingredients include Guaiazulene, derived from Chamomile Oil, known for its potent calming effects, and Centella Asiatica, which hydrates and reduces redness.
Dear Klairs' commitment to skin health is evident in its formulation: the cream is cruelty-free, ethanol-free, paraben-free, silicon-free, steroid-free, and free from artificial coloring and fragrance. It maintains a balanced pH of approximately 7.0 ± 1.0 and is composed of non-comedogenic ingredients, ensuring it's safe and beneficial for all skin types.
Ideal for use after pore care, intense laser treatments, prolonged sun exposure, or shaving, this blue cream is applied to targeted areas, such as those experiencing redness, irritation, swelling, or sunburn. It works exceptionally well with the soothing line, quickly calming and stabilizing skin that is irritated due to heat or sebum.
If you've tried the Rich Moist Soothing Line and are looking for something more, the KLAIRS' Midnight Blue Calming Cream is an excellent alternative for comprehensive care. Although it's primarily used for smaller areas, its excellent spreadability means a little goes a long way. Enjoy its high effectiveness and satisfaction with just a tiny application.