Spice lovers, rejoice! New flavors of Korean spicy noodles are here, and they're even spicier than before. Koreans love chili peppers and have a reputation for their fiery and delicious instant noodles. The popularity of Korean fire noodles, with its spicy and vibrant flavors, has sparked the "fire noodle challenge" on YouTube. Due to the popularity of Korean ramyeon, companies are competing to attract young consumers with spicier products. This situation allows consumers to display their tolerance for spicy foods. Let's explore their latest offerings!
New Korean Spicy Noodles: Ignite the Fire Noodle Challenge!
Korean instant noodles first appeared in South Korea in 1963 to help alleviate the poverty that followed the Korean War. Samyang Ramyun developed these noodles as a convenient meal option. And with the support of Jung Yun Jeon, founder of Samyang Food Company, they gained recognition. Since then, Korean ramyeon has gained popularity worldwide, being served in casual dining establishments and enjoyed by households globally.
Samyang Spicy Noodles – Maeptaeng

Samyang Foods has introduced Maeptaeng. It is a new line of ramen inspired by the success of their famous Buldak Spicy Chicken Ramen. Maeptaeng offers three tantalizing flavors: black pepper beef, garlic clam, and chili pepper green onion. The black pepper beef variant delivers a refreshing taste with a satisfyingly spicy kick, perfect for relieving stress.
The garlic clam flavor boasts a pungent taste heightened by adding garlic-infused, seafood-based broth. Meanwhile, Samyang's chili pepper green onion offers a clean spiciness, intermingled with a vegetable soup base and zesty chili peppers.
To help consumers in selecting their preferred flavor, Samyang offers detailed product descriptions. These descriptions highlight different spiciness levels, catering to individual preferences. This diverse range of spice levels aims to offer spicy ramen enthusiasts a truly unique and enjoyable dining experience.
Nongshim Spicy Noodles – Shin Ramyun The Red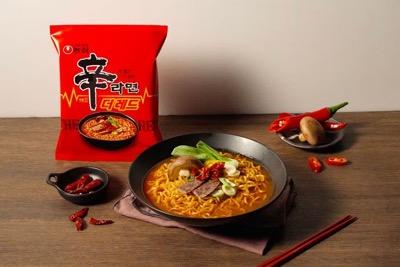 In January, Nongshim launched the Shin Ramyun Zepeto Cup Noodle, a significantly spicier original version. This upgraded product has plenty of meat and vegetables, enhancing the flavor compared to the popular classic. With an impressive 6,000 Scoville heat units, the Shin Ramyun Zepeto Cup Noodle delivers a powerful kick of spiciness.
In August, Nongshim unveiled the limited edition Shin Ramyun The Red, a noodle pack with 7,500 Scoville heat units. This amount surpasses the original Shin Ramyun's 3,400 SHU, creating an even more intense heat experience. Alongside the increased spiciness, the new pack features enhanced beef flavor, shiitake mushrooms, bok choy, and a thicker broth. Those who dare to try should proceed with caution.
Currently, Nongshim's spiciest noodle offering is the Angry Neoguri, with 6,080 SHU.
Ottogi – Ma Yeul Ramen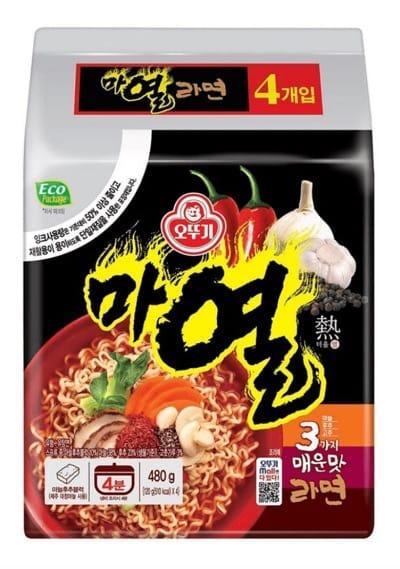 In August, Ottogi launched a new instant noodle called Ma Yeul Ramen. This Korean spicy ramen is created by adding extra garlic and pepper to Ottogi's famous Yeul Ramen. Like Yeul Ramen, Ma Yeul Ramen has a Scoville index of 5,000 SHU. Ottogi made Yeul Ramen more intense in 2012 by increasing the amount of red pepper powder. Ma Yeul Ramen aims to meet the demand for Korean spicy instant noodles. They use more garlic, a favorite ingredient among consumers, to enhance the flavor and aroma. It offers a unique, clean spicy taste with the reinforcement of garlic and aromatic pepper.
Ready to conquer the blazing heat of the spicy Korean fire noodle challenge? Feel the burn and savor the fiery deliciousness!
Join us on an exciting journey to explore the vibrant world of Korean lifestyle – from the latest beauty tips to the hottest tech and so much more on Facebook, Twitter, LinkedIn, and Flipboard.
Related Posts