Netflix offers a delectable selection of Korean food shows highlighting the flavorful and comforting essence of Korean cuisine. These captivating shows provide a delightful experience for the body and soul. From sizzling street food to gourmet restaurant meals, these programs bring the vibrant flavors of Korea right into your living room. Whether you crave spicy kimchi stew or the crispy goodness of Korean fried chicken, these shows will leave you wanting more. So sit back, relax, and immerse yourself in the mouthwatering world of Korean food through these captivating Korean food shows on Netflix.
Warning: Stomach may growl.
Indulge Your Taste Buds with These Korean Food Shows on Netflix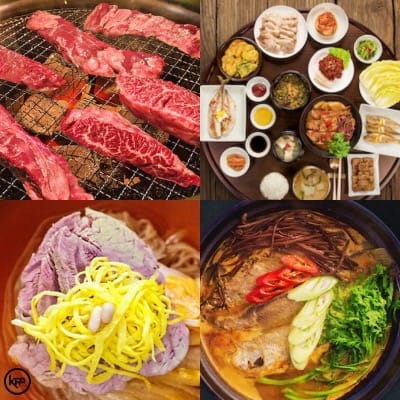 1. K Food Show – Nation of Broth
The first must-watch K food show on Netflix, "A Nation of Broth," explores the history and evolution of a humble bowl of Korean soup. In "A Nation of Broth," join Korean comic artist Huh Young-Man, actress Ham Yeon-Ji, and actor Ryu Su-young as they explore various cities and regions, uncovering the stories behind various types of Korean soup.
The show hosts engage with local chefs, home cooks, and culinary experts throughout their journey. They delve into various Korean soups, from ingredients and techniques to family recipes. The series presents the delectable flavors of Korean soup and provides insights into its historical and cultural significance.
Embark on this captivating journey to uncover the significance of this culinary staple at the heart of every Korean table.
2. Korean Pork Belly Rhapsody
"Korean Pork Belly Rhapsody" is a Korean food show that will take you on a compelling journey through 50 years of Korea's legacy of love for pork delicacies. Join the popular Paik Jong-won as he explores delicious pork-based dishes in Korea.
This show explores the fascinating history behind these cherished dishes and gives insights into the artful culinary techniques that make them as mouthwatering as iconic delicacies. Get ready to savor their decadent, flavorful delights!
Watch and immerse yourself in the charming stories and mouthwatering appeal of pork belly.
3. Hanwoo Rhapsody
"Hanwoo Rhapsody" is a captivating K food show on Netflix hosted by Paik Jong-won, a renowned South Korean chef. The show immerses viewers in the rich history and unique traditions of Hanwoo beef.
Hanu or Hanwoo beef, renowned for its exceptional quality, comes from cows raised locally. Its reputation comes with a hefty price tag due to limited supply and high demand. Koreans are fond of Hanu or Hanwoo beef due to their efficient utilization of every part of it. From slow-cooked broths to mouthwatering dishes, Hanwoo beef offers a delightful experience that nourishes both the body and soul.
Indulge in the mouthwatering journey of South Korean beef delicacies through your screen. This engaging experience satisfies your curiosity and taste buds, offering an irresistible feast.
4. K Food Show – A Nation of Banchan
Hosted by Huh Young-man, Ryu Soo-young, and Mimi, "A Nation of Banchan" is a captivating K food show documentary on Netflix. The show offers a deep dive into the vibrant Korean table, from various grains to an array of tempting side dishes. Moreover, the show unveils the intricate process behind creating the diverse and beloved meals that define Korean cuisine.
Furthermore, the show will give viewers a unique perspective on Korean culinary traditions' complexity, richness, and artistry. So, whether you're a passionate food lover or just curious about Korean culture, this K food show is an absolute must-watch for your taste buds and cultural curiosity.
Embark on a compelling journey in the world of Korean cuisine and discover the richness and uniqueness of Korean banchan.
5. Paik's Spirit
"Paik's Spirit" seamlessly combines the elements of a talk show and a culinary journey. It offers an amusing experience for food lovers. The show is hosted by Paik Jong-won, a renowned culinary star, and offers a unique blend of captivating conversations and mouthwatering dishes.
With his charming personality and expertise in the food industry, Paik adds an intriguing dimension to each episode. Beyond the realm of food and drinks, "Paik's Spirit" delves into deeper discussions about life with celebrity guests. This creates a well-rounded show that appeals to a wide range of interests. Explore the world of gastronomy and engaging conversations in this one-of-a-kind masterpiece.
6. Korean Cold Noodle Rhapsody
Join renowned chef Paik Jong-won on a captivating culinary journey through "Korean Cold Noodle Rhapsody" on Netflix. This Korean food show immerses viewers in the refreshing flavors and cultural significance of naengmyeon, a beloved summertime staple.
As the show explores the rich history and cooking techniques behind this iconic dish, it offers a unique exploration showcasing Korean cuisine's beauty. With its ability to delight the senses, "Korean Cold Noodle Rhapsody" is a must-watch for food enthusiasts and cultural explorers alike.
Indulge in a deeper understanding of naengmyeon and its profound place in Korean culture through this engaging and informative show. Discover naengmyeon's enticing flavors and cultural significance, satisfying your food-loving soul. Don't miss out on "Korean Cold Noodle Rhapsody" on Netflix.
7. K Food Show – A Nation of Kimchi
Join Huh Young-man, Ryu Soo-young, and Mimi on a captivating gastronomic journey through the world of kimchi, Korea's most symbolic food. The Korean food show "A Nation of Kimchi" on Netflix explores this staple's unity, history, and creative evolution in Korean cuisine.
This unique documentary not only delves into the culinary traditions but also provides insight into the cultural significance of kimchi. Discover how it embodies Korean culture and identity, making it a truly fascinating watch for those interested in cultural studies.
Related Posts