Exfoliators are another great skin care product from the K-beauty industry. If you are looking for something to clean out your pores, improve your skin tone, and enhance your overall glow, you must start using the best K-beauty exfoliators. By using exfoliators, you can also solve problems like dry and flaky skin, excessive greasiness, hyperpigmentation, and breakouts. Combined with other Korean beauty products such as skin toners, essences, serums, and ampoules, you can get glowy skin and an overall improvement in your skin tone.
Types of K-Beauty Exfoliators
For exfoliating, you can use a physical exfoliant like a fine face scrub or a chemical exfoliant like K-beauty exfoliator gels that are acid-based. As for chemical exfoliants, there are many different types of exfoliators available in the market. All of them have different exfoliating ingredients that make them suitable for a particular skin type or a specific skin concern.
So, How Do The Exfoliators Work?
Most exfoliators use one of the two primary components to clump the dead skin cells together – cellulose and carbomer. These ingredients work to remove dead cells from the skin. As the dead cells are continually removed, new cells are generated continuously. This results in a reduced chance of formation of blackheads or clogged pores.
Physical exfoliators only remove dead cells while the chemical exfoliators go deeper into the skin and work on improving skin cell production.
Best K-Beauty Exfoliators
Here are the best five K-beauty exfoliators that you can get your hands on for soft and clean skin!
Neogen Bio-Peel Gauze Peeling Pads Wine exfoliator is an excellent option for removing dead skin cells and impurities from the skin. It has 30 pads that are single-use pads. These pads use a 3-layer pad technology, and they contain lactic acid, which helps in cleaning out the pores. The main ingredient here is Resveratrol that comes from red wine, hence the name. And if you don't like the smell of wine, then you can get this exfoliator from Neogen in lemon and green tea version.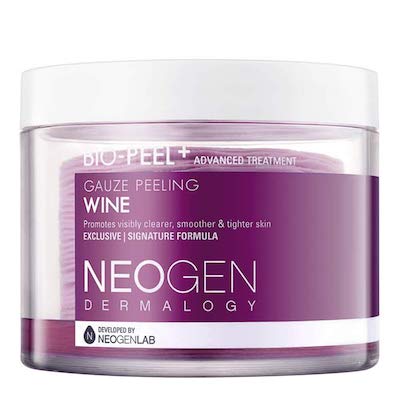 It is a multifunction sugar mask with grapefruit and raspberry extracts. Both of these are natural antioxidants. It also contains shea butter and jojoba seed oil that help in moisturization. The Klairs Youthful Glow Sugar Mask can also be used for removing makeup along with exfoliation. It can also function as a cleansing and nourishing mask.
COSRX One Step Original Clear Pad comes with pads that are pre-soaked with betaine salicylate and hyaluronic acid. The pads also contain willow bark water, which helps in clearing the blemishes on your skin and controlling breakouts. This 2-in-1 exfoliator dissolves dead skin cells and removes any excess sebum from your skin without causing any irritation.
It is an affordable and accessible exfoliator. It uses AHA and BHA for treating acne and clearing out pores and blackheads. Each pack has one swab stick in it, which can be used for exfoliation. It is a gentle formulation and works wonders on sensitive skin as well. Unlike other exfoliators, it has an innovative design. The exfoliator is shaped like a huge cotton swab so that it can reach all the nooks and crannies in your face. Dr. Oracle A-Thera Tea Tree Peeling Stick can exfoliate and smoothen the skin texture.
It is one of the best-selling K-beauty skin exfoliators. It can remove dead skin cells and any dirt and impurities from your skin. Skinfood Black Sugar Mask Wash Off is not just an excellent exfoliator, but it also nourishes your skin. The Skinfood exfoliator contains black sugar granules that load up the skin with essential minerals and nutrients. It is also rich in vitamin B, which supports skin cell regeneration and protects the skin against problems like aging and UV rays. Along with these, it also has ingredients that hydrate the skin as well, giving you a smooth and nourished skin.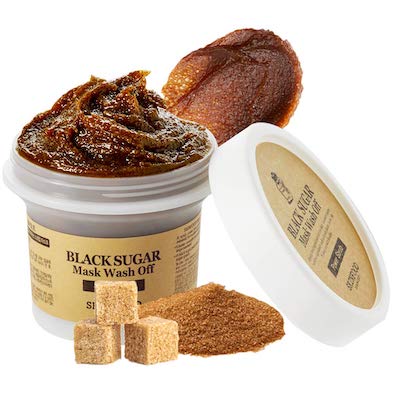 Check out other articles from KoreaProductPost about best of Korean skin care:
Our editors independently select all products featured on KoreaProductPost. However, we may earn an affiliate commission when you buy something through our retail links.