Check out the best Korean foot masks that can peel away calluses and dry skin to make your feet silky and soft with smooth, radiant skin!
Face masks are now a staple in almost everyone's skincare routine. You may get hand and even foot mask peels, too, in addition to the facial ones. You may use this sort of mask to make your weary feet seem and feel like a baby's.
Using foot mask peels on a regular basis results in healthy and smooth skin on your feet. Acids in this product work together to peel off dead skin cells from the surface of your skin, exposing fresher and softer skin below, removing the layer of thicker cells that is keeping them in place.
If you want to get your hands on the greatest Korean foot mask, you'll have to go online. In addition, there are several kinds of Korean foot masks to be aware of. Some types may produce severe skin rashes, although others may give relief from such reactions. This is why it's important to exercise caution while making a purchase. In order to make it easier for you to buy the perfect Korean foot masks in 2022, we've put together this buyer's guide.
10 Best Korean Foot Masks
TONYMOLY is one of the leading brands in the world of Korean beauty. This foot peeling liquid is a simple Korean foot mask for soft, smooth feet. With this painless foot peeling lotion, dry spots and hard calluses on the soles of your feet can be removed and improved.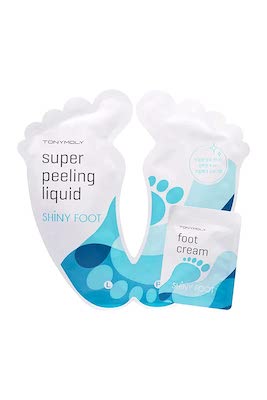 It is enriched with natural fruit extracts to gently exfoliate tough skin on the feet. In addition to removing excessive calluses, the product contains peppermint extract. Other ingredients, such as Argan oil and lavender, help alleviate tension and keep the skin on your foot soft and supple, respectively.
LAPCOS is a cult favorite in the Korean beauty and skincare industry, thanks to its use of only the finest ingredients and unwavering commitment to innovation. Pamper your feet with these nutritious, one-time-use slippers. With this foot mask, you can get a pedicure at home.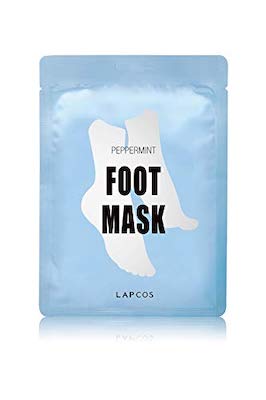 The product contains healing and restoring nutrients for one of our body's most hardworking areas. Essential oils of lavender and peppermint soothe and nourish both feet and the mind with the LAPCOS Foot Mask. It's great for freshening up tired skin and rejuvenating the senses.
A novel foot exfoliant, The Face Shop Smile Foot Peeling Mask is a first of its kind! The first time you use it, your feet will appear fresh and clean. Put on the masks like socks, and you'll have a spa experience right in the comfort of your own home.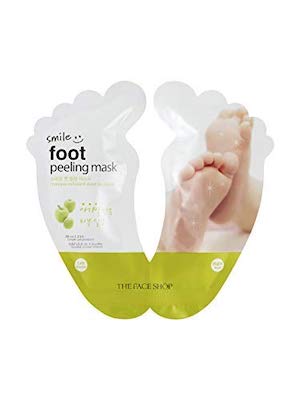 The Smile Foot Masks are a great way to pamper your feet and achieve silky, smooth skin. Relax as your feet are nourished and hydrated, thanks to these easy-to-use products.
The Innisfree Special Care Korean Foot Mask moisturizes and nourishes the skin on your feet as it contains a complex extract of herbs and greens to give the skin a healthy glow.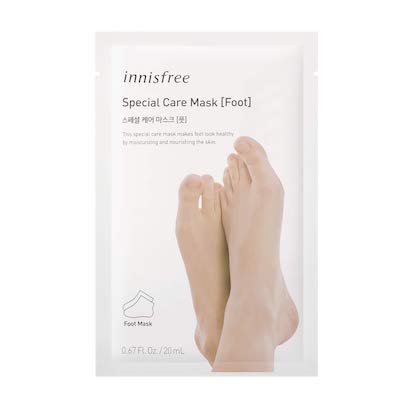 It conforms to your skin flawlessly and delivers nutrients and hydration since it is soft and flexible. Put on a foot mask after washing your feet. Remove the foot mask after 10 to 20 minutes and massage the remaining liquid into the skin to help it penetrate.
You can remove dead skin cells from your feet with A'pieu Soft Foot Peeling Socks, a slip-on nourishing/cleansing solution. Furthermore, this sheet mask combines both AHA and BHA chemicals, which prevents any discomfort while peeling fragile skin. Adding to that, they provide remarkable moisture and are ideal for treating dry feet and cracked heels.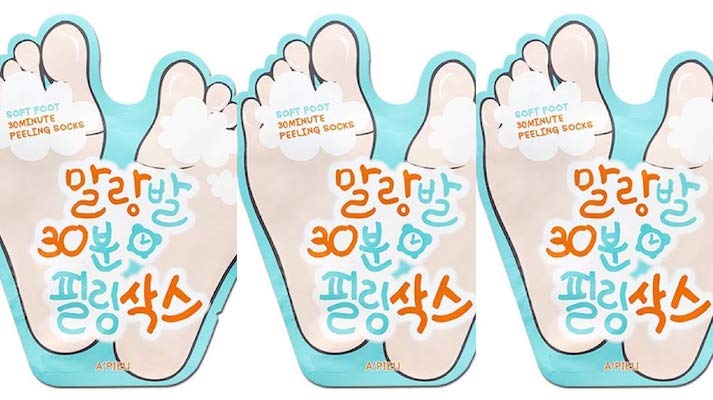 In the end, they provide a feather-like sensation that lasts for 30 minutes and exfoliates softly yet efficiently. Acids like as Lactic, Glycolic and Salicylic work in tandem with Arginine to provide the best results. In other words, the macro peeling that occurs a few days after you use the mask protects your foot on all fronts.
The Baby Foot Mask sheet nourishes and softens the feet, leaving them hydrated and fresh. Numerous floral and plant elements nurture the foot in this product. As an added benefit, hyaluronic acid helps to hydrate the skin from the inside.
It's a snap to put on this foot mask. The feet should be cleaned and dried. Using the dotted line, cut apart the foot mask into two halves—one on each of your feet. To absorb the essence completely, massage the feet. Remove the foot mask after 15-20 minutes and massage the leftover essence into the feet.
For weary, dry feet, the Nu-pore Korean Moisturizing Socks are a rejuvenating and calming solution. With the help of shea butter and aloe vera, your skin will be hydrated and smooth. Your dry, cracked heels will be transformed into baby-like softness and suppleness with this treatment.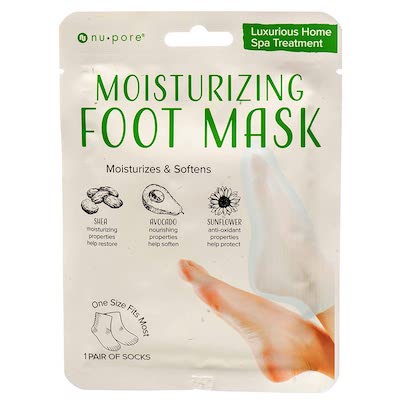 Extra nutrition is provided by the inclusion of Sunflower Seed, Avocado, Tea Tree, and Jojoba oil in this product. You may use this foot mask at home or on the move as a spa treatment!
Designed to accommodate feet of various sizes and keep the serum from dropping, these foot masks are enriched with peony root extract and green tea extract. Deep-penetration solution infuses vitamins and minerals to nourish feet with this foot restoration mask. The Peony foot mask has Ginger and Licorice to promote relaxation and healthy feet by reducing stress.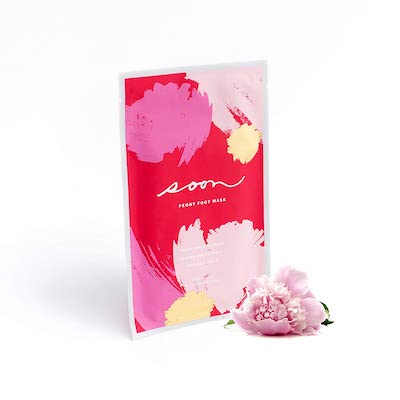 masque BAR is a South Korean brand of creative and distinctive beauty foot masks that aims to enhance your skin's natural beauty and radiance. Using this intensive moisturizing foot mask can help to improve the appearance and feel of even the driest feet.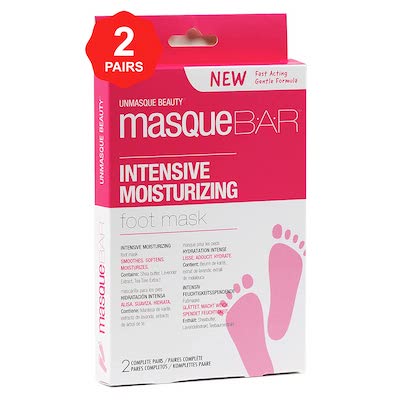 Remove calluses and hard dead skin on your feet with Elixir's Premium Foot Peeling Mask. With these peeling booties, you can get rid of the dead skin on your feet and cure athlete's foot and foot odor, as well as smooth out rough and cracked skin.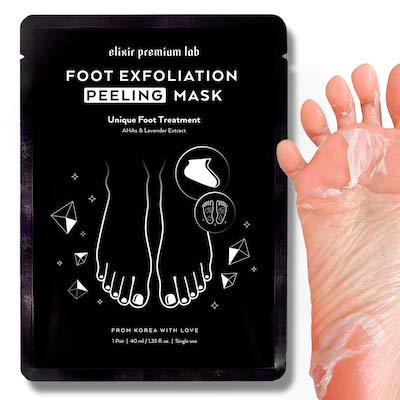 Natural extracts such as lavender, kiwi, olive, acerola, and others, all of which have a long-lasting moisturizing effect, are in the product's ingredients list. This foot peeling mask exfoliates not only dead skin cells but also hydrates and protects your newly regenerated skin.
Our editors independently select all products featured on KoreaProductPost. However, we may earn an affiliate commission when you buy something through our retail links.