South Korean company, PowderRoom, is developing a social beauty platform and co-creating products based on information from the extensive user network.
 When it comes to Korean products, beauty is not just skin-related. They want you to live it, breathe it, and talk about it. Many groups and communities exist that get into a regular beauty-related discussion and pull each other up for having a horrible mascara or lipstick day. One such platform is PowderRoom. This App is a favorite amongst GenZ individuals, and they love discussing their beauty purchases, problems, and solutions on it. 
What is the PowderRoom?
The PowderRoom started in 2003 on Naver Café as a beauty-related group interaction platform. It gradually grew into the most sought-after place where everyone wanted to know the "makeup of the day" and other beauty trends. As for today, it has 3.7 million subscribers, and the list keeps growing. It is safe to say that PowderRoom is the largest platform of its kind. Sukyung Kim is the CEO, and she mentions that the pandemic helped them expand onto more social media pages like Facebook, YouTube, and Instagram. On this App, you can find makeup tutorials from experts and many beauty routines. It also contains product reviews and a fresh makeup style every day. With the help of user interactions, PowderRoom created a brand called All My Things.
The Popularity of PowderRoom
PowderRoom is not a small brand but an institution in itself. This organization comes with 18 years of experience in the beauty segment and keeps a consumer-driven vision. This company has come around to becoming a trusted name for its community members. It gives you an understanding of beauty products along with food, fashion, and life in general. The PowderRoom even has awards given to the most ranked beauty brands. These awards take place two times a year and showcase the preference and opinions of real people. Products on PowderRoom come in fifty-three categories, which help users find the perfect one for them. They also highlight the products with the most positive views. It guides the community members to understand trends and the quality of what they use. People look forward to the most trending styles here, before any festival, and go to any lengths to match the look.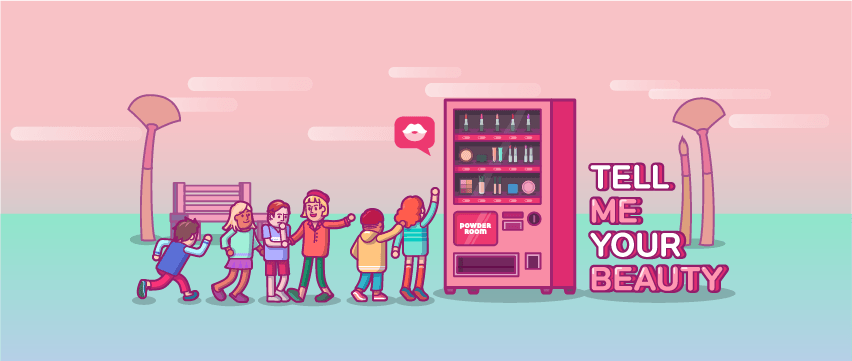 The Brand AMTS and Hi, I'm Yours
PowderRoom gathered product information based on the want and reviews of its community members. They then came up with something to suit their liking. The first brand they launched was Hi, I'm Yours. It came with an eyeshadow palette, cushion foundation, and a lip tint. The first brand came out in 2020. Their recent brand is All My Things which is also known as AMTS. The second collection collaborates with True Beauty, a famous webtoon in South Korea. They plan to launch their third collection by the end of 2021. Not only does PowderRoom plan on co-creating more products. But, they also have a co-creating platform on the cards. This space would allow the team at PowderRoom to conduct surveys, suggest options, and get people talking in the community directly. As the success of every business lies in understanding its customer, they want to start from the end and create products that people already want. 
PowderRoom's Future with e-commerce
Besides creating products from customer feedback, PowderRoom also introduced an e-commerce portal on its community platform itself. Shoppers can now buy their desired products here from the brands of this company. This space will also have beauty-related content for the fans to read and make thoughtful choices of the products they wish to buy. They plan on letting the users create more content to drive traffic and increase sales. There is a rewards system in place as well for good content that attracts more guests. The company wishes to explore other e-commerce models like live commerce and group buying. Their target market, for now, is the South Korean population. However, the company does plan to start shipping to Japan, the US, and China soon. 
In the End!
When you need to find out the most influential product in any field, the best way to do it is to read user reviews. PowderRoom believes in the same concept and drives its community into reviewing products to showcase the best one. With a new vision of venturing into the e-commerce segment and co-producing products, this company is one to look out for. Join the community today and explore the world with like-minded beauty enthusiasts.