Who doesn't like Korean ramen (ramyeon)?Immerse yourself in the hearty and nourishing excellence of these seven exquisite Korean vegan ramen options. Each bowl is a culinary journey through the rich and diverse flavors of Korean cuisine, meticulously crafted without the use of any animal products, ensuring that your meal is both ethically and nutritionally commendable.
These vegan ramyeon dishes invite you to explore a world where indulgence and health coexist harmoniously. From the robust, savory broths to the perfectly springy noodles, every element is carefully chosen and prepared to offer you a guilt-free dining experience that does not compromise on flavor or satisfaction. The vibrant vegetables, tantalizing tofu, and a symphony of spices and seasonings intertwine to create a melody of flavors that dance on your palate, providing a satisfying and nutrient-dense meal or snack.
Korean Vegan Instant Ramen You Must Try
1. Nongshim Soon Ramyeon
Nongshim Soon Ramyeon offers a delightful, vegan-friendly instant noodle experience, brimming with the rich, umami flavors of Korean cuisine. The noodles boast a splendidly chewy texture, providing a satisfying base for the savory and slightly spicy broth. Highlighted by its inclusion of various vegetables, this ramyeon ensures a burst of freshness and additional nutritional value in every bite.
The ease of preparation and accessibility make it a go-to choice for quick, compassionate meals without compromising on taste. Ultimately, Nongshim Soon Ramyeon stands as a testament to the possibility of enjoying instant, flavorful, and cruelty-free Korean meals anytime, anywhere.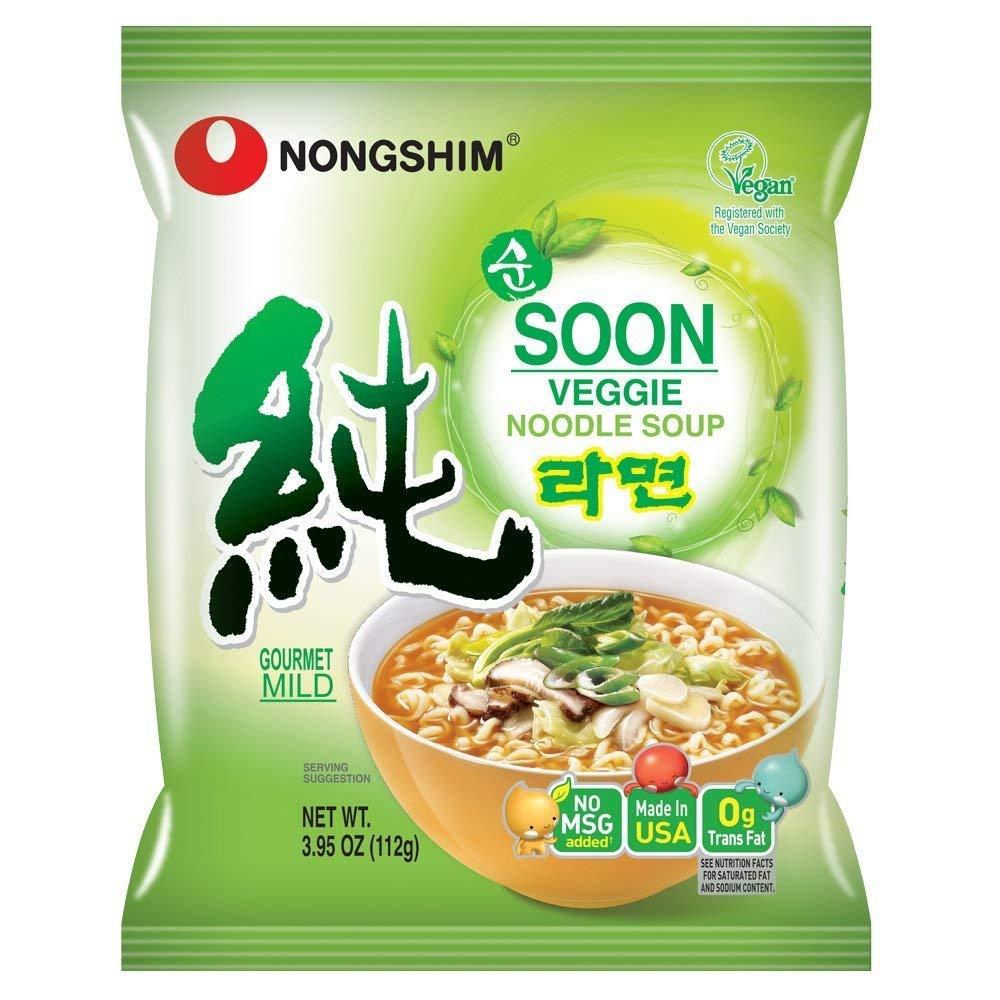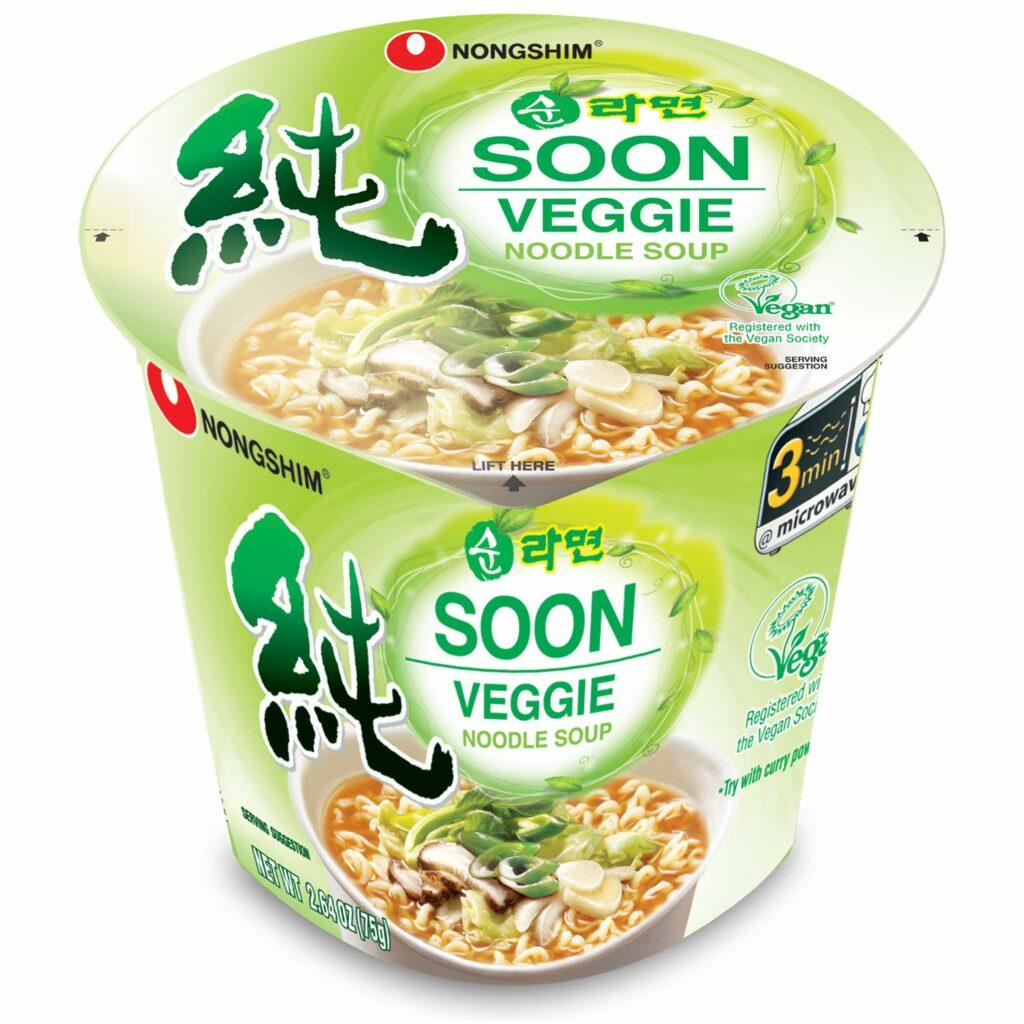 2. Sahmyook Vegetable Potato Spicy Noodle
Sahmyook, a notable Korean brand, emphasizes the creation of vegan-friendly products, including a diverse range of instant noodles and beverages. Their Vegetable Potato Spicy Noodle is a particularly enticing option, marrying the hearty goodness of potatoes with a tantalizing spicy kick. This instant noodle variant not only promises a burst of flavors but also adheres to commendable production standards, avoiding preservatives and MSG.
Available in both bag and cup formats, it provides a convenient, quick, and scrumptious meal solution for those adhering to a plant-based diet. Sahmyook continues to pave the way in the Korean vegan market, ensuring that flavorful, ethical, and nutritious options are accessible to all.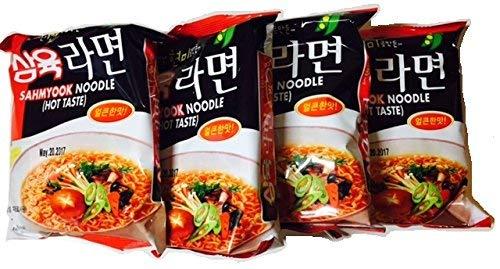 3. Saerom Food Veggie Ramen
Saerom Food, while not exclusively vegan like its associate Sahmyook, offers a noteworthy Veggie Ramen that appeals to plant-based consumers. This ramen, free from animal ingredients, provides a savory and satisfying noodle experience, ensuring a delightful meal without compromising ethical eating principles.
Additionally, Saerom Food extends its vegetarian-friendly offerings with innovative products like vegetable-based "fish" cakes and a unique tofu snack. Thus, Saerom Food, with its selective vegetarian offerings, contributes to expanding choices for those seeking plant-based Korean culinary experiences.
4. Korean Vegan Ramen Bundle by Daebak Box
Savor the hearty and nutritious delights of our K-Vegan Ramen Set from Daebak Box. The special set showcases a curated selection of 7 exquisite Korean vegan ramen varieties. This entirely animal product-free meal/snack promises not only a guilt-free indulgence but also a flavorful and nourishing dining journey.
Brown Rice Vegetarian Ramen
Sahmyook Vegetable Potato Jjajangmyeon
Nongshim Vegetable Ramen
Ottogi Charhwang Ramen
Samyang Delicious Vegan Ramen
Sahmyook Vegetable Potato Noodle (Spicy)
Sigolssal Ramyeon
Use the code KPPKTP for extra discount.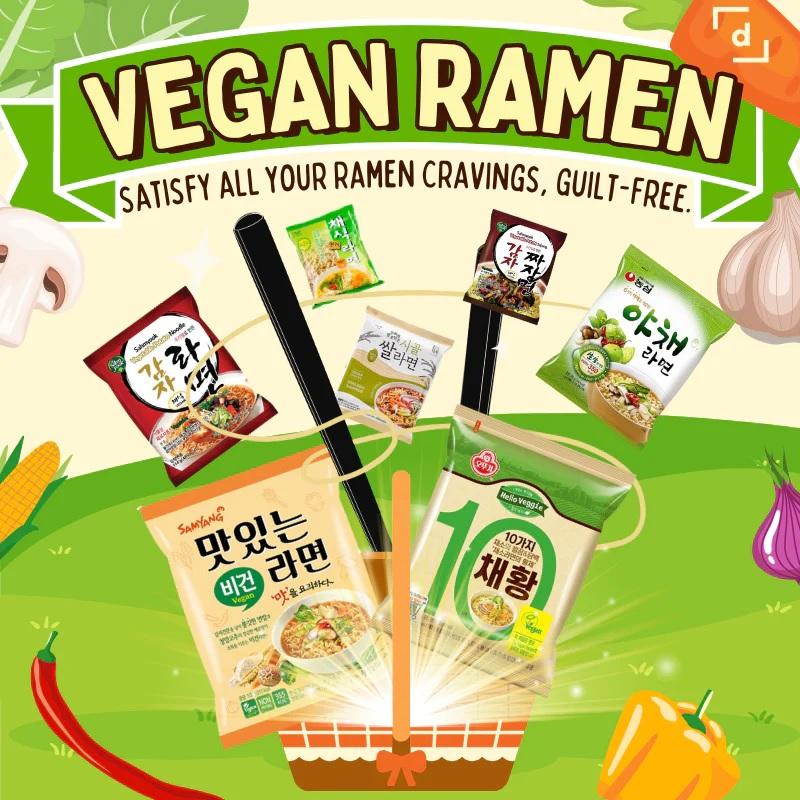 Wrap Up
Whether you're a seasoned vegan, exploring plant-based options, or simply a lover of delectable noodle dishes, these Korean vegan instant ramen selections promise a delightful and wholesome culinary adventure, ensuring that every bite is a step towards a satisfying and compassionate dining experience.
Our editors independently select all products featured on KoreaProductPost. However, we may earn an affiliate commission when you buy something through our retail links.
Related Posts