Tired of the same old turkey and pasta? Check out our best ideas of Korean food to spice up Thanksgiving dinner menu this year!
Spice Up Your Menu for A Unique and Memorable Thanksgiving Dinner Experience
As Thanksgiving approaches, it's time to embrace the holiday's most cherished tradition: the dinner. However, since hosting a Thanksgiving dinner is an annual tradition, there may be times when you are running out of ideas for your menu for the upcoming event.
Besides, can you imagine preparing a giant turkey for the whole family or community again? You've done that last year, the year before, to even 5 years ago. It takes a lot of time and effort, and the result might not always be worth the process.
In that case, try spicing up your Thanksgiving dinner this year by adding some exciting choices of heavenly Korean food.
Not only would they enhance your Thanksgiving dinner, but they would also create a unique and unforgettable experience!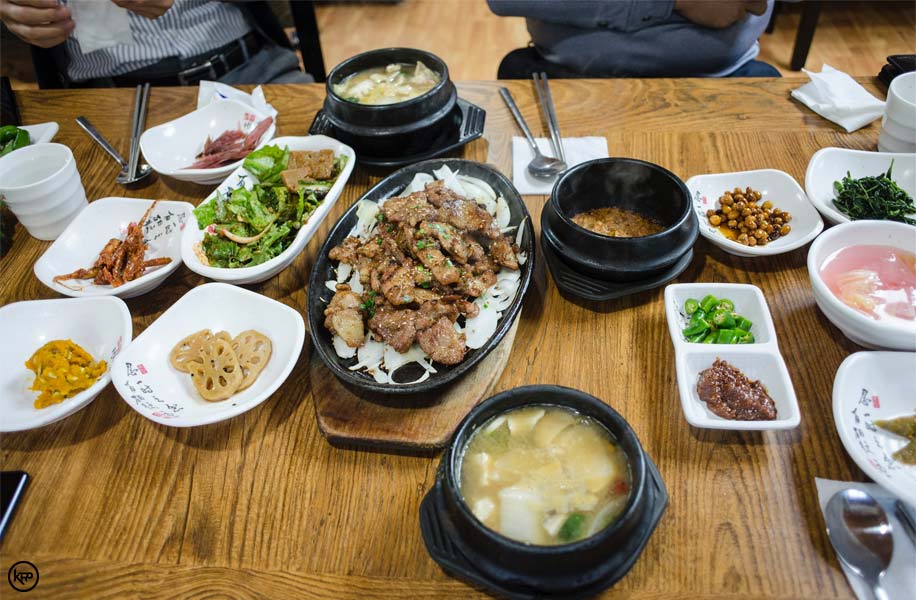 Korean Food Ideas to Level Up Your Menu
Now, are you ready to make a Thanksgiving dinner breakthrough this year?
From savory bulgogi to spicy kimchi, these delicious Korean food ideas can transform your Thanksgiving dinner into a iconic multicultural feast.
Check out some of our best Korean food selections to add to your Thanksgiving dinner menu. Embrace this harmonious blend of traditions and make your holiday meal memorable and uniquely yours!
Various Types of Jeons (전) for Appetizers
First among our Korean food ideas for Thanksgiving dinner is preparing various types Jeons (전) as appetizers.
Also known as Korean pancake, Jeon (전) is a type of traditional Korean fritters, consisting of thinly sliced vegetables, meats, or seafood, coated in a light, savory batter and pan-fried to perfection. It is famous for having a crisp exterior texture and a tender, flavorful interior—just the perfect tender-crunch combination.
There are various types of jeon you can try to incorporate into your Thanksgiving dinner menu. For a carbs-centered appetizer, you can always begin with Gamchajeon (potato pancake). If you prefer vegetable-based appetizer selections, there are Kimchijeon and vegetable pajeon that has sliced zucchini, mushrooms, bell peppers, eggplant, perilla leaves, and grated carrots.
Also, there are always the most delicious seafood-based jeon, including Haemul Pajeon (squid, clams, and shrimps) and Guljeon (oysters).
Still, for a safer option for Korean food ideas for your Thanksgiving dinner, there's always the meat-based jeon: Wanja. It is a type of Korean meatball with the perfect blend of minced beef and pork mixed with julienned vegetables and/or tofu.
Korean Noodles for Carbs
Bread and pasta are so last year. You've done that before, right? So, it's time to level up the carbs ideas for your Thanksgiving dinner menu with Korean food selections: japchae and guksu.
Japchae is basically mixing all kinds of julienned vegetables, juicy marinated beef, with some Korean seasonings and sweet potato noodles. It is chewy with a rich savory flavor that can surprise your family members for an unforgettable Thanksgiving dinner experience.
But if you prefer something more familiar, you can always try simple Korean noodle soups, Guksu. You can also elevate your difficulty level by making noodles from scratch with Korean Kalguksu.
Make Your Salads Korean!
Next, ordinary salad recipes may be easier and more convenient. But what makes it different from your daily meals? You can always eat your usual salads tomorrow and offer something more enjoyable for the whole family: Korean salads!
There are various options of Korean salads you can choose from: bok choy, lettuce, cucumber, and even tofu. You can pick from a wide selection of ideas and choose the ones suitable for additions to your Thanksgiving dinner menu.
Korean Meat Dishes for Your Thanksgiving Dinner Menu
As mentioned above, turkey takes a lot of time and effort to prepare. Maybe this year, you can try something different and replace the turkey with the most mouthwatering Korean meat dishes instead.
The first option for meat-based Korean food ideas for your advanced Thanksgiving dinner menu is—naturally—Bulgogi. It is a Korean-style barbeque featuring the sweetness of peeled, grated Asian pear.
But what's best about this dish is that it takes less preparation time to make it just as delicious. You can manage the texture by adjusting the thickness of the slices and the duration of the marination. For the best marination result, an hour or two will suffice.
Another Korean meat-based food ideas for your Thanksgiving dinner menu is Galbi or Korean short ribs BBQ. It is a traditional Korean barbecue dish that features a sweet and subtly smoky marinade. The grilling over fire enhances the beef's texture, giving it just the right distinct flavor.
Last in the meat category of Korean food for your Thanksgiving is the famous Korean-style fried chicken. It is crunchy, tender, and far more exquisite than your ordinary chicken menus.
Kimchi for Perfection!
Last but most importantly, add some Kimchi!
Kimchi is the most iconic Korean food you can add to your Thanksgiving dinner menu. There are also a wide variety of Kimchis: napa cabbage, cucumber, radish, and green onion. Different types of kimchi may work the best for your Thanksgiving menu, but the safest selection is either cucumber or napa cabbage kimchi.
So, what do you think about adding these Korean food ideas for your Thanksgiving menu? Try them out this year for the most unforgettable dinner experience!
Join us on an exciting journey to explore the vibrant world of Korean lifestyle – from the latest beauty tips to the hottest tech and so much more on Facebook, Twitter, LinkedIn, and Flipboard.
Related Posts