Fall means 13 weeks of choosing the trendiest shades of nail polish for your manicures and pedicures. With the leaves changing color, days getting shorter, a fresh fall nail color is exciting. These shades are perfect for the upcoming weather that makes you want to snuggle in your softest sweater.
Inspired by the runways of fall 2019 shows, these colors will help you make the latest fashion statement amongst your friends! You can go for something bold, like a shimmering glitter or a more elegant look with deep blue or green.
From basic white to royal purple, here are ten nail polishes you should add to your collection for this fall.
Brilliant Red
Dark red nail polishes generally top the list of best fall nail shades list. It is flattering and goes well with sleek leather jackets that are a must for fall. This one from Etude House will pop some color on your nails and make you stand out.
Bold Dark-Blue Nail Polish
Navy blue was the last year's choice of color, and now this deep blue is perfect. It almost looks like midnight packed in a bottle for your nails.
Glitter Nail Polish
This nail polish can even serve as nail art for fall. You don't have to go for intricate nail art if you are short on time. Layer a coat over neutral shade or two coats over bare nails. And voila! You have super fancy nails.
White Out
This white shade will subtly help you transfer from summery shades to fall. This will even work in white winters. You can also select a metallic white to give it a subtle glow. The white will not take away attention from the rest of your outfit while keeping your manicure fresh.
Vivid Pink
Although the weather is cooler and the colours are slightly muted, that doesn't mean you have to give up all your bright shades. You can add this attractive color to your manicure and pedicure to get an edgy and refreshing feeling in the fall.
Blush-like
A blush-like shade is most common, but sometimes it can make certain skin tones look washed out. So select a shade with some pink hues with both warm and cool shades. This will suit much more than a regular blush and will be perfect for all skin tones.
Royal Purple
Royal purple dominated the runway – whether in the form of gowns or eye makeup. It lies somewhere between plum and lavender and is just noticeable enough you stand out.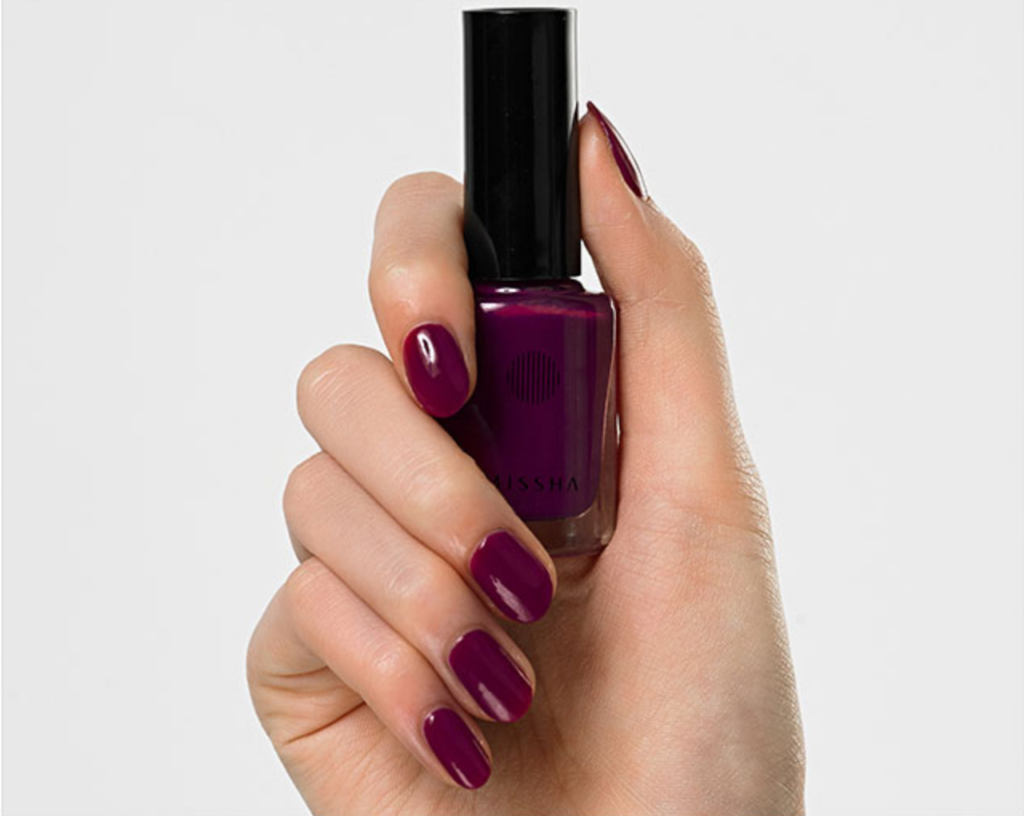 Coveted Green
Shades of green are one of the trendiest fall colors. Green in nail paint might feel too much, but it works well with different outfits. This shade of green will almost feel like dark neutral color.
Shimmery Teal
This vibrant and rich color can be a pretty transition color, just the right shade for August going into September. Although you may think it gives summer vibes, it is very versatile and looks perfect in cooler weather also.
Holographic Shine
Nothing is too shimmery for fall festivities. So, this one, like the glitter nail polish, can give your nails some much-needed glimmer. When light falls on your hand, the nail will shimmer and look pretty.
Not only this, you can work with these fall shades to create some beautiful nail artwork inspired by the Korean nail art which is becoming popular worldwide.
View this post on Instagram