Salicylic acid is a staple ingredient in many Korean skincare products due to its multifaceted benefits, particularly for those dealing with acne and oily skin.
When choosing a skincare product, consider salicylic acid in Korean formulations for a game-changing experience. Renowned for its potent acne-fighting abilities and clarity-enhancing properties, the ingredient effectively manages various skin issues, such as breakouts and oiliness. Korean skincare, renowned for its effective and innovative formulas, frequently incorporates this beneficial ingredient, promoting clean and bright skin and making it a global favorite among skincare enthusiasts.
Salicylic Acid as an Exfoliating Skincare Ingredient
Salicylic acid, a type of beta-hydroxy acid (BHA), is celebrated for its exceptional exfoliating and impurity-eliminating abilities. This ingredient in Korean skincare products is particularly effective in addressing issues related to acne-prone and oily skin due to its capability to penetrate into the pores and dissolve excess sebum.
The Skincare Benefits of Salicylic Acid
Here are the benefits of salicylic acid in Korean skincare offerings:
Exfoliation: The ingredient gently exfoliates the skin, removing dead skin cells and revealing a brighter complexion.
Acne Control: It helps to prevent and treat acne by unclogging pores and reducing inflammation.
Oil Control: It regulates sebum production, minimizing the appearance of an oily sheen on the skin.
Pore Minimization: Regular use can help to visibly reduce the size of pores.
Skin Smoothing: It promotes smoother skin by reducing roughness and improving texture.
Side Effects
Although salicylic acid in Korean skincare products is generally safe for most skin types, it can cause side effects in some individuals, such as:
Irritation: Redness, itching, or stinging may occur, especially in those with sensitive skin.
Dryness: It can lead to dryness and peeling, particularly when used in high concentrations or when used too frequently.
Allergic Reactions: Rarely, some people may experience allergic reactions, like swelling, itching, or blistering.
Photosensitivity: It can increase sensitivity to the sun, making diligent sunscreen use crucial.
Korean Skincare Products with Salicylic Acid
COSRX BHA Blackhead Power Liquid
This lightweight exfoliant contains betaine salicylate, a BHA that helps reduce blackheads and excess sebum.
Item Form: Aerosol
Skin Type: Oily, Acne prone, Combination, Dry, Normal
Product Benefits:
Clear clogged pores
Prevent breakouts & reduce marks from spots
Balance oil production
Active Ingredients: Betaine Salicylate 4%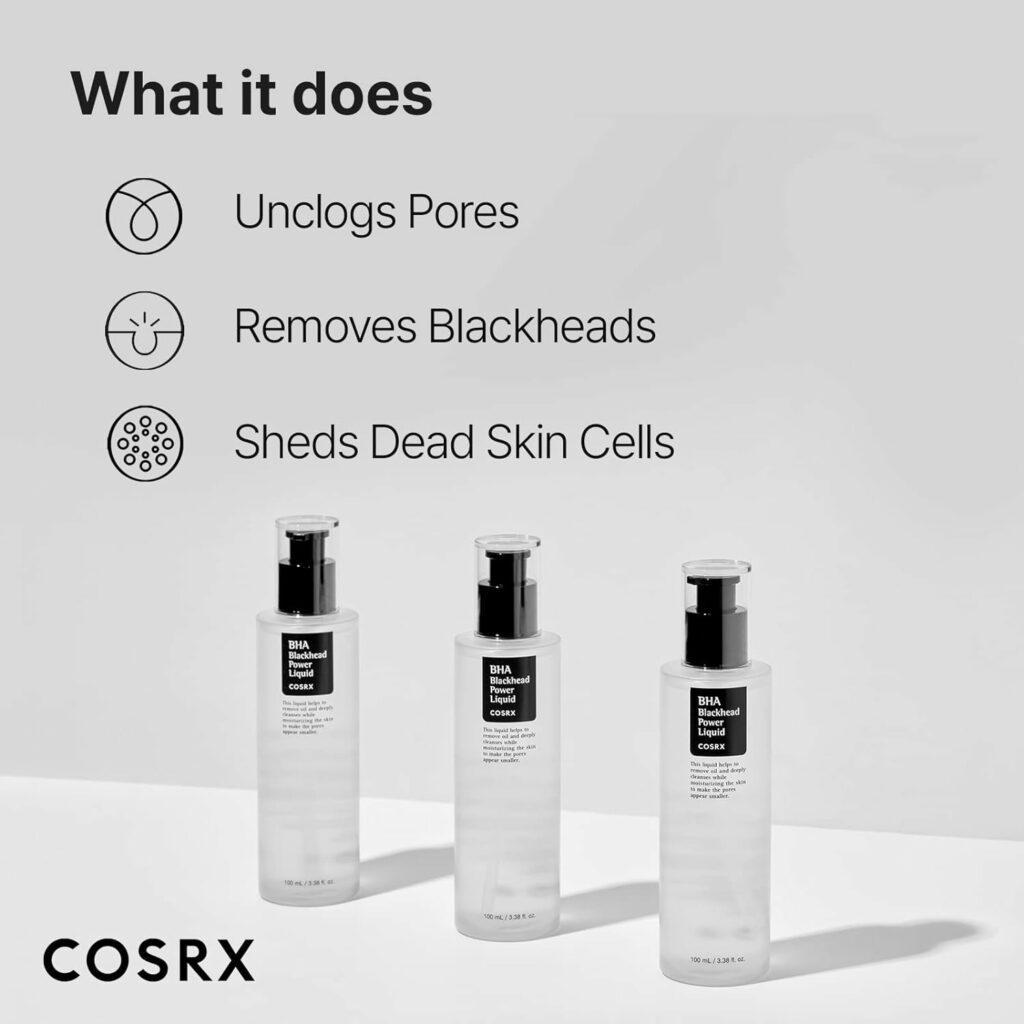 Some By Mi AHA-BHA-PHA 30 Days Miracle Toner
This product combines salicylic acid with other hydroxy acids to gently exfoliate, soothe, and revitalize the skin.
Item Form: Liquid
Skin Type: Oily, Acne Prone Skin, Combination, Sensitive, Dry
Material Type Free: Preservatives Free, Sulfate Free, Artificial Color Free, Alcohol Free, Animal Free
Product Benefits: Acne Care, Sebum and Oiliness Care, Moisturizing, Daily Exfoliation
Neogen Dermalogy A-Clear Soothing Foam Cleanser
Formulated with salicylic acid, this cleanser helps to combat breakouts while keeping the skin calm and balanced.
Item Form: Cream
Skin Type: Acne Prone, Sensitive
Brand: DERMALOGY by NEOGENLAB
Scent: Tea Tree
Material Feature: Natural
innisfree Clarifying Cleansing Foam with Bija Seed Oil
This refreshing cleansing foam, enriched with Bija Seed Oil, thoroughly cleanses the skin, effortlessly removes light makeup and debris, while the plant-derived Salicylic Acid (BHA) assists in clearing build-up.
Item Form: Foam
Skin Type: Oily
Scent: Bija Seed Oil
Material Feature: Vegan
---
Wrap Up
Salicylic acid, with its wide-ranging benefits, holds a prominent place in numerous skincare formulations, especially serving as a boon for individuals grappling with acne and an oily complexion. Korean skincare, celebrated for its innovative and effective formulations, often incorporates salicylic acid into products designed to promote clear, healthy skin. Always conduct a patch test with new products and consult a dermatologist if you encounter persistent or severe skin reactions.
Our editors independently select all products featured on KoreaProductPost. However, we may earn an affiliate commission when you buy something through our retail links.
Related Posts