It's time to hop on the K-Beauty bandwagon, and your skin will thank you. Choosing the right skincare and beauty product can be both confusing and distressing. If you want to simplify your search, you can choose Korean beauty products without any doubt. Korean beauty regimes were made famous by their extensive 10-step skincare processes and exceptional products. You may think that following all the steps daily is not a possibility in our busy lives. So, for that reason, some Korean beauty products offer beautiful results with a condensed schedule.
These Korean beauty products represent some of the best in the K-beauty regime, and they will leave your skin feeling soft and supple. And the best part is you can easily get them from Amazon without worrying about anything!
The set includes Rice Water Bright Cleansing Foam and Cleansing Oil. You can use both cleansers together to remove makeup and debris from your face. First, use the Cleansing Oil on dry skin to remove any makeup or grime from your face. Then, use the Cleansing Foam to wash for a deeper clean. Follow up the cleansing with a moisturizer of your choice for fresh and bright skin.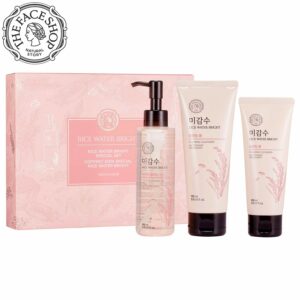 Rice Water, milky-white water enriched with vitamin B and minerals, is the star ingredient in the set from THE FACE SHOP. It has been one of the favorite traditional Korean beauty ingredients since the early times of the Joseon Dynasty. The cleansers are enriched with jojoba oil, which dissolves impurities from your skin's surface while keeping the epidermis hydrated.
It includes Soonjung pH5.5. Relief Toner and SoonJung 10-Free Moist Emulsion. You also get travel-sized versions of both, which are easy to carry while traveling. The Korean skincare set keeps skin smooth and pure against any external stimuli. It relieves skin irritation and takes care of any skin stress. You can apply the toner after the cleansing step is complete.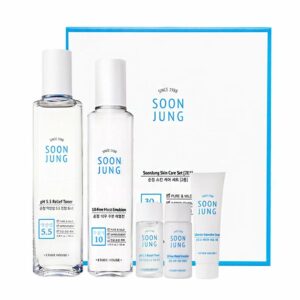 Both Korean beauty products contain skin-calming ingredients, panthenoside (panthenol and madecassoside). It works to heal damaged and irritated skin. It's a hypoallergenic formula that keeps skin healthy with its slightly acidic pH formulation.
The beauty of face masks is that you can apply them on the face and simply kick back and relax while the mask is busy doing the work. The set from Dermal Korea offers 16 different masks giving you ample opportunity to experiment and find your favorite. It is like a daily K-beauty skin therapy as all the masks keep your tired skin lively and healthy. You can apply the face mask after cleansing your face and applying toner.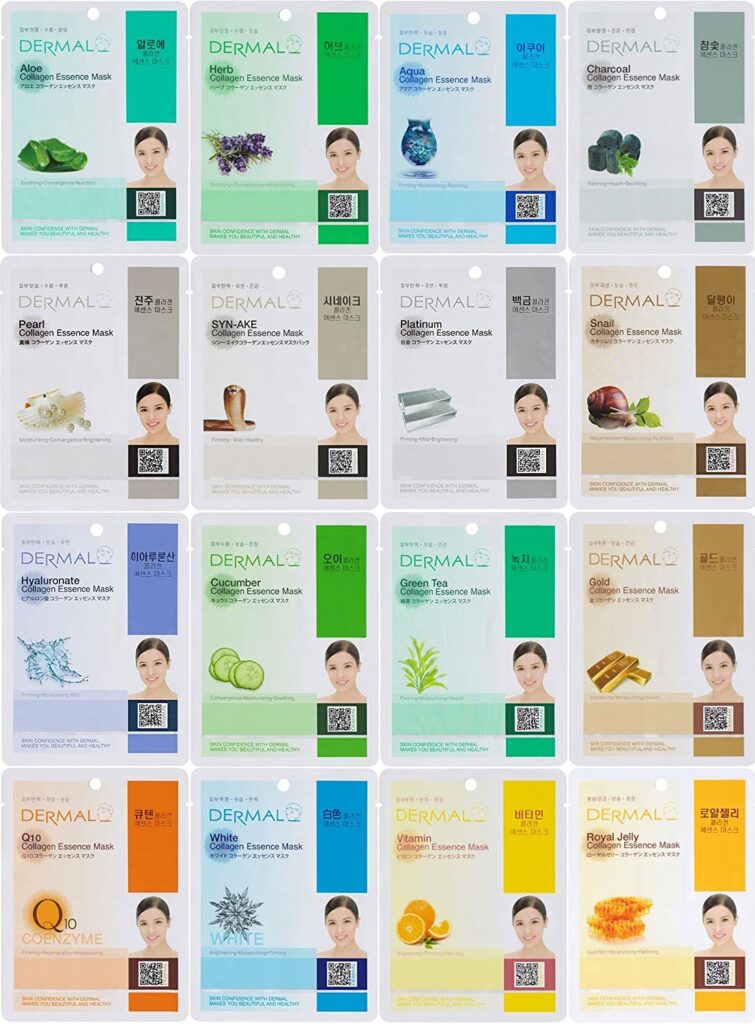 Each mask contains collagen and vitamin E, but they have an additional varying ingredient like aloe and charcoal. Different masks have different skin targets like the Aloe Mask is excellent for calming skin after too much sun.
The Snail Care set includes All in One Snail Repair Cream and Snail Repair Eye Cream. The All in One skin care system takes care of all kinds of skin problems in one single step. All in One Snail Repair Cream repairs tired and aging skin leaving it refreshed. Snail Eye Repair Cream delivers diverse, active components for a livelier skin around the eyes. It works on wrinkles and fine lines along with blocking melanin to make the eye line clear.
Snail mucin is the main ingredient in the set from Mizon. It evens and brightens dark skin tone while keeping the skin soft and supple.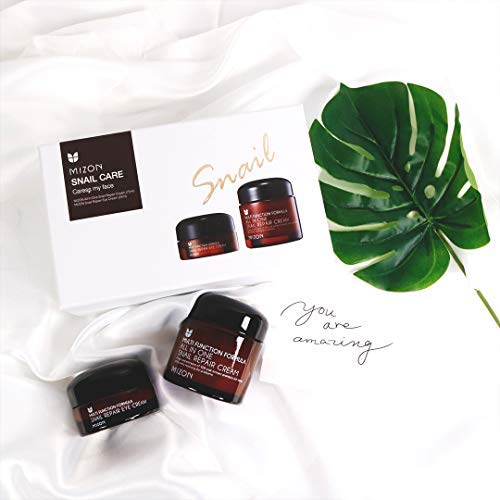 You won't believe how soft your skin feels after using the Moistfull Collagen Cream. As a final step in your routine, the cream locks in hydration as you go about your day. You can use it both in the morning and night to get maximum results.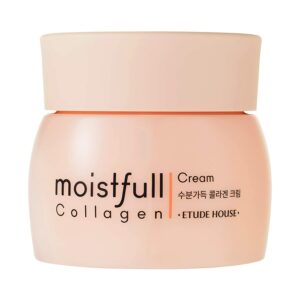 The cream is formulated with small particles of super collagen water, which keep your skin hydrated and give it a jelly-like feeling. You can see improvement in the level of hydration in skin layers within five days.
Our editors independently select all products featured on KoreaProductPost. However, we may earn an affiliate commission when you buy something through our retail links.