Allure announced its 2020 Readers' Choice Awards on 12 May, and the K-beauty product, Laneige Lip Sleeping Mask, is one of the winners in the skin care category! 
Get yourself Laniege Lip Sleeping Mask, and you can yourself observe the change as it makes your lips super soft. You can apply the moisture-rich lip mask before bed and wake up to pillowy lips.
According to the AmorePacific CEO, Laneige Lip Mask is the star Laneige product that even Sephora can't get enough of.
Even though you might not want to invest in a separate sleeping mask for your lips, it can serve a dual purpose of lip balm. You can also use a regular facial mask on your lips that will hydrate your lips. It is better than using nothing, especially if you only use a drugstore lip balm.
Laneige Lip Sleeping Mask Review
Ingredients
Laneige Lip Sleeping Mask contains vitamin C, shea butter, and various fruit extracts like strawberry, goji berry, and raspberry in the form of Berry Mix Complex™. All these K-beauty ingredients work together to soothe and soften lips.
The lip sleeping mask also uses exclusive technology, Moisture Wrap™, that creates a mineral network of beta-glucans over the lips. They lock in the hydration and keep the lips moisturized for up to 8 hours.
It also contains several types of waxes, including synthetic waxes and some fragrance.
It comes in five different shades – Berry, Grapefruit, Apple Lime, Vanilla, and Sweet Candy.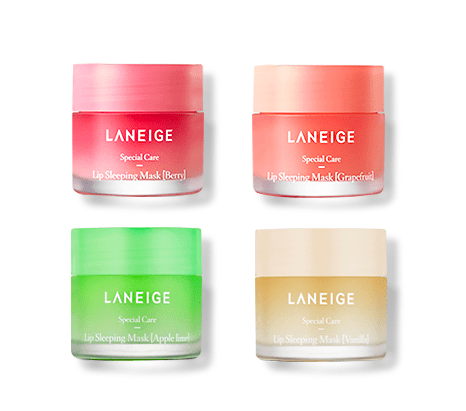 Laniege Lip Sleeping Mask Formulation
It is colorless, and the texture is somewhere between that of a very thick moisturizer and a silky balm.
When it comes to fragrance, it smells like strawberry candy (strawberry shade). It's not too sweet but still has a little bit of sweetness. The smell isn't too strong, and it won't bother you for sure.
A generous layer of this soothing mask at bedtime will help reduce flakiness so you can wake up to lips that feel refreshed, supple, and soft to the touch.
Packaging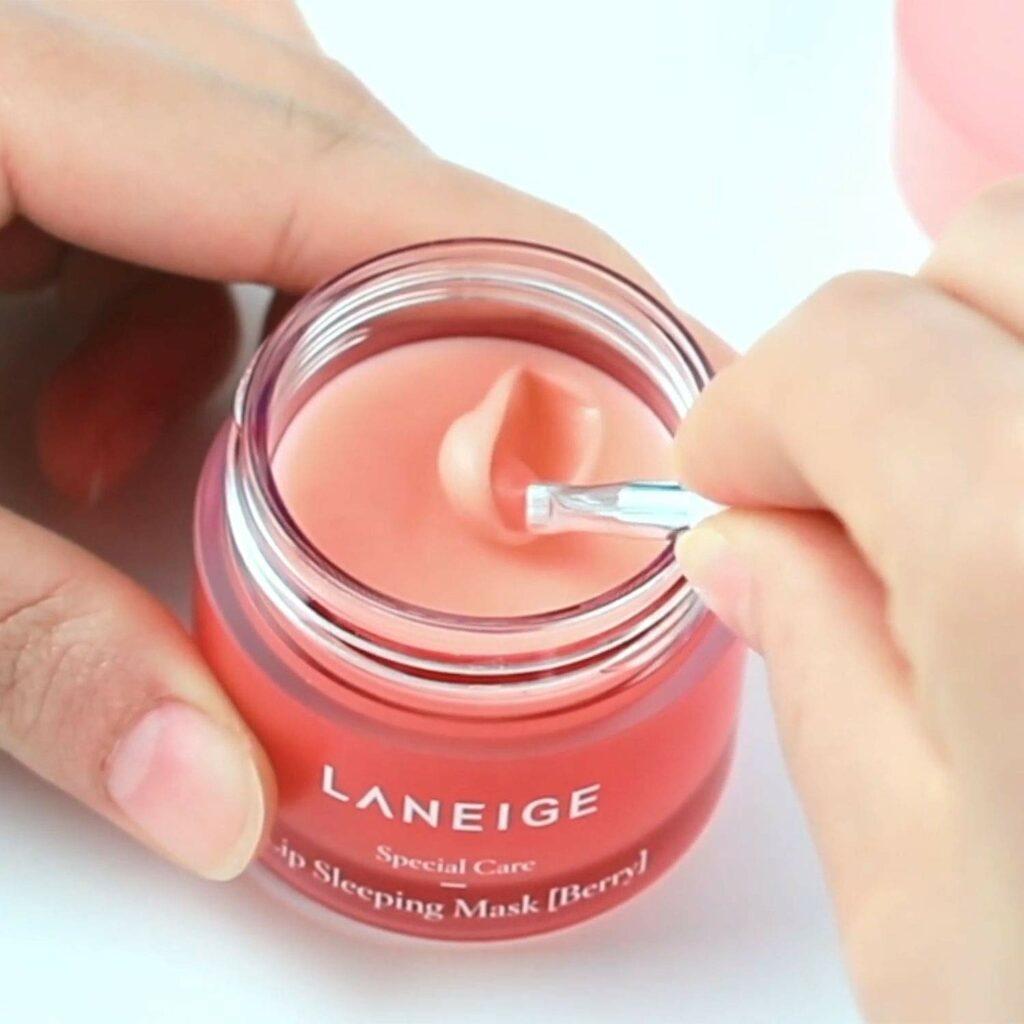 It's a colorless formulation that comes in a cute little jar. It includes a tiny little applicator that you are supposed to use and wash every time. You can also use a clean finger to apply the mask.
As it comes in a jar, it can be a bit trickier to apply when you are on the move. You might not always have the spatula on hand or clean fingers.
It's terrific as a mask. Can I use it as a lip balm?
If you are wondering that it's a sleeping mask and a little bit too tedious for you to use, you can also use it as a lip balm throughout the day. If your lips are always chapped, there is no better product than the Laniege Lip Sleeping Mask. It can provide serious moisture to your lips. The lip mask from the K-beauty brand, Laniege, creates a barrier of moisture on your lips, so it takes a while to absorb fully.
Can I use it with makeup?
It creates a little too thick layer, so if you want to use it underneath your lipstick, you should take it into account. You can use it with lipstick, but it's a very rich treatment that will make the lipstick challenging to cling onto.
Some Reviews
This product is amazing. It makes your lips super soft overnight. Definitely recommend it. Smells amazing as well.

Review by Ari P. on 5 May 2020
This is a really good lip mask. It hydrates your lips leaving them soft and smooth. I really like to put it on right before I go to bed and wake up with soft lips. It's also great for when your lips get chapped or irritated. It will heal them up quickly.

Review by Nancys8d6e on 5 May 2020
Best lip mask ever! Smells Best lip mask ever! Smells amazing, and I wake up to baby soft lips in the morning. A little goes a long way and the spatula is a nice touch.

Review by Izzya16 on 5 May 2020
Look no further for the perfect lip mask! I am obsessed. I don't even reserve this for night time use anymore and use it as my lip balm throughout the day. It's so hydrating. My lips have never felt so good and are so smooth. You need the smallest amount so this lasts a long time. You absolutely need this in your life.

Review by Kristae5 on 4 May 2020
Bottom Line
If your lips are chronically chapped or are looking to upgrade your lip care routine, the Laneige Lip Sleeping Mask is the best one out there. It's cute, its pink, and probably something that you never knew you needed.