In a groundbreaking move in the K-Beauty industry, Signature Label has launched its latest skincare brand, ZIGTAG. This innovative brand seamlessly combines fashion-forward aesthetics with high-performance skincare.
The brand's debut product, the Vitamin C 15% Super Blast Ampoule, is already garnering attention for its distinctive approach to skincare. This advanced ampoule promises not only to brighten and offer antioxidation benefits but also addresses the common issue of stickiness often found in such products. This is made possible through ZIGTAG's proprietary technology.
Vitamin C 15% Super Blast Ampoule
The Vitamin C 15% Super Blast Ampoule is formulated with the global 'MZ' generation in mind, catering to individuals prioritizing unique and effective products. Research indicates that vitamin C is most potent at concentrations ranging from 10% to 20%. With a 15% vitamin C concentration, it balances efficacy and gentleness, ensuring minimal skin irritation. Moreover, the product offers a substantial 24ml volume, providing value for consumers.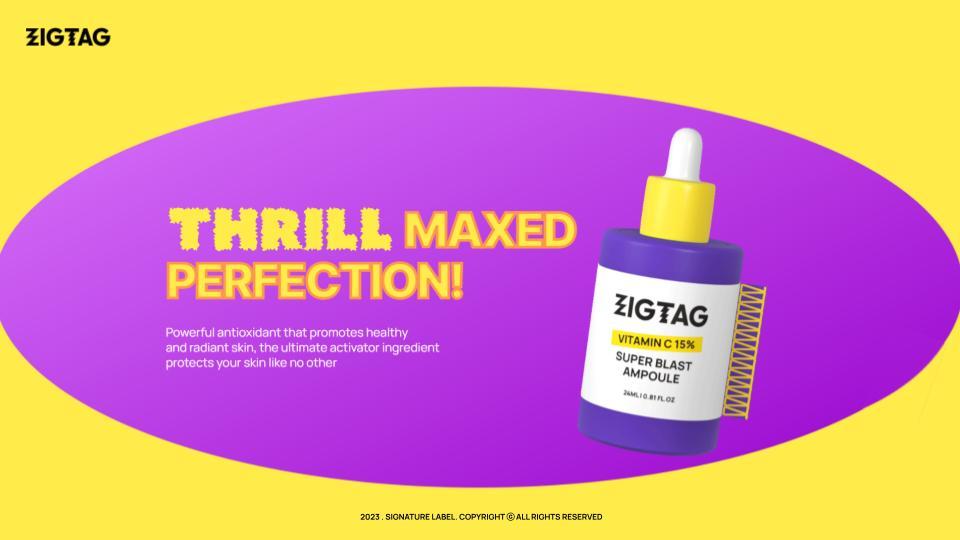 What distinguishes ZIGTAG from other brands is its dual focus on product efficacy and design. The packaging showcases a unique K-Beauty concept characterized by an innovative overlock design. This design, inspired by the vibrant colors and zigzag patterns of clothing tags, positions ZIGTAG as a standout brand in a competitive market.
Future Plans
ZIGTAG's introduction to the market has not gone unnoticed. The brand has already established partnerships with leading cosmetics distribution companies, including Vietnam's TDIC and Sammi Shop, as well as Indonesia's top beauty platform, BeautyHaul. By the fourth quarter of this year, ZIGTAG products are set to be available through major cosmetics distribution channels globally.
Currently, in Korea, ZIGTAG products can be purchased online. The brand has also announced plans to expand its product range, with items such as toners, sunscreens, cleansers, and creams slated for release by the end of 2023.
With the launch of ZIGTAG, the brand that will lead the K-Beauty trend, we plan to introduce a new K-Creative to the world. We hope to achieve positive results in both the Korean and global markets with ZIGTAG products that possess functionality and design to satisfy consumers worldwide.

Jimmy Lee, CEO Signature Label
Related Posts