Global Korean food enthusiasts have recently found new astonishment in the viral food trend on social media platforms. This newly-found trend recently went viral due to the latest sensation that will undoubtedly raise your eyebrows: the Korean frozen kimbap available at Trader Joe's. But where exactly does this frozen delight originate, how does it tantalize the taste buds, and what do Koreans think about this surprising product? Let us dive deeper into the recent sold-out sensation: the Korean frozen kimbap.
Korean Frozen Kimbap: The Latest Food Sensation Distributed by Trader Joe's
Kimbap is one of the most popular comfort foods in South Korea that has gained the attention of the worldwide community, especially those who find pride and astonishment in Korean culture. It boasts healthy ingredients, is easy to prepare, and allows you to savor every delicious part of the meal with only one bite.
In addition to its delicious taste, one of the essential reasons why kimbap receives much love from people in general is its extreme convenience. Amidst the hectic pace of modern-day society, kimbap serves as a culinary savior, simultaneously saving time while maintaining all the necessary nutrition your body needs—particularly essential if you live on a tight schedule.
Its delicious flavor and extreme convenience make Korean kimbap a highly popular convenience store meal. Unfortunately, since Korean kimbap is usually prepared fresh, you can typically find it only in Korean stores and markets. Finding delicious, fresh Korean kimbap at regular Western or non-Korean grocery stores is nearly impossible.
That changed with the recent viral sensation: the Korean frozen kimbap, now distributed by Trader Joe's.
Packed as a 9-piece set inside a bright, attractive orange package, Trader Joe's Korean frozen kimbap becomes a sensation that triggers shocking responses from nationwide foodies in the United States.
Trader Joe's frozen food section has indeed sold a wide variety of Asian-inspired favorites, including dumplings and Korean dishes. However, not everything on their list tastes as delightful as expected.
However, Trader Joe's Korean frozen kimbap bucked this trend, quickly becoming a nationwide sensation. Within less than a month since its launch, this Korean frozen kimbap has all sold out that the company eventually ran out of stock in all its branch stores.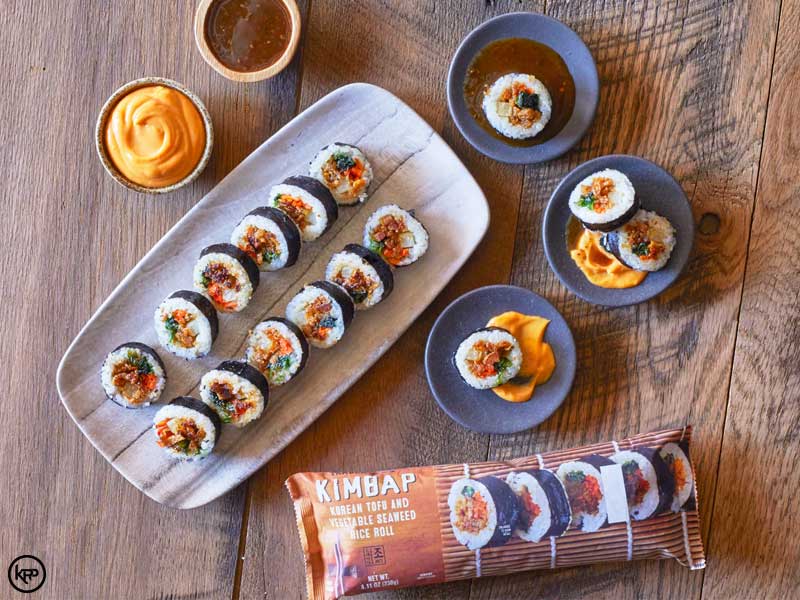 Where Did It Come From?
According to industry sources, Trader Joe's Korean frozen kimbap came from a South Korean company, Allgot. Located in the City of Gumi, North Gyeongsang Province, South Korea, the company was founded in 2020 and specializes in producing Korean frozen kimbap.
Earlier in August, Allgot launched its Korean frozen kimbap sales in the United States through Trader Joe's distribution chains. They initially shipped 250 tons of Korean kimbap rolls, which immediately sold out after it hit stores.
And so, the company has been preparing for another shipment.
Trader Joe's Frozen Korean Kimbap by Allgot
Originally, Allgot produced a wide variety of Korean frozen kimbap, such as tuna mayo and bulgogi. In South Korea, these frozen kimbap products are available online and in convenience stores.
However, due to the meat export restrictions, Trader Joe's can only distribute non-meat frozen kimbap, including vegetarian and tofu.
Still, the recent sold-out sensation that went viral on social media was Trader Joe's Korean tofu and vegetable kimbap. Featuring seasoned rice, fried tofu, and stir-fried vegetables (burdock root, carrot, yellow pickled radish, and spinach), Trader Joe's frozen kimbap is sold only at 3.99 USD.
How to Prepare
Presented in 9 beautifully cut rolls, you can easily prepare this frozen kimbap by heating them in the microwave.
Famous Korean-American food blogger Sarah Ahn suggested microwaving kimbap in 20 to 30-second intervals. This method prevents overly warm and overcooked rice, as kimbap is usually eaten at room temperature.
Another suggestion from TikTok creator Phuong Le involved leaving the kimbap for approximately 5 minutes after the heating process. That is because if you eat it immediately, everything will become mushy. The kimbap's stuffing will be gushing out everywhere and will not taste as good.
How Does It Taste?
There have been many different responses regarding Trader Joe's Korean frozen kimbap. Yet, so far, most of the comments are leaning toward positive responses.
Some Korean-American reviewers growing up eating the original kimbap straight from their mother's homemade cooking found themselves shocked by the product's taste. Even though the company sells them in frozen condition, Sarah Ahn and her native South Korean mother, Ms. Nam Soo Ahn, believe Trader Joe's Korean kimbap tastes beyond their expectations. The experience was entirely different from eating ordinary instant food.
According to Sarah and Ms. Nam Soo Ahn, the kimbap tastes much better than those in Korean grocery stores. It tastes sweet with a heavy flavor of burdock root seasoned in soy sauce. It is much different from regular kimbap, which usually features a stronger taste in animal protein: fish, beef, chicken, or eggs.
So, are you interested in trying out this product?
You can purchase this fascinating product directly at the nearest Trader Joe's branch store. Or you can also get them online from the official website.
Finally, you can also try purchasing from Allgot's official store when you visit South Korea.
Join us on an exciting journey to explore the vibrant world of Korean lifestyle – from the latest beauty tips to the hottest tech and so much more on Facebook, Twitter, LinkedIn, and Flipboard.
Related Posts