The Korean beauty industry is emphasizing more and more on natural ingredients to enhance the quality and efficacy of its products. One such natural ingredient is tea tree water and its use as a water alternative in many K-beauty products. This natural beauty ingredient in skin care products' formulations shows exceptionally promising results in the skin.
Due to the ever-increasing pollution, our skin often tends to lose its charm and radiance. It works effectively on the complexion to make it look more hydrated, clear, healthy, and bright. 
Tea Tree Water – A Brilliant Skin Healer and Soother
Tea Tree Water, also known as Melaleuca alternifolia or Tea Tree Hydrosol, comes from the tea tree leaves. The water is extracted after the removal of the essential oils from the leaves. As compared to the tea tree oil, tea tree water is less concentrated and more gentle on the skin. Besides this, it is also rich in anti-fungal and anti-inflammatory properties to heal a variety of skin concerns. It is suitable for all skin types, including sensitive and allergy-prone ones.
Benefits of Tea Tree Water in Beauty Products
Tea tree leaves specifically work on acne-prone skin by fighting against the acne-causing bacteria. The extract comes in many forms, such as essential oils, serum, toner, moisturizers, etc. Tea tree water easily gets absorbed in the skin and immediately works on the affected areas. It is beneficial for all skin types, but it works best on oily skin type. 
Apart from this, it purifies the skin from within to make your complexion look flawlessly healthy and luminous. It helps in preventing skin breakouts and treats skin infections effectively. It also leaves a subtle glow on the skin, thereby resolving the acne-related issues.
Tea Tree Water in K-beauty Products
If you want to incorporate the beauty benefits of tea tree water in your daily skin care routine, then the following K-beauty products will be perfect. These products are infused with the goodness of pure tea tree water to work wonders on the skin.
---
---
This cult-favorite toner has been formulated using three types of effective chemical exfoliants, namely AHAs, PHAs, and BHAs. It is also enriched with the finest natural skin ingredients such as papaya, tea tree water, and hazel extract. It assists in boosting the cell renewal process of the skin.
Some By Mi AHA-BHA-PHA 30-Days Miracle Toner also improves the complexion, making it more smooth and clear. It soothes and heals skin inflammation and irritation. Apart from this, it also contains niacinamide and adenosine to reduce the wrinkles and brighten the skin tone. It comes with a pH level of 5.5 and is suitable for all skin types, especially sensitive ones.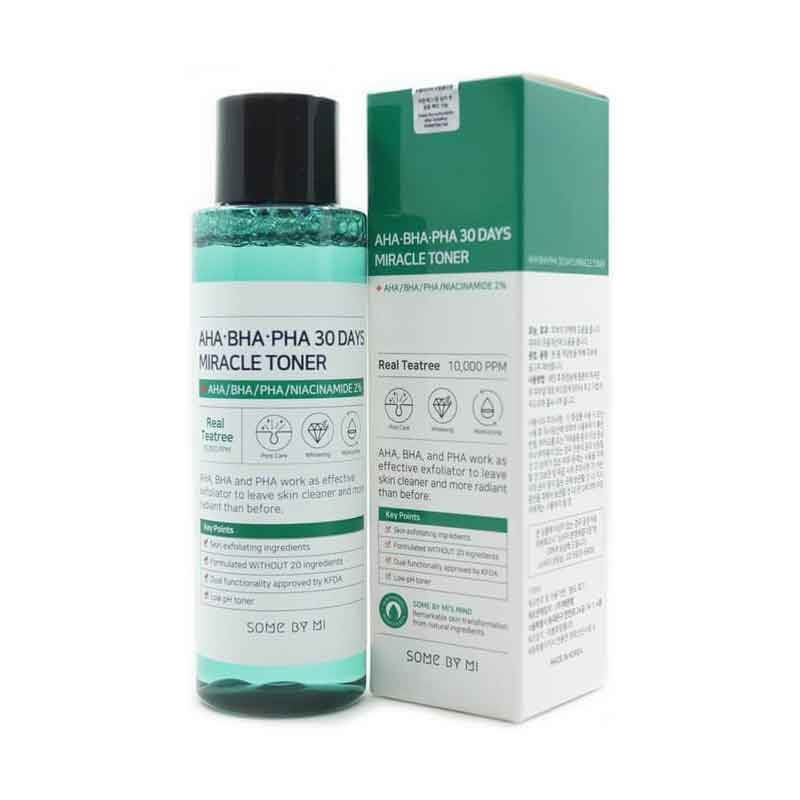 ---
---
This facial serum contains 67% of the tea tree extract water along with 19.5% of Centella Asiatic extract. It gently soothes skin irritation and sensitivity. It provides optimum relief from the skin inflammation, thereby treating acne and spots.
iUNIK Tea Tree Relief Serum also helps in refining and smoothening the skin texture and delivers a healthy glow on the complexion as well. It is ideal for oily, sensitive, and acne-prone skins. The serum is rich in 6 sprout extracts that moisturize, hydrates, and nurtures the skin from deep within. It can also fight against the signs of aging, such as fine lines and wrinkles.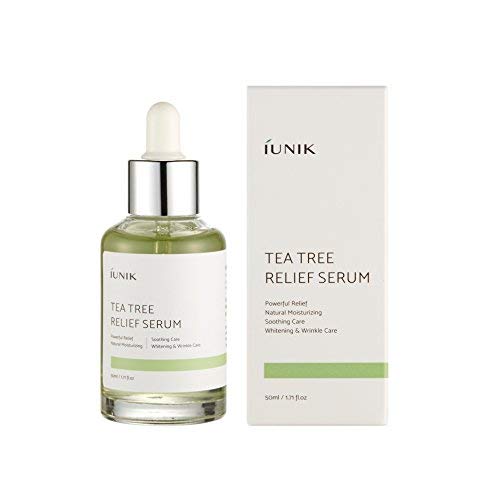 ---
---
These sheet masks are rich in the finest natural ingredients such as tea tree oil, willow bark, chamomile, herbal extracts, Asiatic pennywort, and rosemary. It helps to calm and soothe the irritated skin with an invigorating effect. Mediheal Tea Tree Essential Blemish Control Mask also helps smoothen the skin texture and gently exfoliates the buildup of impurities from the pores.
Besides this, it purifies the complexion and prevents skin breakouts. It is also effective in healing several skin issues such as redness, inflammation, blemishes, acne, and spots. Another advantageous factor about this product is that it is free from artificial fragrances and other chemicals.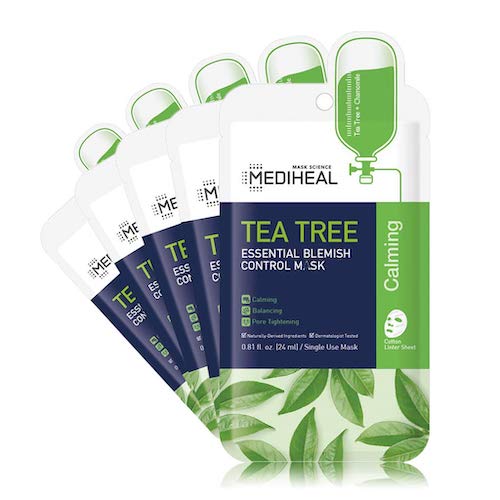 ---
---
This cleansing water has been formulated using 70% of the pure tea tree leaf water and oil. It removes the makeup and other skin impurities from your skin thoroughly for a double cleansing effect. It gets infused deep within the skin layers to give you an enviably clear and healthy complexion.
Besides this, it is enriched with acne-fighting properties along with ten effective ingredients that are gentle on the skin as well. Benton Tea Tree Cleansing Water also purifies and eliminates the dirt from the pores. It contains anti-bacterial ingredients to regulate the production of sebum, thereby preventing the formation of pimples on the skin.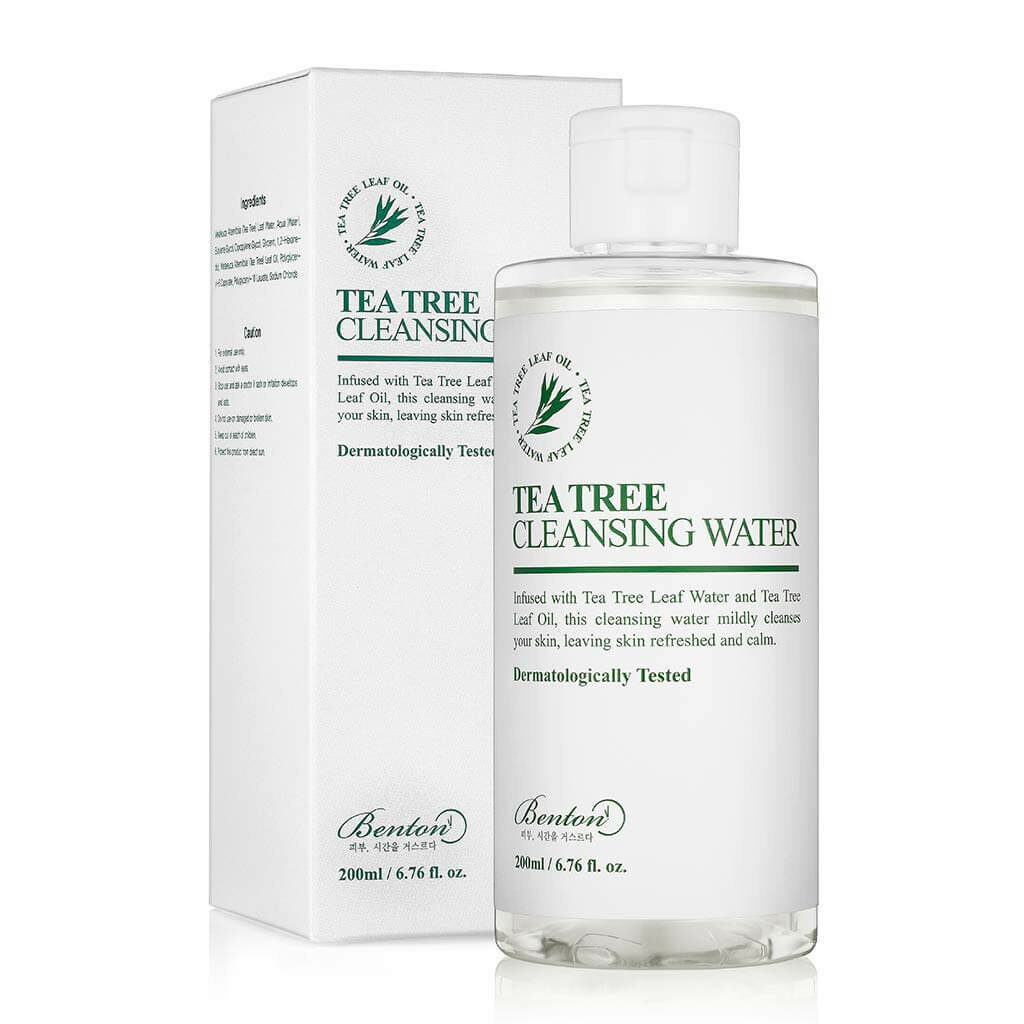 ---
Tea tree water plays a significant role in the skin care routines of people who are suffering from acne and pimples. Over time, tea tree extracts have proved that if used correctly, it does miracles on acne-prone skin. It comes in different forms to choose from depending on your skin type and requirement. Forget about the stubborn acne and skin breakouts and add tea tree water to your beauty routine and see the results yourself.
Read more about K-beauty ingredients and other articles in the Ingredient Spotlight series:
Our editors independently select all products featured on KoreaProductPost. However, we may earn an affiliate commission when you buy something through our retail links.