Tamburins, a gem in South Korea's fragrance world, brings a breeze of elegance and innovation. This brand, known for its unique design and enchanting scents, is more than a name; it's a revolution in beauty and wellness. Their philosophy? It's all about holistic beauty, where each product is a feast for the senses, crafted with an artful touch and an unwavering commitment to quality.
But Tamburins isn't just about perfumes. Their range spans across cosmetics and skincare, each product blending nature's best and the latest in skincare tech. Their fragrances, from the earthy Chamo to the zesty Berga Sandal, are tales of nature, art, and modern vibes. Moreover, their design is pure artistry. Each product and store is a minimalist dream, turning everyday beauty routines into luxurious experiences.
In the heart of Tamburins lies a connection to Korean culture and a push towards sustainability, making it not just a brand but a movement. With celebrity endorsements and innovative campaigns, they're not just capturing scents but also the hearts of the young and trendy. So, step into the world of Tamburins, where every scent is a journey and every product a masterpiece.
About Tamburins, the Korean Perfume Brand
Tamburins is a South Korean brand that has significantly impacted the world of fragrances and cosmetics. Known for its unique approach to design and fragrance, Tamburins stands out in a competitive market. Here are some key aspects of Tamburins:
Brand Philosophy: Tamburins focuses on a holistic approach to beauty and wellness. Their philosophy centers around creating products that are aesthetically pleasing and offer sensory experiences. This includes a strong emphasis on the artistry of scent, innovative packaging, and a commitment to quality.
Product Range: Although primarily known for its perfumes, Tamburins also offers a range of cosmetics and skincare products. Their product line is designed to cater to diverse needs and preferences, often incorporating natural ingredients and advanced skincare technology.
Signature Fragrances: Tamburins' perfumes are particularly notable for their unique and complex scents. These fragrances are often inspired by nature, art, and contemporary culture, reflecting a blend of traditional and modern influences.
Design Aesthetic: Additionally, the brand is renowned for its minimalist and artistic design ethos. The packaging of Tamburins products is sleek, elegant, and often features unconventional designs that make them stand out. This emphasis on design extends to their retail spaces, which are often conceptualized as art installations.
Cultural Influence: Tamburins has become a part of South Korea's cultural wave known as Hallyu, which has gained international recognition. The brand's appeal extends beyond the borders of South Korea, attracting attention from global consumers who are drawn to its unique blend of tradition and innovation.
Sustainability Efforts: In recent years, Tamburins has increasingly focused on sustainability. This includes using eco-friendly packaging materials, promoting refillable products, and ensuring ethical sourcing of ingredients.
Celebrity Endorsements and Collaborations: The brand has leveraged the influence of Korean celebrities and artists for endorsements and collaborations, which has helped amplify its reach and appeal to a younger, trend-conscious audience.
Tamburins exemplifies the fusion of artistic expression and practical functionality, making it a distinctive player in the global beauty and fragrance industry.
Tamburins Flagship Stores
Each Tamburins flagship store is a unique blend of art and retail. Inside, the space resembles a gallery, featuring artistic displays that symbolize the brand's dedication to aesthetics. This setting showcases Tamburins' products, including their popular hand sanitizers, creams, and perfume balms, but also elevates the shopping experience to an artistic exploration.
Visiting the Tamburins store is a multi-sensory experience. It's not just about smelling fragrances; the store engages customers visually and auditorily, creating a unique atmosphere for exploring scents. With an array of fragrances like Chamo, Berga Sandal, Lale, and Suede Pear, customers can find a scent that resonates with their personality. Especially during the holiday season, the store becomes a perfect destination for those seeking a unique and personal gift.
Flagship Store Seongsu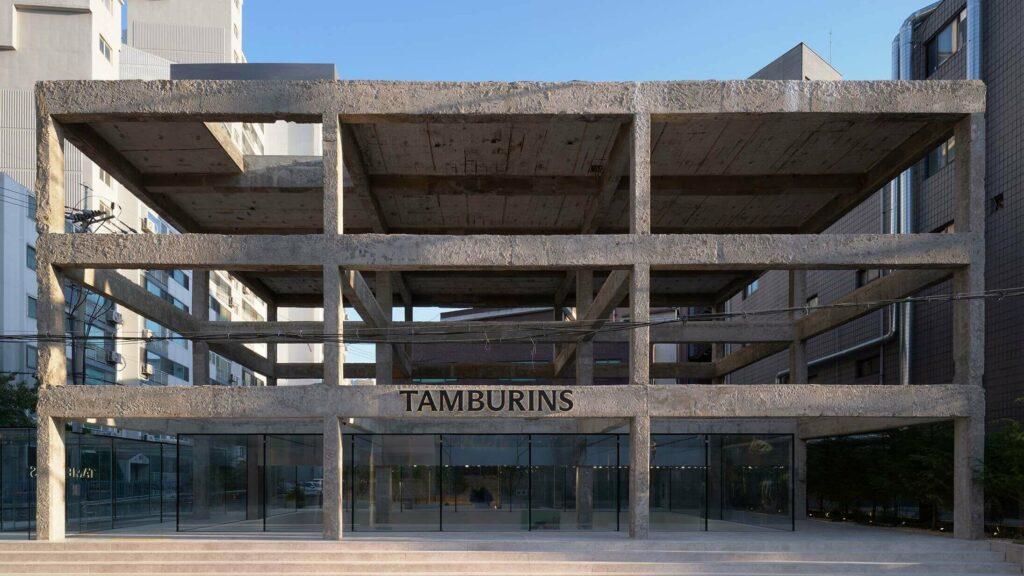 Address: 8 Yeonmujang 5-gil, Seongdong-gu, Seoul
Phone: +82 70 4266 6142
Operating hours: Mon-Sun 12:00pm-9:00pm
Flagship Store Samcheong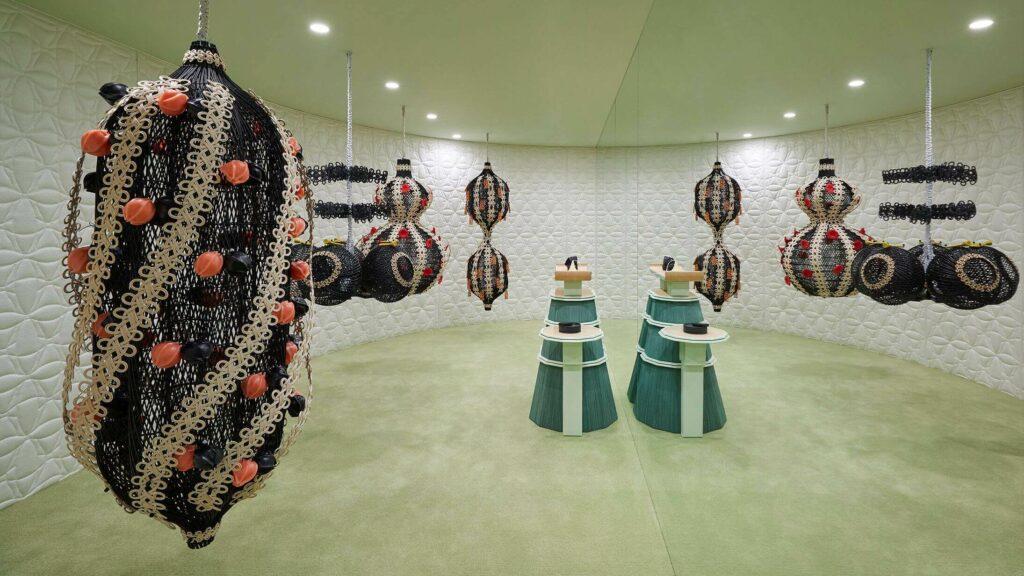 Address: 84 Yulgok-ro 3-gil, Jongno-gu, Seoul
Phone: +82 70 4139 7450
Operating hours: Mon-Sun 11:00am-8:00pm
하우스 도산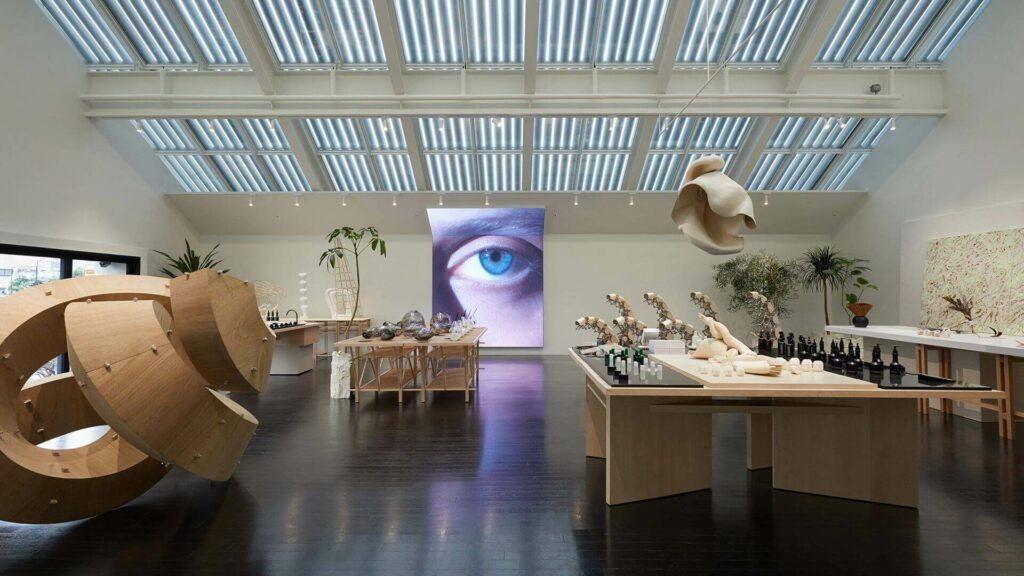 Address: 50 Apgujeong-ro 46-gil, Gangnam-gu, Seoul
Phone: +82 70 4128 2124
Operating hours: Mon-Sun 11:00am-9:00pm
Flagship Store Shinsa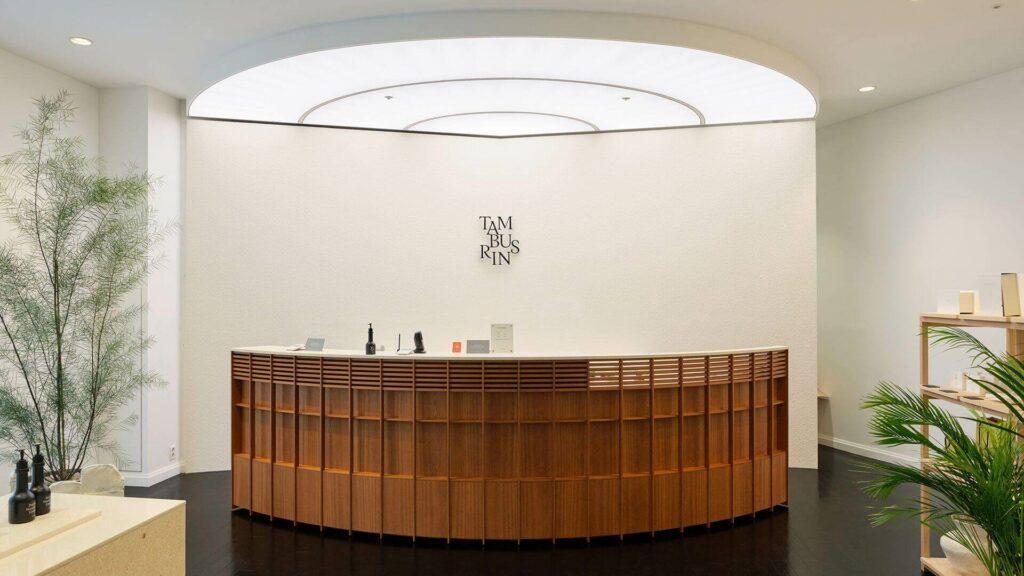 Address: 44 Apgujeong-ro 10-gil, Gangnam-gu, Seoul
Phone: +82 02 511 1246
Operating hours: Mon-Sun 12:00pm-9:00pm
---
5 Most Favorite Tamburins Products
The Perfume Balm
In November 2022, the K-beauty brand Tamburins, under the wing of eyewear giant Gentle Monster, unveiled its Perfume Balm line. As their website describes, the Perfume Balm's design reflects Tamburins' unique perfume style, mirrored in an iconic form. This new line features four distinct scents:
Chamo: A blend of chamomile, wood, musk, honey, and bitter clary sage.
Berga Sandal: A fusion of bergamot, tangerine, lime cardamom, and sandalwood.
Lale: A mix of green apple, white tulip leaves, sandalwood, spicy leather, and mimosa.
Suede Pear: A combination of soft pear, suede, bitter galbanum, and amber musk.
To launch the Perfume Balm, Tamburins orchestrated a campaign featuring BLACKPINK's Jennie and also set up a special pop-up space at the Gentle Monster's HAUS DOSAN flagship store in Seoul.
Tamburins Perfume Soap Collection
Tamburins introduces a unique line of Perfume Soaps, each embodying the essence of different fragrances and the joy of nature's bounty. This collection includes:
CHAMO: A rich scent of thick chamomile, softwood, and musk.
BERGA SANDAL: An aromatic journey with Mediterranean bergamot, salty blue tangerine, and sandalwood.
LALE: A fresh blend of dewy green apple, white tulip, and sandalwood.
WHITE DARJEELING: A luxurious combination of white champagne, Darjeeling tea, and creamy musk.
These soaps are designed for a healthy skin pH balance, maintaining between 4.5 and 6.5. Using coconut-derived surfactants in these soaps ensures a lush, dense foam, while a blend of vegetable oils guards the skin against moisture loss. Additionally, the gentle scrubbing effect of corn starch helps cleanse and refine skin texture.
Note: Due to coconut-derived surfactants, the soap's weakly acidic nature might cause a temporary white cast on the surface when wet. This is normal and reversible; the soap will return to its original color as it dries. Rest assured, this does not affect the quality or usability of the product.
Perfumed Hand & Body Wash & Emulsion Duo Set
Earthy Aroma Wash: Bergamot, Patchouli, and Sandalwood
This wash is a symphony of natural scents designed to evoke the essence of the earth and its raw vitality. As soon as you apply it, you're greeted by bergamot's cool, refreshing touch, a scent that gently awakens the senses. The deep, earthy aroma of patchouli follows this freshness, reminiscent of moist soil and nature's grounding essence. Finally, the experience is anchored by the rich, robust notes of sandalwood, adding a sense of depth and stability, much like the comforting feeling of holding freshly picked wildflowers.
Perfume Shell Ex Chamo
A Soothing Blend of Chamomile, Wood, and Musk
The Perfume Shell Ex Chamo is a captivating fragrance that offers a unique olfactory experience. It starts with the rich herbal scent of thick chamomile, reminiscent of sweet honey, blended seamlessly with clary sage's subtle, slightly bitter aroma. This combination creates a scent that's both addictive and harmoniously balanced.
Adding depth to this fragrance is the sensation of moist moss, evoking a calm, earthy freshness. This is beautifully wrapped in the elegant and soft tones of blond wood and warmed by the comforting presence of musk. The overall effect is a special, soothing embrace for the senses, providing a gentle solace to a weary heart. This fragrance delights the olfactory senses and offers a moment of calm and tranquility in your daily routine.
Recently Launched: The Egg-Shaped Perfume
Tamburins, the much-loved Korean beauty brand, launched an exciting new fragrance campaign this November 15, featuring Jennie from Blackpink. In anticipation, the brand has released a series of teaser images showcasing Jennie delicately holding what appears to be a petite, egg-shaped perfume bottle, sparking curiosity and excitement among fans.
The new line includes intriguing fragrances:
PUMKINI: A delightful blend of sweet pumpkin, refreshing tea leaves, and creamy coconut milk.
HOLY METAL: A unique mix of wood leaves, cold metal's crispness, and white musk's softness.
WOOD SALT BEACH: An inviting combination of rosewood, sea salt's freshness, and ambrette seed's subtle warmth.
These egg-shaped perfumes are designed to intrigue, their warm, soft curves reminiscent of eggs nestled in a cozy nest. The design symbolizes the element of surprise and discovery, as what lies within can only be truly experienced upon opening.
Additionally, each scent in this collection is inspired by diverse stories from around the world, aiming to infuse everyday life with a new, free rhythm and sensuality. This launch is about introducing new fragrances and offering a fresh perspective on daily routine through the power of scent.
Join us on an exciting journey to explore the vibrant world of Korean lifestyle – from the latest beauty tips to the hottest tech and so much more on Facebook, Twitter, LinkedIn, and Flipboard.
Related Posts