As the number of COVID-19 cases has skyrocketed amidst the third wave, the South Korean authorities have finally sanctioned the use of COVID-19 home-test kits.
Where Does The South Korean Government Stand on Home-test Kits?
The government was initially reluctant to approve the use of these home-test kits in the previous waves of the pandemic, owing to its lack of consistent accuracy. However, the newly elected mayor of Seoul, Oh See-hoon, demanded the access of self-test kits at homes and public spaces to fuel the process of mass testing because of the massive spike in infection in the third wave.
According to Oh, these newly available home-test kits in the Korean market could effectively detect the virus. He said, "It is burdensome to maintain the anti-virus system as it is. We need to try new ideas and change our way of thinking." He further added, "I urge the drug safety ministry to approve the use of self-test kits shortly."
These self-test kits provide 90% accuracy as compared to the better efficacy of the PCR tests in use thus far, which had a 98% accuracy. However, the South Korean government is advocating for the use of COVID-19 home-test kits for the first time to curb the spread of coronavirus cases, as early detection would provide citizens the necessary impetus to self-isolate sooner rather than later.
Home-Test Kits Available in the Korean Market
Two major South Korean biotech firms, Humasis Inc. and SD Biosensor Co., have ramped up their production and supply of home-test kits. Anyone can avail of these test kits from their local pharmacies, convenience stores, online stores, and supermarkets.
The Ministry of Food and Drug Safety (MFDS) has permitted the domestic use of these two home-test kits until fully approved kits are manufactured. However, these firms have only earned temporary approval for three months, and they must provide clinical trial data obtained during that period to receive the final authorization.
Celltrion DiaTrust COVID-19 Rapid Test (Humasis Inc.)
Humasis Inc.'s Celltrion DiaTrust COVID-19 Rapid Test was approved in March. The company's home-test kit is one of the most trusted and conventionally used kits in the South Korean market at the moment.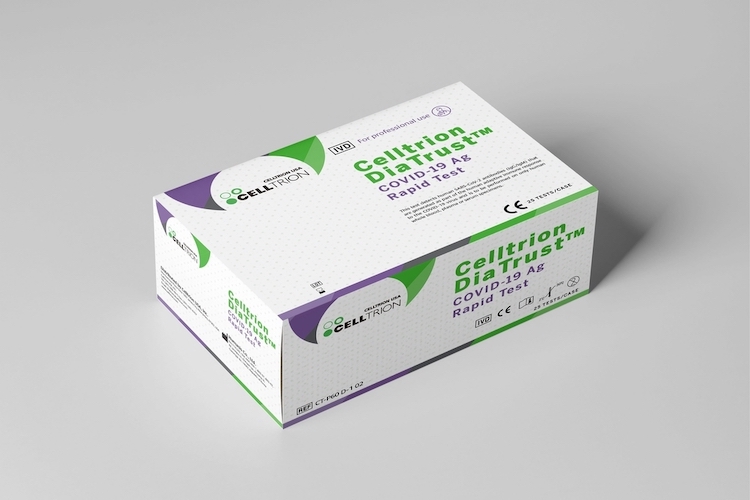 After gaining proper recognition in the South Korean market, Humasis' DiaTrust COVID-19 self-test kits are now widely accepted for domestic use globally, including in countries such as Denmark, Sweden, Czech Republic, and Austria. DiaTrust COVID-19 kits detect both N and S antigens, unlike other kits that typically only detect one antigen.
STANDARD Q COVID-19 Ag Home Test and STANDARD i-Q COVID-19 Ag Home Test (SD Biosensor Co.)
SD Biosensor Co. has come up with two variants of their home-test kits— the STANDARD Q COVID-19 Ag Home Test and the STANDARD i-Q COVID-19 Ag Home Test.
Both the kits have received a local permit, however, only the STANDARD Q COVID-19 Ag Home Test has obtained approval from the MFDS for export to the global market.
Anyone experiencing respiratory symptoms can go for this test kit to detect the presence of SARS-CoV-2 antigen (nucleocapsid protein) through immunochromatographic assay (ICA).
Home-Test Kits in the Pipeline
Rapigen had come up with their own test device BIOCREDIT COVID-19 Ag back in March and has already completed the necessary trials in other countries. The makers are looking forward to being licensed very soon by the MFDS and begin the mass distribution of their test kits for domestic use.
Genbody is also one of those firms that is hopeful about introducing home-test kits in the local South Korean market soon, as well as export globally.
PCL is still awaiting local approval, but its self-test kit, PCL COVID19 Ag Gold, is being widely used across countries, including the likes of Germany, Pakistan, and Austria. A PCL official said, "We have already accumulated all the clinical data required for home testing. If the regulator opens the approval process, we can apply for it immediately".
How to Get Your Hands on Self-Test Kits
Convenience store chains like GS25 and 7-Eleven are selling the test kits by Humasis Inc. and SD Biosensor Co.
Korea's largest discount store chain, E-Mart, has listed Humasis' test kits for sale.
Major South Korean health and beauty store chain, CJ Olive Young, sells home-test kits by Humasis both on online and offline platforms. They also provide delivery services.
How to Use a Self-Test Kit?
You can collect nasal swabs on your own and get results within 15-30 minutes with these COVID-19 home-test kits. However, health officials have cautioned that self-test kits are just supplementary or secondary tools because they do not yet guarantee complete accuracy.
If the results come out positive through the self-test kit, it is mandatory to undergo a preemptive polymerase chain reaction (PCR) test for the final confirmation.
Self-isolation and early treatment are crucial in curbing the spread and severity of the virulent infection in the third wave of the coronavirus pandemic. Rapid testing is critical in this crusade, and home test kits would definitely prove to be a formidable weapon to turn the tide of the pandemic in the long run.
Found this one interesting? Check out more from KoreaProductPost: