When thinking about a panache that is bold and minimalistic as well, it is noteworthy to mention the Korean streetwear fashion that never fails to impress. For ages, fashion crusaders are in constant search of adopting the fashion trends that never go out of style, and streetwear is one of them.
 The Korean fashion industry has significantly emerged as one of the most adorned and prevalent segments across the globe. This has given rise to some of the finest Korean brands that are highly renowned for crafting exquisitely chic streetwear fashion.
The Highlights of Streetwear Panache
You must have seen some of the prominent K-pop stars donning streetwear outfits and gaining appreciation from fashion critics. Korean fashion is all about being comfortable in your own skin while looking breathtakingly gorgeous at the same time. Street fashion signifies an unmatchable elegance along with sophistication that allows you to conquer the world in style. If you love to wear experimental outfits complimented by eccentric accessories, then Korean street fashion is made for you!
Korean street style seeks a strong resemblance to American streetwear – it's bold, experimental, accented by quirky accessories. Even K-pop music videos of your favorite idols feature them wearing fashionable streetwear from Korean fashion brands.
In recent times, various Korean fashion brands such as Nohant, ADER Error, and various others have begun to dominate the segment of streetwear clothing. Both the brands have been driven to the front lines with almost a cult-like following!
The credit for this hugely goes to the increasing craze of impeccably chic Korean street fashion among the generation that strives to look stylish every day.
Check out the Best 7 Korean fashion websites you can buy from right now!
The 5 New Street Wear Brands Exclusively from Korea
Craving for some of the best fashionable outfits to brighten up your day, then nothing could be better than pulling off streetwear outfits!
We are covering some of the new streetwear labels that popped up in different fashion weeks all over the world. These brands are making a name for themselves via unique streetwear designs and interpretations. They will assist you in nailing your street style in the best possible way!
mahagrid is known for its vintage-inspired graphics and punchy colors. Usually, the collection includes outerwear and accessories along with sweaters and tees. The latest Spring/Summer 2022 collection, STAY TUNES, consists of a wide range of t-shirts and sweatshirts with bold prints and license pigment colors, and many more.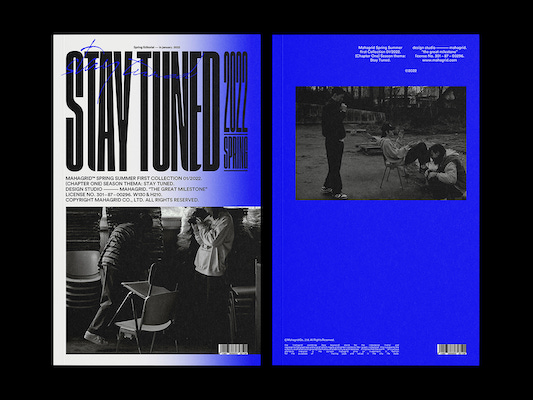 This line represents whimsical and tailored clothing. It was launched by Kathleen Kye in 2013, and it has been shown at NYFW and Seoul Fashion Week. The prints are usually eclectic, and the fabrics are contrasting enough to represent Kathleen's unique styles. She has a unique take on conventional streetwear by making clothing that is edgy and feminine. Brand's recognition has been elevated to an international level by some great collaborations with Korean eyewear brands like Gentle Monster and famous sneakers brands like Sketchers and Adidas.
It is a relatively unknown brand that is slowly gaining popularity. The signature style involves bold lettering and graphics that represent the story of each season's collection. Each design is universal and wearable, and it is not regular and banal.
The Korean streetwear brand name is a take on the musical term "Crescendo E Diminuendo" which means "getting softer gradually". You can see this philosophy throughout their collection. You can see it in every layer and every silhouette. They have another line, Dim E Cres, which is a toned-down version of the same brand. These Korean fashion brands are the brainchild of Hong Bum Kim (the designer) who makes the contemporary and modern street style.
This is a streetwear brand gaining recognition globally, and some designs have been worn by international celebrities like Rihanna and K-pop star G-Dragon. All the designs have a contemporary streetwear edge with collections featuring texts and slogans on counterculture.
Read more: Top 5 affordable Korean fashion websites
The Korean fashion brands mentioned above have managed to become cult favorites. If you are looking for an instant fashion fix, then these brands are the best considerable options. Also, the fashion runways across the world are going gaga over the outfits designed by Korean streetwear brands. Give a glamorous makeover to your wardrobe by filling it up with the best of Korean street fashion outfits.