Many people use regular yoga mat that only gives cushioned surface to their users. Lub Lax figures out that fitness mat can bring so much more to the fitness market. Their product SonicFit comes with all the necessary features to take your training game to the next level. Lab Lux's smart fitness mat SonicFit was introduced in CES 2022, and it has gained some interest since then.
So how does a smart fitness mat improve your practice? We will talk about that briefly in this article.
About Lux Lab
Lux Lab is a Korean startup company that focuses on making innovative fitness and sports devices and equipment. The company showcases a one-of-a-kind smart fitness mat in CES 2022, and they won the 2022 CES innovation award in fitness and sports in that event. The company is still small since it is a startup; however, they plan to launch new smart devices that will improve training efficiency.
The CEO of Lux Lab is Juyoung Byun, and he was also the representative in CES 2022, where he personally showcased the SonicFIt. The company is based in Seongdong-gu, Seoul, Korea. There is not a lot of information about Lux Lab on the internet, mainly because they have just started this year. Lux Lab was first introduced in the Korea Institute of startup and entrepreneurship development (KISED) in CES 2022. Their official website also seems to have shown some issues and is not working as of now. However, the company will launch SonicFit in December, and they will first sell their products in the US.
SonicFit
SonicFit is a soundwave fitness boost-up mat or a smart fitness mat with intuitive technology inside it. Firstly, it comes with vibration technology that vibrates your muscles and positively affects your fat cells. Secondly, the lidar technology in SonicFit recognizes your posture.
There is a controller at the front side of the mat, and that is where all the technology happens. The lidar inside the controller can detect posture and coach how to train correctly. Lidar can detect whether your posture for a particular exercise is right or wrong. With this feature, you will always have the correct posture and maximize the effect of your training.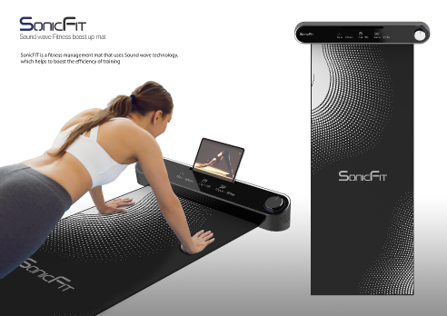 Whether you are just doing sit-ups or an entire fledge yoga session, this smart fitness mat will work in a way that boosts your training effectiveness. The mat includes a vibration sensor that generates vibrations for muscles and fat cells. The company claims that low-frequency vibrations will increase your health efficiency by 30%.
You can adjust the frequency of the vibration from the controller. The wave option present in the controller determines the amount of vibration the mat will produce.
Wave controller allows the range from 20 Hz to 100 Hz for the vibration frequency. Lux Lab research shows that 100 Hz will vibrate most body parts. In addition, the controller also tells how many calories you burn when you do a particular exercise on SonicFit. 
There are many types of exercise that you can do with the vibrations that flow over the entire surface of SonicFit's mat. After that, the user can get information about their health through the Technology Fit" application. The controller of SonicFit displays your health information to assess and analyze your health.
Conclusion
Lab Lux is a very innovative company, and we can certainly tell that with their SonicFit. It is almost like a revolutionary device for fitness and exercise. You will be more motivated to train with the advancements of SonicFit. In addition, you will improve your posture to increase efficiency.
SonicFit is definitely a game-changer, and that is why it won the 2022 CES Innovation award for Fitness and Sports. It has lots of technology that makes your training routine exciting and effective. 
Found this one interesting? Check out more from KoreaProductPost: