Innisfree is a South Korean cosmetics brand that is well known for its versatile products and trendy packaging. You can kickstart your New Year with Innisfree's most-loved skincare, makeup, body, hand care products with adorable design. The design features Mickey Mouse and friends, which make the products look cute and brightly colored.
The Hello 2020 Disney collection from Innisfree is exclusive to only some parts of Asia. And, you can get your hands on some of the exclusive surprises in limited edition unique sets in these countries. These sets feature some of Disney's adorable characters like Minnie Mouse, Daisy Duck, Goofy, and even Mickey!
It comes in a reusable case featuring Minnie Mouse and Innisfree's winter best-selling creams that are included in the set. This Orchid Enriched Line gives your skin a much needed anti-aging care.
This reusable case features Daisy Duck and comes packed with Bija Line from Innisfree for your daily trouble care and soothing care.
The limited-edition Soybean Synergy Essence Set features the loveable and cute Goofy character. The products in this line are formulated with naturally fermented collagen activators.
The cream set features Mickey Mouse on the tube packaging. The three creams include Green Tea Pure Gel Hand Cream EX, Olive Real Moisture Hand Cream EX, and Camellia Hand & Cuticle Balm EX. These nourishing hand creams are made from Jeju ingredients.
Along with all these sets, there are many more products that feature the cute Disney characters. Some such products include My Perfumed Body Green Tangerine – Body Cleanser (Mickey) and Body Lotion (Minnie), Pore Blur Powder (Mickey), and My Lip Balm Set (Mickey & Minnie, Donald & Daisy).
The Hello 2020 Collection also includes some nail paints – Real Color Nail (Donald Duck) 210 Lavender, Real Color Nail (Daisy Duck) 211 Pink, Real Color Nail (Mickey Mouse) 212 Popping, and Real Color Nail (Minnie Mouse) 213 Red.
On any purchase of over $50, you will get either a Mickey Mouse or Donald Duck or Minnie Mouse character beauty pouch.

or a Mickey Mouse or Donald Duck Character Coin Bank for a purchase more than $100!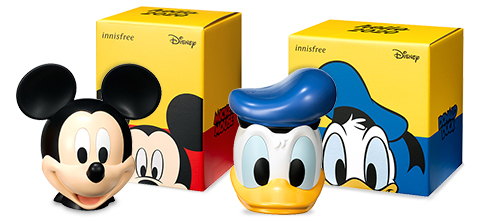 You can also check out the limited edition Disney collection on Instagram.
Disney-inspired nail art using the Innisfree Hello 2020 Collection nail paints.